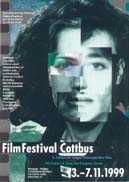 Cottbus: Eyein' up the
young-uns

K I N O E Y E:
Young Hungarian Cinema:
"We Are Working on It"
An interview with Csaba Bollok
---
Andrew J Horton
Following the mid-1990s nadir of Central European cinema, eyes have been pinned on the up-and-coming talent to see if the region can regain some of its former film glory. Problems of funding, the suffocating influence of Hollywood and the rise of the multiplex have changed the nature of the Central European film industry. At the recent FilmFestival Cottbus, CER tracked down the young Hungarian director Csaba Bollok, whose debut film Eszak, Eszak (North, North, 1998) was in the competition, to discuss the problems that young Hungarian film-makers face, in the light of his own experiences making Eszak, Eszak [Click here for a Kinoeye review].
How did you originally get the idea for Eszak, Eszak?
This is my first film, or maybe even a "pre-first film." I thought that I would like to make a very simple story and that I would not use the experimental elements that I used in my previous short films and it would concentrate on story-telling. Since we had a low budget, I thought of a one-line story, that is the girl who is riding all through the day, meeting all kinds of people and I knew I would work with two actors and all the characters would come for a couple of days. So I think this is the kind of way of thinking which is characteristic of independent films, that you don't have a wish and then the world will fulfil it, but you try to adapt yourself to the limits
So was the script improvised?
It was a fifty-page script and in the end, I think, half of the script got into the film and half was improvised because I like to discover new things, and if I see something interesting I will change the film. But you have to be very careful about it, because that may work against your film - you have to know the limits of your improvisation.
An example of improvisation was the swing scene, which became a metaphor in the film - I didn't mean it as a metaphor but somebody wrote that it is and I suppose it is. We just found this swing and also the two twins and then we shot the scene with them swinging back and forth, saying "North, South, North, South..." and this fits into the directionlessness world of the film. People don't know where to go.
Landscape is very important in the film, and it certainly adds to this idea of people not knowing where they are going. Can you tell me about how you chose the locations
Actually, it's set in the northeastern part of Hungary. I travelled lots and kept places in my mind - this is good and I like that, or this is strange - but then I realised that I would concentrate on one location - the Aggtelek karst region - and that would be enough. There were a lot of places there so I could the film just there, using about three or four villages and the roads linking them.
Were you happy with how it turned out?
I cannot make a film as I wish to given the limits we were working within. I have to take care because in the 1990s Hungary does not invest in film. There are only about three Hungarian directors who have made films using the 35mm format in the 1990s. All the others have made features using video, 16mm or other materials.
As for me, I tried to make it 35mm colour, but we had too small a budget. So, I said to myself that there's no use crying over the fact that I can't get more money, because this is bullshit. It's all over the world, you can hear it over the world that directors are crying out for money. So, stop crying about it! Do something and maybe the next film will be under better conditions. The present is more important than waiting for another four years to get the money to make the film you want.
The point is, there is no young film in Hungary at the moment, but we are working on it.
You mentioned to me when we first met that you were given a deadline for finishing Eszak, Eszak.
Yes, I recieved funding for the film from the Hungarian Film Foundation on condition that it would be ready in time for the 30th Hungarian Film Week. If the film wasn't ready in time, I would have to pay back the money, which was nonsense as we would have already spent it. I didn't understand their logic but I understood that they wanted to support Hungarian film, so I accepted the money.
It speeded up things, so in a way I am thankful for this decision. I edited this film in a shorter time than I edited my short films in. It is a very peculiar thing how you make your first film. There is nobody saying "Oh, you seem to be so talented, so I'll give you the money."
Will it be easier to find money for your next film now that you have the success of Eszak, Eszak behind you?
When you get money from the Hungarian Film Foundation for your first film, it is for around a third or a quarter of the budget of your film. It cannot be more than half. Then for your next film you have a chance to get 60, 70 or even 80 per cent backing from the Foundation.
But generally, I think it is getting more difficult. It is characteristic of the last ten or fifteen years that film has lost its special place as the one and only moving image format. So now the money for making moving images is scattered all around.
And commercial interests are taking over in the industry. For example, in the Hungarian laboratory they made a festival copy of my film, and I saw the copy and it was quite different from the first print. So I asked them why this was and they told me Kodak has stopped producing the oldfilm stock, which is suitable for small cinemas, and they now only produce film stock which is suitable for multiplex cinemas. So this copy of my film is sharper, the edges are different and it gives you a different feeling. I think this new stock is good for science fiction films and special effects.
I hope its not true, I hope they will carry on producing a certain amount of this old stock. Because Kodak supports Hungarian films - they give discounts on film stock and so on. I hope they don't want to kill small things, such as small cinemas and minority cinema.
The "multies" may want to build up a system of their own, but we have to fight for everything that is small, minor, ethnic etc. I am against anything "multi," except multi-ethnic, of course.
I read an interview with Miklos Jancso which was done earlier this year, and he actually seemed very optimistic about the amount of young talent which is currently coming up through the film schools in Hungary. Is that an optimism that you share as well?
Yes, I do. Because you can feel that there is the ground, and you can see the cracks appearing and you can see the shoots emerging from the cracks. So there are signs that it will be flourishing in maybe eight, ten or fifteen years. I think it takes time. I remember how British film hit a low and then recovered, and it is one of the leading countries in European cinema at the moment. And I've just heard that Irish cinema is on the up as well.
Recently, though, Hungarian cinema has been very much influenced by Hollywood, with films like Kalozok (Pirates aka You or Me, 1998), Europa Expressz (Europa Express, 1998) and Ambar tanar ur (Professor Albeit, 1998) [See Kinoeye's Crushing Defeats: Hungary vs Hollywood for an analysis of this trend]. Is this a fascination which is now with Hungary and will stay, or do you think there will be a time when this will fade away.
I think it will fade away, because this is what happened ten years ago. It will come back again and again but it will go. Because directors try something in this style because it is a challenge, but it is always a failure.
I think the Czechs are much cleverer because they know their strengths, in their way of thinking and their sense of humour. They don't come up with superb productions or well-made genre or period dramas, but they make their small stories about human relationships.
There are films in Hungary which pretend to be "real," but actually they come from this commercial mindset. Maybe they pretend to show underground culture, but really they are just showing mainstream culture and they avoid the real social issues. They seem to be aiming at a teenaged audience.
But I think, people do need to be entertained. I like to think that my film entertains people. I really try to think what people would enjoy or what would be funny. I like the type of film which doesn't want anything from the viewer. Just to show something - the facts of life, everyday happenings, and then the viewer gets slowly drawn into the thing.
There are films which try to step into your ears and your eyes, that I can't avoid, but I just don't like them.
The film has been shown at several international film festivals...
Which gives me a very strange feeling. I had the idea: let's put out a first film, but it's just a rough sketch. But people like it, and I am happy about that. But who knows, we like sketches by painters and maybe this is something like that.
Andrew J Horton, 13 December 1999