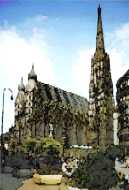 C E N T R A L E U R O P E A N N E W S:
News Review for Austria
All the important news from Austria
since 6 December 1999
---
Magali Perrault
On Thursday, ten weeks after the elections of October 3, the so-called sounding-out talks (Sondierungsgesprache) finally ended. President Thomas Klestil gave the mandate to attempt to form a government to Social Democrat leader and incumbent chancellor Viktor Klima.
Klestil stated that he had asked Klima to constitute a stable "federal government with a clear, solid majority in parliament." Klima reiterated his desire to renew the grand coalition with the conservative Austrian People's Party (OVP), adding that his aim was to build a "strong government for all Austrians," which will not have to constantly "apologise" abroad, but will represent Austria in a credible way - a thinly veiled attack on Jorg Haider and the Freedom Party (ORF, 9/12/99). He also set a deadline of mid-January "to know if it is possible to form a [coalition] government." (ORF, 7/12/99)
The prospects of an SPO-OVP coalition, in any case, looked considerably better than last week. On Sunday, OVP chairman and current foreign minister Wolfgang Schussel said that his party will be ready to give up his decision to remain in opposition and would favourably consider Klima's invitation to negotiate. He argued that the OVP was now "the only party who could talk to everyone" and has become "the real center of Austria," which makes an opposition stance obsolete. A meeting of the party executive has been scheduled for Monday 13 December and is widely expected to follow Schussel's recommendation.
Klima and Schussel will, in the meantime, lead the Austrian delegation to Helsinki for the European summit, a chance for them to lead informal talks before the meeting of the OVP executive. Klima noted on Friday the common views of the SPO and the OVP about the issues which will be discussed in the Finnish capital, such as enlargement and a common foreign and security policy (for example, the support for Austria's participation in Eurokorps).
The main bone of contention between the two political formations is, however, likely to remain the issue of potential Austrian membership in NATO. Klima believes that a compromise is possible, but he also firmly stated that he will not sign a coalition agreement which would include a pledge to apply for NATO membership (ORF, 10/12/99).
Haider (FPO) expressed his party's intention to work on an "alternative" government programme, and estimated the chances for a renewal of the SPO-OVP coalition at only 50-50. According to him, the experience of the Freedom Party in regional (Lander) government demonstrates its ability to "govern well" (ORF, 7/12/99).
Haider also came under fire on Tuesday in Brussels. At the inauguration of the Carinthian information office in the European capital, the Austrian EU Commissioner for Agriculture, Franz Fischler, stated that, "Whoever holds isolation and xenophobia as principles has not understood European ideas and will, therefore, also not be understood in Europe." Fischler added that Haider still has to make clear that he is in favour of both a united Europe and the European Union - as well as the unionís enlargement.
Finally, a report of the Vienna-based European Monitoring Centre on Racism and Xenophobia remarked that Austria was (along with Switzerland) among the most racist countries in Europe, despite its good economic indicators and its relatively low unemployment rate. These conclusions prompted further talks of "Alpine racism." (10/12/99).
Magali Perrault, 10 December 1999
---
Some Useful Websites (in German)
http://www.orf.at (Austrian TV)
http://www.apa.at (Austrian Press Agency)