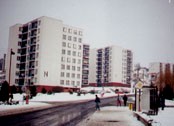 H O U S I N G:
Post-Com Pre-fab

---
Paul Csagoly
Housing developments were, of course, the grand "achievements" of Communist central planning. Quaint, charming urban neighbourhoods were bulldozed to make room for the bleak, rectangular, pre-fabricated concrete panel monoliths that would hold countless more people - family on top of family, box over box. Today, more than 170 million people reside in over 70 million apartments in panel buildings throughout Central and Eastern Europe (CEE) and Russia. In 1985, Budapest had 246,213 apartments in 105 panel housing developments, some with over 15,000 apartments each. Bulgaria's cities have over one million panel apartment units.
"They're home to the majority of people in the region's cities, but this is rarely admitted," says Monica Schumer-Strucksberg from Berlin's Department of Building, Housing and Transport. In 1992, two-thirds of all East Berliners, or 700,000 residents, lived in 270,000 apartments in 17 housing developments.
Another infrequently admitted truth, says Schumer, is that, given their average life span of 20 to 30 years, many housing developments are now in danger of entering the stage at which damage becomes irreparable. But if renovations are made before they degrade further, they have "outstanding potential for lasting development," adds Schumer.
Regarding life span, some experts disagree, including Richard Ongjerth from Budapest's urban research institute Studio Metropolitana. Ongjerth argues that Budapest's panel buildings, built from the 1960s on, are still in good structural shape. Factory-produced panels and the joints made between them on-site are not rusting or deteriorating significantly. Nonetheless, Ongjerth supports some structural revitalisation work on the buildings every 25 years.
Energy efficiency, for example, is a big problem. "When it is warm on the first floor, residents on the tenth floor have to open the windows to avoid getting cooked," says Ongjerth.
Another key concern is that middle-class residents leaving the inner city for suburbs, as occurred in the US, could result in a continuous cycle of ghettoization and inner-city deprivation. Slums and social conflicts can be avoided if people are kept where they live and living quality is quickly improved.
Ongjerth admits that this negative phenomenon is slowly happening in Budapest. Except for a few shops, schools and local doctors, social and commercial spaces were not adequately incorporated into the city's housing developments, resulting in minimal public life. Local parks are rare, and if they do exist, they are poorly maintained by local authorities, says Ongjerth. Surveys also show that tenants are dissatisfied with the developments' surroundings, often complaining about too many parked cars, ruined parks and playgrounds and dogs.
The same is true of Bulgarian housing developments, says Snegina Zaimova, president of the Sofia-based Foundation for the Renovation of Housing Areas and Estates. "During original construction of these buildings, the money ran out, so the social and cultural infrastructure wasn't added. Only the housing is there now, and there is no money from the government or the people."
East Berlin sunrise
In 1992, Berlin resolved to remedy the East Berlin panel building dilemma, arguing that renovations would cost one-quarter the cost of new housing if implemented within ten to 15 years. Furthermore, the latest ecological construction practices would be used. A ten-year integrated regeneration and development plan began. By 1998, 53 per cent of the necessary renovations and 50 percent of improvements to open spaces had been completed. All energy sub-stations within the buildings had been replaced with energy efficient systems. Earlier systems had wasted 40 per cent of the buildings' central heating.
Newly constructed community centres became economically successful. The popular Austrian architect Friedensreich Hundertwasser designed and cleverly integrated a school within one development. With the assistance of residents and the local alpine association, degraded balconies were reused to make urban alpine climbing walls with the assistance of the local alpine association and residents.
Of course, not all Berliners were for revitalisation, admits Schumer, adding that many had a "let's get rid of everything which is Soviet" mentality. Beneath that scepticism, however, was a desire to improve places that had served as people's homes for decades. The result is that East Berlin residents love the new changes - environmentally, economically and socially, says Schumer. A future advantage is that enormous amounts of waste will be avoided by having saved the developments and used available resources.
The developments also gained international popularity when a renovated Berlin development was named one of Germany's best urban practices at the UN Habitat conference in Istanbul in June 1996. Similar plans are already underway in Warsaw, Tallinn, Riga, Tartu and Vilnius. Schumer says that most panel-building residents in CEE would prefer to tear their buildings down and build something new, but following the Berlin "best practice," is the only realistic answer.
Low priority
However, a key difference between Berlin and CEE cities relates to housing ownership and civic pride. In Berlin, over 90 per cent of panel building apartments are owned by state-run housing companies or co-operatives. "Co-ops" regularly maintain the grounds, since German law requires flat owners to invest in their housing stock or otherwise lose their flats."For the process to work, lots of public participation is needed to involve and strengthen the local community," adds Schumer.
In Sofia, no structure even exits for residents to meet to even begin discussing the issues, let alone solve them, says Zaimova. And because the apartments are privately owned, "the city says it can't do anything. It closes its eyes."
In Budapest, apartments are either privately owned or rented from local authorities. Privately owned ones are in much better shape, says Ongjerth, but it is very difficult for all the private owners of a building to agree on renovations or changes. "One disagreeing tenant can put a stop to all renovations," says Ongjerth. Nor can local authorities help with financing repairs or providing loans to residents, as in the case of Berlin, where they provided renovation subsidies.
An additional problem for Budapest panel buildings is their low priority in the city's future plans compared to the revitalisation of downtown and industrial developments. "Housing developments are not forgotten, but there's time for that, they say," claims Ongjerth, adding that, "somebody or some organisation, government or local government body should raise the flag."
Paul Csagoly, 6 December 1999
Paul Csagoly is information director for the Regional Environmental Center for Central and Eastern Europe.
This article originally appeared in The Bulletin (Vol 8, No 3), a quarterly magazine published by the Regional Environmental Center for Central and Eastern Europe. For more information see http://www.rec.org.
For closer look at post-Com pre-fab in the Czech Republic see Sean Hanley's article.