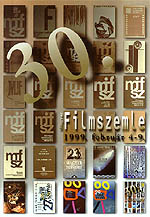 30th Hungarian Film Week:
Documenting the best

K I N O E Y E:
Documenting Freedom (Part III)
Peter Forgacs's A dunai exodus
---
Andrew J Horton
To read Documenting Freedom Part I
first, click here.
To read Documenting Freedom Part II,
click here.
Peter Forgacs has a long-standing reputation as Hungary's most innovative documentary film-maker. His latest film, A dunai exodus (The Danube Exodus, 1998), was a highlight of the 30th Hungarian Film Week and shared the Grand Jury prize for best documentary. Using amateur film taken by a ship's captain, Forgacs relates two stories which took place during the war: the exodus of Central European Jews to Palestine and the exodus of ethnic Germans from Bessarabia to "the fatherland."
The bricks and mortar of Forgacs's film are the footage made by a persistent amateur, Nandor Andrasovits, the Captain of a ship called the Queen Elizabeth. The first of the two exoduses concerns the flight of Orthodox Jews principally from Bratislava and Vienna on three ships, of which the Queen Elizabeth was one. With only 25 kg of luggage, 500 Jews hired the ships in a desperate attempt to escape Nazism and reach the Black Sea, from where they could make their journey to Palestine.
Androsovits documents every tiny detail of their voyage and shows the passengers eating, sleeping, praying, dancing and even one couple getting married. A voice-over fills viewers in on the less visual details of their arduous voyage, including the political intrigues which delay them en route, as their case becomes an increasingly hot potato the closer they get to the Black Sea. Several ports refused to allow them to dock and others refused to let the passengers off the ship.
In one dangerous manoeuvre the passengers were forced to change ships in the open sea, because they were refused permission to do it docked. Central Europe has always been a topsy-turvy place, however, and in an earlier incident, a German ship flying a swastika flag was happy to sell the Jews drinking water.
A return voyage
The following year, the Queen Elizabeth was hired again. This time it was by Germany, as one of a fleet of 27 ships to repatriate ethnic Germans from Bessarabia, which had just been regained by the Soviet Union. Despite the Hitler-Stalin pact, the Germans were afraid of the Soviet Union, quite wisely as it would later turn out. Many of the villagers who made the journey had never left their settlements before. After a race and health examination, they boarded the ships for a seven-week journey. Corn was left unharvested and all goods and belongings had to be left behind.
Although the Soviet Union paid Germany for everything which had been left behind, the refugees never received any compensation. Worse still, many of them became disillusioned with the "paradise" they had been promised. In Bessarabia, they had been far away from the day-to-day reality of life under Hitler. After being settled in Poland, many of these displaced Germans found themselves disgusted with what Nazism actually entailed in practice.

Peter Forgacs:
Found-footage
pioneer

Forgacs is the third corner in the triangle of documentaries reviewed here: Elek tells, Gulyas provokes, Forgacs evokes. He exploits the contradictions in Andrasovits' footage, observing that amateur film seems only to capture happy moments, while somehow the sadness and tension lies underneath.

In the end, Andrasovits captures the mood of the journey so well because he is an amateur film-maker and not despite this. The spontaneity of his pictures provides an enormous window on the little details of the voyage which bring it to life so much. He immerses us in the experience. Forgacs completes this process, tinting the film to match the mood (and paying homage to Eisenstein in the process) and commissioning an atmospheric soundtrack from Tibor Szemzo.

It is some measure of Forgacs's methods that he felt the need to personally attend to the festival screening of his film just to give a brief introduction in which he railed against festival-goers who walk out of films after ten minutes. Explaining that this would break the spell of his film and ruin the meditative mood, he angrily told all such early leavers to get out before the film had started. And that was the only comment he felt he had to make about his film.

Documentary is very much an unloved medium in this day and age. It is not really seen as belonging to the cinema, and television documentaries are usually weighed down with the need to appeal to a mass audience; this leaves correspondingly little scope for either art or invention in the medium. We expect our TV documentaries to be devoid of the individual touch of the director and we have somehow arrived at the idea that if there is no flair in the presentation, the content must be all the more accurate and trustworthy. Bearing in mind this assumption, it is little wonder that documentaries have ceased to be fashionable.

In an age where we are wary of style overriding content, Forgacs shows us that the two can co-exist, and, indeed, must co-exist. Because of this he stands out not just as one of Hungary's most innovative documentarists, but as one of the most talented Hungarian directors in any field of film.

Andrew J Horton, 30 March 1999