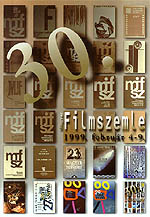 30th Hungarian Film Week:
Artists and poseurs

K I N O E Y E:
Black and White Visions
Egy Tekercs Valosag, Nyari Moci and Temetes
---
Andrew J Horton
If any director wishes to automatically shunt their film into the art house category, the best way is to shoot it in black and white. A number of films shown at the 30th Hungarian Film Week used monochrome to establish their artistic credentials. Kinoeye looks at three of them.
Using black and white film is nowadays more expensive than filming in colour (especially when taking video into account) and requires more inventive solutions in lighting to create a balanced and attractive tone. Anyone who decides to shoot a black and white film is, therefore, making an automatic statement about his intentions.
Use of black and white implies that the director is intensely interested in the medium being used and feels that it has expressive possibilities in its own right. Black and white is also associated with the cinematic classics and this, combined with the self-assurance the director is displaying in rejecting the cheaper and more convenient medium of colour, gives black and white an aura of both total artistry and, rather less fortunately, arrogant pretentiousness. The directors task is thus to try and convince the audience that his extravagance is justified.
Stating the obvious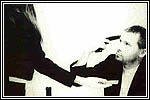 Undoubtedly the most artier-than-thou film of the entire 30th Hungarian Film Week was Egy tekercs valosag (A Reel of Reality, 1998), a collection of eight ten-minute shorts, each by a different director or pair of directors. The unifying theme between each of the film's parts is the technical limitations which were placed on the directors. Each had to shoot exactly 300 metres of black and white film and present it unedited.
Such a radical prescription for directing could, of course, only have emerged from Balazs Bela Studio, long-standing as Hungary's foremost producer of avant-garde films. The directors range in age from as young as twenty up to as old as fifty and employ techniques spanning from documentary to magic realism. The purpose of the film is to show that, despite strict rules placed on the directors, the expressive range of film cannot be restricted. This, the production notes inform us, make the compositions "so interesting."
Whilst it is true that the results of each film are quite different, the film does seem a rather pointless exercise. Did we seriously ever believe that reducing the technical armoury available to directors would inhibit what they have to say? A rerun of some films from the end of the 19th century and the beginning of the 20th would surely have been sufficient to make the point that directors will always find a means to express themselves within the confines of their techniques. There is undoubtedly nothing worse than an "avant-garde" film which makes a point that has been self-evident for about a hundred years. Ultimately, Egy tekercs valosag is a tedious and unstimulating exercise which fails to challenge the viewer.
Aiming simple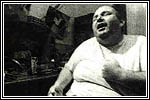 Nyari mozi (Summer Movie, 1998), the first film by Szabolcs Tolnai, has far fewer pretensions to artiness and, like Csaba Bollok's Eszak, Eszak, succeeds through aiming at comparatively humble goals. Tolnai, it would seem, is just interested in telling a story through film and through characters. The ambling plot of two Hungarian men driving aimlessly around the Serbian province of Vojvodina whilst trying to plan a film perfectly captures the searing heat of a lazy summer and the indecisiveness of the characters. The cameraman has never seen a camera before and neither of the two has any idea of how to make a film. Their journey eventually exists just for itself and the people they meet.
The principal reason for using black and white would seem to be to evoke the amateurishness of the film the men are supposedly embarking on. Being used for ironic reasons, Nyari mozi's use of black and white has no reason to be either remarkable or profound. Still, Tolnai's handling of tone is unassumingly assured and comes over as neither inexperienced nor contradictory to the basic premise of its use - the representation of inexperience.
What Nyari mozi lacks in terms of a coherent plot, it more than makes up for in its ability to portray people in a comic light without turning them into clowns or degrading them. In itself, Nyari mozi is no film to go out of your way to see. There are faults and the level of exploration of the characters does not always merit the languid pace of the film. Even at a mere seventy minutes, the film sometimes drags. However, this is Tolnai's directorial debut and his fine attention to character detail suggests that with more experience at pacing and plotting, he could produce a larger-scale film of real merit. Not all Hungarian directors these days show so much promise.
A final film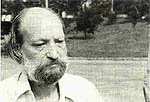 If artiness is what you want, Janos Szasz's short film Temetes (Funeral, 1998) is the film for you. In terms of mood, appearance, narrative and originality, Temetes delivers everything a good avant-garde film should, whilst avoiding the obvious pit-falls. The film follows a man on what is the last day of his life. With ultra-grainy photography (by Zsolt Toth) and almost totally devoid of speech, the film captures the exquisite details of decay with loving attention. The mundane details of his daily rituals are observed with care and precision but the film is careful not to outstay the welcome of its premise and lasts only 30 minutes.
Szasz's name might well be familiar to aficionados of Hungarian cinema - his Witman fiuk (The Witman Boys, 1996) was awarded the Gene Moskowitz prize by the international critics at the 1997 Hungarian Film Week [Click here for a Kinoeye review]. He is not the only talented name associated with the film. The screenplay was adapted from a story by the Hungarian writer Peter Hajnoczy and the film uses the acting capabilities of Istvan Holl (Witman fiuk) and Miklos B Szekely (6:3). That said, the film is not without new talent and served as a graduation piece for producer Andras Fai, who also worked with Szasz on the script.
The most accomplished and mature of the three films here, Temetes is a rare gem of avant-garde film-making. It is not only original in its vision but it is also highly engaging and watchable, a quality which Egy tekercs valosag lacks completely. More than this, it lives up to the medium of black and white film and confirms Szasz's credentials as an accomplished director. Certainly, the thought that the black and white was chosen because the director is a poseur never even enters the head.
Andrew J Horton, 19 April 1999