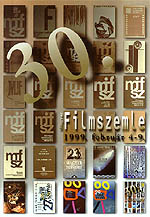 Hungarian film comes home

K I N O E Y E:
Crushing Defeats (Part I):
Hungary vs England
Peter Timar's 6:3
---
Andrew Horton
When it comes to shaping a nation's perception of itself in relation to the rest of the world, sporting events can be just as powerful as political or military ones. Peter Timar's latest film 6:3 (1998) relives a defining moment in recent Hungarian history which revitalised national pride.
In the 1998 World Cup, Iran took their defeat of the US to signify the moral superiority of Islam over decadent Western Imperialism; in the same competition, France's overall victory marked a turning point in the country's attitude to multiculturalism; and when Czechoslovakia humiliated the Soviet Union with a 4:3 defeat at ice-hockey not long after the Prague Spring had been brutally suppressed by the Soviet-led invasion, the Czechs and Slovaks were able to interpret their win in ways which went beyond the usual bounds of sporting achievement. Peter Timar draws on no less significant an occasion for Hungary: their 1953 crushing defeat of England at football.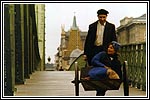 The streets of 1953
revisited

At the beginning of 1953, it could hardly have seemed that the year would be a pinnacle of national feeling. At the close of World War I, Hungary had been stripped of a large percentage of her land in order to apply the "Wilsonian principles" of national determination to the peoples of Central Europe. Hungary shrunk to a fraction of its previous size and its national ego was correspondingly wounded.

Few Hungarians were in doubt that the nation was being unfairly punished for a war in which they had not wanted to fight. In the inter-war years, Hungary never lost sight of her aims of regaining her former territories and restoring the crown lands of St Stephen to their former glory. With Hitler controlling Germany, the balance of power which arose seemed to offer a chance of fulfilling these ambitions. Indeed, Hungary did, temporarily, regain a large part of her lost territories. With the defeat of the axis powers, Hungary was again truncated, and this time, all hope of a Greater Hungary died in the process. Despondent at the death of millions of individuals and the death of the dreams of a being powerful nation, Hungary sunk into the darkest years of its recent history -the unrelentingly harsh and repressive years of Stalinism.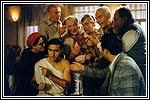 The nation on edge

In this context, Hungary's victory can be seen as an incredible boost to national self-confidence. As Timar shows in the film, Hungarians scarcely expected to win the match at all, let alone win it 6:3. The triumph was so resounding that Timar's film rides on a wave national nostalgia, guaranteeing it a success that is somehow completely unrelated to the content of the film itself. This is lucky for Timar, because 6:3 falls far short of his capabilities as a director.

The film's hero is the refuse collector Tutti, played by Karoly Eperjes (who bares more than a passing resemblance to Robert de Niro). On his rounds one day, he is offered some extra work, clearing the junk out of a young woman's house for 5000 forints. The "junk" in question happens to be the football memorabilia which her grandfather obsessively collected. The prize piece is a shirt worn in the legendary England-Hungary game. When Tutti tries it on, he is transported back in time to 25 November 1953. Not only is this the date of the football match, it is also the date of his birth and his day is spent rushing around Budapest trying to listen to the match on the radio and attempting to locate his mother, whom he never knew. (Timar, incidentally, dedicates the film to his own mother.)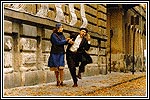 Tutti: Searching for football
and mother

Unable to control his excitement, Tutti delights in telling everyone who is going to score next and how. Not surprisingly, he infuriates everyone with this. With his apparent clairvoyant ability, his 5000-forint note and his ability to inspire people on the streets to be patriotically Hungarian, he soon attracts the attention of the secret police, whom, for obvious reasons, he has to try to avoid.

Starting with the quotation "after all these times, the past always looks good," Timar aims to recreate the runaway success of his 1997 hit Csinibaba (Dollybirds), which attempted to evoke the pleasures and the pains of Hungary in 1962. Despite basing his story on highly promising material, Timar fails to pull the whole thing off and 6:3 has neither the wit nor the keen observation of his earlier film [Click here for a full Kinoeye review of Csinibaba].

Whereas Csinibaba derived its humour and power from being an improbable story with hilariously impossible musical interludes, Timar's time-travelling tale of football and somewhat Oedipal love has a ludicrously unbelievable plot with songs thrown in at all the logical moments - a fatal combination. 6:3 is certainly not without its good gags - the interrogation suspect who celebrates with his torturers, for instance - but the overall scenario is simply not as engaging and original as it could be.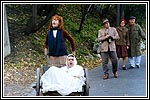 1953: Camping up
the opression

In spite of this, 6:3 is likely to be the most popular Hungarian film this year. This was acknowledged by the festival prize for the film most likely to get the highest box office receipts which was awarded it by the audience. Its simple light style is certainly unlikely to offend anyone, and its subject matter will draw all good patriots in. Expect to see posters for it decorating Hungarian streets for some time to come, but don't expect to see it too often on the international festival circuit.

Andrew J Horton, 16 March 1999

Click here to read Crushing Defeats (Part II), which recounts Hungary's less successful battle against Hollywood.