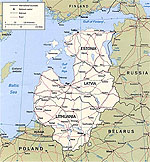 C E N T R A L E U R O P E A N N E W S:
News Review for Lithuania
All the important news from Lithuania
since 4 December 1999

Mel Huang
---
Politics and Foreign Affairs
Administrative Reform Minister Sigitas Kaktys finally resigned, after weeks of pressure from the media and President Valdas Adamkus. Kaktys has been hounded by allegations of false income reporting and dodgy land acquisitions, but he maintains his innocence.
Sadly, corruption stories are mounting on other officials. Several prosecutors are in hot water, as the Vilnius prosecutor is in trouble for accepting free trips to football ties during the Euro 2000 qualifications, and the head prosecutor has been put in poor light over gifts he got on his 50th birthday recently.
Then, allegations came out about Transport Minister Rimantas Didziokas and his family getting a free ferry trip to Germany. The government is under pressure to investigate.
President Valdas Adamkus and Foreign Minister Algirdas Saudargas will head to Helsinki to represent Lithuania at the European Council meeting. Several bilateral meetings have been arranged as well.
About three to four tonnes of oil leaked during a pumping operation at the controversial Butinge Oil Platform. Maritime and plant officials disagree whether the loading process happened when winds were too strong. Nevertheless, the Latvians, already concerned about the platform seven miles from its borders, are livid over this accident. Environmental Minister Danius Lygis said Lithuania would assume all responsibility if there was damage in Latvia.
Then, news came of a benzine spill in the neighbouring Kaliningrad region of Russia which threatens the Nemunas River. An estimated 100 tonnes of the carcinogenic chemical spilled from a cellulose plant and threatens Lithuania's main waterway. Officials from Kaliningrad told Lithuanian officials that there is no threat of polluting the Nemunas.
Border control officials say that so far in 1999 they had to deal with about 520 tonnes of bad meat from the EU. The biggest culprit was the Netherlands that tried to import 271 tonnes of the meat which was declared unfit for human consumption. This is followed by Denmark and Germany, as some of the inedible meats were also contaminated with salmonella. This is a good example of complaints from EU-applicant countries about the EU dumping unfit foods at their borders.
The Seimas voted to approve the budget for the social insurance. The budget total is LTL (Lithuanian litas) 4.569 billion and would actually be in surplus - fat chance. This entails the raising of contributions to 34 per cent, with employees paying 31 per cent and employers paying three per cent. Many experts believe this would actually exacerbate the current collection problem, as more people shift to "under-the-table" wages. A day earlier, the Seimas also voted to assume LTL 200 million of debts from SoDra, but SoDra is still projected to be in debt by several hundred million litas by year's end.
The joint parliamentary Baltic Assembly met in Riga during the previous weekend. The group discussed ways to promote Baltic co-operation, and passed several joint resolutions on agriculture and lobbying efforts in the US. They also called on Russia to start talks to end the fighting in Chechnya.
About 40 demonstrators appeared midweek and protested in front of the Russian embassy over Chechnya. A replica of Russia's coat-of-arms was burned during the protest.
Estonian Prime Minister Mart Laar made a three-day visit to Lithuania. In Vilnius, Laar met with President Valdas Adamkus, Prime Minister Andrius Kubilius and other officials. Kubilius called the relationship "co-operation with competition" between the two, who are often rivals. The two prime ministers also suggested that all three Baltic countries co-operate in purchasing their airspace surveillance systems, since they need to be integrated into BALTNET anyway. Laar also visited Kaunas on his final day in Lithuania.
President Adamkus signed the new lustration law, which requires all former KGB operatives to register with the state.
President Adamkus also signed the law to delay compensation for lost rouble deposits. Though it was a cornerstone of their platform, the Conservatives voted to delay the costly measure by two years, much to the urging of the International Monetary Fund (IMF).
After an ugly debate, the Seimas approved a new set of amendments to the law on media, which eliminated the compensation ceiling for libel and slander. The media and opponents of the law say this law will open the floodgates to frivolous lawsuits as well as jeopardise press freedom and investigative reporting. Supporters say it keeps journalists honest.
Foreign Minister Algirdas Saudargas visited Riga to discuss various bilateral issues with his counterpart, Latvian Foreign Minister Indulis Berzins, as well as with Prime Minister Andris Skele and other officials.
The Social Democrats face a split, as a moderate faction said they will form their own party. Among the moderates is deputy Seimas Speaker Rimantas Dagys, who has moved away from the leftist leader of the party, Vytenis Andriukaitis.
The Christian Democrats came close to a split as well, as moderates complain of being pushed out of the leadership by the religious wing.
Threatening all the parties is the move by the Liberal Union, which elected former Prime Minister Rolandas Paksas as its new leader.
Zenonas Naravicius was named as the new ambassador to Russia. He is currently ambassador to Germany, which will be taken over by Vaidievutis Geralavicius.
---
Economics and Business
November's consumer price index did not move at all.
The VIlnius Bourse approved the list of companies for the new joint Baltic blue-chip list. Brewery Kalnapilis, clothing maker Utenos Trikotazas, cheese maker Rokiskio Suris and banking leader Vilniaus Bankas will be the four Lithuanian representatives for now, though refrigerator maker Snaige may also qualify. Qualification for the list consists of both capital and liquidity requirements.
Shareholders of Vilniaus Bankas (Bank of Vilnius) approved the merger, or buyout, of rival bank Hermis. The deal has been approved by regulators and anti-monopoly watchdogs already.
Central Bank head Reinoldijus Sarkinas restated that the litas will not be devalued when it is re-pegged to the euro, which is planned for the latter half of 2001.
---
Social and Local Interest
A new poll shows a massive shift in popular support for political parties, as ex-Prime Minister Paksas moves into the Liberal Union. The Centre Union remains most popular, with 15.1 per cent support, but the renewed Liberal Union has moved way up to second place, at 10.2 per cent. The former communist LDDP is third, with 8.9 per cent, and the Social Democrats are fourth, at 6.3 per cent. It looks like the Conservative Party, down to 6 per cent, took a direct hit from the Paksas new alignment.
Another poll shows that trust in government institutions continues to drop. Trust in the presidency, now sitting at 53 per cent, continued its unprecedented fall after the Williams deal fiasco. More alarming is that only 21 per cent trusted the government and a dismal 14 per cent trusted the Seimas - their own elected representatives.
Then it should be little surprise that ex-Prime Minister Paksas has hit high with an outrageous 89 per cent support rating. Former President Algirdas Brazauskas moves into second at 76 per cent, as President Adamkus salvaged some of his former popularity at 72 per cent.
Unemployment took a large hop, going up to 9.5 per cent nation-wide in November. This is a 0.6 per cent jump in a month. The Lazdijai region lost the notorious title of having the highest unemployment, as it fell to third at a whopping 18.2 per cent. The mainly Polish-inhabited Salcininkai region is now tops with 18.9 per cent, followed by the Akmene region at 18.5 per cent. Both Vilnius and Kaunas are at 6.7 per cent.
---
And Others...
The massive storm over the Baltic Sea, now named "hurricane Anatoli," has caused widespread damage to Lithuania. For days, nearly 20,000 people remained without electricity, as substations around the country were seriously damaged. It played a role in the oil spill at Butinge and caused about LTL 30 million in damages. There was a total of two dead and 16 injured in Lithuania alone. The government said they have only LTL 1.5 million budgeted for disasters, but will find additional funds.
Seimas Chairman Vytautas Landsbergis is spearheading a movement for parliamentarians to forego their wages between Christmas and New Year. So far, the governing coalition has agreed to this, but opposition scoffed at the idea to prop up the budget. The government has also asked civil servants to take a week off unpaid to help the budget from collapsing at year's end. President Adamkus has also agreed, but wouldn't this hurt charity? He donates all his presidential wage to charity, since he receives a hefty US government pension from his decades of work in the Environmental Protection Agency.
Officials have ordered that all drunk tanks in cities be shut down, as detaining drunks is now legally questionable. Of course, hospitals and jails are available if the drunks are less than merry...
Finally, Lithuania issued probably the smallest gold coin in the world. The coin, which is only 1.244 grams and about 1.4 cm in diameter, carries a value of LTL 120.
---
Exchange Rates
As of 10 December 1999
currency
Lithuanian
litas (LTL)
1 US dollar
4.00
1 British pound
6.50
1 German mark
2.08
1 euro
4.08
---
Mel Huang, 10 December 1999
Archive of Mel Huang's Amber Coast articles
---
News Sources
Baltic News Service (BNS)
The Baltic Times
Radio Free Europe/Radio Liberty
Reuters news on Yahoo
ELTA
Lietuvos Rytas
Lietuvos Aidas
Kauno Diena