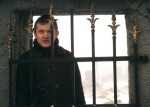 Frantisek: cut off from the world

K A R L O V Y V A R Y:
A Deafening Silence
Ivo Trajkov's Minulost
---
Andrew J Horton
Ivo Trajkov's Minulost (The Past, 1998) is billed as "a crime story without violence, a drama without conflict and a love story without love." It could also be added to this list of contradictions that this film recreates the world of the deaf, not only through the use of plot, camerawork and editing, but also by means of sound.
The story revolves around Frantisek and the deafness which acts as a barrier between him and the outside world. After a period in prison for knifing a man whom he caught with his beloved, Frantisek sets off to piece together the world he had before he was put inside, and, most of all, to find the girl who gave meaning to his life - Liza. As he soon finds, this is no easy task. He has no money and no way of finding a job, and people misinterpret his deafness as lunacy. It's a world which he doesn't understand, and it doesn't understand him either. Even the people who he thinks are his friends and are helping him, abuse and manipulate his disability and are indifferent to his quest.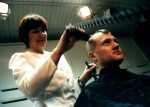 A light trim at the prison

More remarkable than Frantisek's story is the way it is told. Trajkov brings us right into Frantisek's world through his use of cinema-verite-inspired camera and editing techniques, as real-life locations, shaky hand-held shots and an ever-on-the-go camera try to recreate the feel of a documentary. Perhaps, the success of this is due to Trajkov's considerable experience in this genre, having already made non-fiction films on such subjects as a gay marriage and the infamous abduction of the Slovak president's son in 1995.

As well as visual means to portray Frantisek's isolated world, Trajkov employs an astonishing sound-track, which places us inside Frantisek's head. Silence alone would not express Frantisek's experiences of deafness: it would be too peaceful and tranquil. So Trajkov instead gives us a noisy, grating, industrial soundtrack of distorted noises creeping in from the outside world and Frantisek's own heartbeat. On top of this is a soundtrack made by a group of musicians who each improvised according to the mood of the film. Their music (which is available on CD) was recorded on a multi-track recorder without any one of them being able to hear what the others had done. What we hear reflects the outside world, but fails to make sense of it. Notably, not a single spoken word is heard throughout the entire film.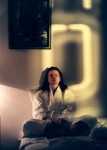 Waiting...
Trajkov succeeds in pulling off an impressive balancing act - recreating Frantisek's alienation through the film's stylistic elements, without in the process making the film bleak and depressing. Indeed, the film skilfully and seamlessly blends in some unexpectedly comic moments into the plot, without detracting from the recreation of Frantisek's plight.
The film is remarkable in a number of other ways since Minulost is a charity film. The logistics of this in itself are worthy of mention, as Trajkov was able to summon up a truly impressive array of sponsors and people willing to donate time and services (the film has what must surely be the longest credits in Czech film history). All profits from the film will go towards a computer and communications network for 120 regional centres of societies for the deaf and partially deaf in the Czech Republic. The aim of this network is to enable deaf people to overcome the communication gap which the film so evocatively portrays. But of more significance is the fact the whilst making Minulost might have drawn on people's sense of charity and the proceeds may go to a good cause, the film does not require any sort of charity in judging it aesthetically. Minulost stands on its own two feet as a work of cinema and does not fall into the trap of being programmatic or allowing the plot to become subservient to the film's charitable mission.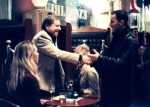 Rendez-vous with a 'friend'
Although the filming techniques of Minulost were inspired by a cinematic movement which was in full swing three or four decades ago, it is a modern piece of cinema with a new approach to film-making, and it is this that makes it stand out. Czech film, on the whole, seems to have progressed little since the 1960s, and directors are still largely under the influence of the style of film-making which prevailed under the years of Normalisation - the harsh period of reassertion of Communist control following the failed experiment of "Socialism with a human face" in 1968. During this time, films were light, airy, stylistically conformist and there was an avoidance of any sensitive themes. The phrases "hard-hitting" and "ground-breaking" vanished from the Czech cinematic vocabulary and have not fully returned since the fall of Communism.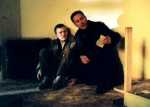 In search of the past
As a result, Trajkov's innovative film is all the more welcome. The film's freshness of approach, in its subject-matter, its public-spirited nature and its stylistic devices all add up to make Minulost the best Czech film to have been on show at Karlovy Vary this year, and international success is bound to follow. However, before we get optimistic about a new trend in Czech cinema, we should bear in mind that Trajkov is actually Macedonian by birth. Minulost, is, therefore, likely to stand out as a Czech film for some years.
Andrew J Horton, 20 September 1999
Further Surfing
Minulost has two websites devoted to it, one from each of the two production companies involved in the film, Ceska televize and the World Circle Foundation. The latter has information on the film in English.
There is also a review in Czech on the net. Click here to read it.
Minulost in the UK
Minulost's tour of the international festival circuit is already underway. It will be on show at the Leeds International Film Festival on 12 October 1999. For more details about the festival click here
Kinoeye at Karlovy Vary
The following is a list of other films shown at Karlovy Vary which have been covered by Kinoeye.
Historia kina v Popielawach (The Story of Cinema in Popielawy) by Jan Jakub Kolski, Poland
V leru (Idle Running) by Janez Burger, Slovenia
Cvety kalenduly (Marigolds in Flower) by Sergei Sniezhkin, Russia
Pelisky (Cosy Dens) by Jan Hrebejk, Czech Republic
Co chytnes v zite (In the Rye) by Roman Vavra, Czech Republic
Pripyat (Pripyat) by Nikloaus Geyrhalter, Austria
Rychle pohyby oci (Rapid Eye Movement) by Radim Spacek, Czech Republic
Totalitarnii roman (Totalitarian Romance) by Viacheslav Sorokin, Russia
Tri muskarca Melite Zganjer (Melita and her Three Men) by Snejzana Tribuson, Croatia
Demony wojny wedlug Goi (Demons of War by Goya) by Wladyslaw Pasikowski, Poland
Blokpost (Checkpoint) by Alexandr Rogozhkin, Russia
Tockovi (Wheels) by Djordje Milosavljevic, Yugoslavia
Gengszterfim (Gangster Film) by Gyorgy Szomjas, Hungary
Nekem lampast adott kezembe as Ur Pesten (The Lord's Lantern in Budapest) by Miklos Jancso, Hungary
Krava (The Cow) by Karel Kachyna, Czech Republic
Okraina (Outskirts) by Peter Lutsik, Russia
Pasti, pasti, pasticky (Traps) by Vera Chytilova, Czech Republic
Kinai vedelem (Chinese Defence) by Gabor Tompa, Hungary