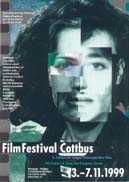 Cottbus: Eyein' up the
young-uns

K I N O E Y E:
An Obsession with Image
Polish cinema at the 9th Cottbus film festival
---
Andrew J Horton
With the changes of 1989, Polish cinema, in common with cinema in other Central European countries, suddenly became receptive to the influence of Hollywood and the American dream. Like children let suddenly loose in the sweet shop, directors and audiences alike have gobbled up a sickly recipe which favours style and image over nourishing content.
Whereas Hollywood at its best possesses the panache and opulence of the true "glitterati," the bulk of Polish cinema has fallen into the trap of becoming cheap and exploitative imitation. The 9th Festival of Young East European Cinema in Cottbus, Germany, just across the border from Poland, provided a good vantage point for observing which directors have fallen foul of this trend and which strive towards a more enduring cinema.
One of the three Polish entries in the main feature film competition at Cottbus was Natalia Koryncka-Gruz's Amok (1998). The story is set in 1993, the early days of privatisation in Poland, when state-owned companies were being sold off for a song and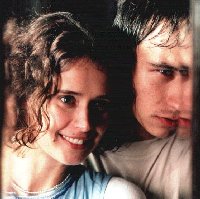 Mirror, mirror on the wall:
Maciek and girlfriend

regulation was at a minimum. In this heady climate of unrestrained capitalism, fortunes were made and lost (but mainly made) overnight.

Enter onto the scene: Maciek, a young journalist who is covering this boom for a radio station. His in-depth story soon leads him to shadow a trader, Max, and then to actually trade himself. As he becomes sucked into this new world of fast money, he starts to dissociate himself from the outside world.

Elegible for over ten awards at Cottbus, many of which contained special mentions or second and third places, Amok managed to emerge from the closing awards ceremony empty-handed, thus replicating a feat it had managed earlier in the year at the Karlovy Vary Film Festival.

However, Amok is in fact relatively high-brow material in the current age. Although this might be hard to believe for anyone who has seen the film, it is worth comparing Koryncka-Gruz's film with Lukasz Zadrynski's Billboard (1999), which was entered for screening at Cottbus but - mercifully - rejected. Not only do the films have loosely similar plot-lines, but the main character is played by the same actor, Rafal Mackowiak.

This time Mackowiak's character (there is no difference in acting style between the two films and Mackowiak is clearly just playing himself) is trying to make his way in the world of advertising, when he is asked to locate a Russian prostitute whose face is deemed to be ideal for an advertising campaign.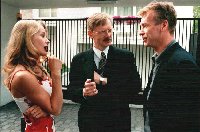 The Poland of today?
Sharp suits and peroxide blondes


Again, the theme is free-market capitalism gone wild and its affect on social morality. Zadrynski's affair is far more sensationalist, though. When watching Amok, one might get the feeling that Koryncka-Gruz has an ambivalent relationship with the trappings of succes - half admiration, half disapproval.

With Billboard no such doubts are left in one's mind - Zadrynski relishes the world of mobile phones, beepy infrared car keys, peroxide blondes, chrome and neon bars with overpriced drinks and snortable drugs. On his rise through corporate success, Mackowiak implausibly uncovers a snuff video ring, and despite his rather geeky adolescent looks, manages to win the heart of a stunning Russian prostitute, all of which makes one realise how much attention Koryncka-Gruz has paid to making Amok's storyline at least remotely believable.

Billboard, meanwhile, can only be read as the realisation of a frustrated, teenaged masturbatory fantasy on the part of Zadrynski. If that wasn't an unsettling thought in itself, Zadrynski's mind clearly harbours some disturbing sexual fantasies. Aside from the fact that women in the film are objectified (a relatively minor cause for concern as it happens), some viewers may find the graphic "snuff movie," which appears in the film, of a young attractive woman being tortured with a power drill to be an indictment of Zadrynski's truly warped and misogynist mind. Amok may be a dull and unadventurous piece of film-making, but it is at least the product of an enquiring, critical and morally healthy individual.

Guns, hoods and gals

The idealisation of prostitution is of course nothing new to cinema, least of all Polish cinema. Many a male director has cast the sex trade on screen as an acceptable and glamorous activity for good-looking girls. Surprisingly though, the recent Polish-Hungarian co-production by the respected feminist film director Marta Meszaros, A szerencse lanyai (Daughters of Luck, 1998) also indulged in this screen fantasy, showing just how all-pervasive it is [Click here for a Kinoeye review].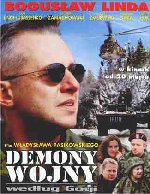 Pseudo-Stallone Bosnian
war action


Neither can it be said that Billboard's interest in using sensational headline-grabbing material is particularly original. Wladyslaw Pasikowski, renowned as one of the most ardent advocators of vaccuous style over content, manages to match Billboard's moral repugnance with Demony wojny wedlug Goi (Demons of War by Goya, 1998 - not shown at Cottbus), which is devoted to portraying how much Polish peacekeeping troops suffered during the war in Bosnia (Oh, and some of the locals might have had a bit of a hard time as well). [Click here for a Kinoeye review]

Another film at Cottbus, and also emerging without mention in the competition, was Egzekutor (Executioner, 1999) by Filip Zylber, a film which takes a contraversial subject matter and attempts to make a work of cinema strictly on the basis of that, without much consideration for other elements.

Zylber is no stranger to tough subjects, having previously handled Polish anti-Semitism in his Pozegnanie z Maria (Farewell to Maria, 1993). Egzekutor, though, is hardly worthy of the debate it wishes to try and stimulate and which Zylber, presumably, wishes his film will ride on the wave of. Along with its failure to provide an engaging plot or feasible character development, the film's preoccupation with guns, hoods and gals sucks all blood out of any realistic social commentary it could potentially make. Topicality is clearly not enough to base a film on.

Naturally, whilst Egzekutor is a lamentable piece of directing in terms of making a film rewarding and fulfilling, Zylber never ceases to pay careful attention to camerawork and composition. Indeed, one wonders how much directors such as Zylber and Koryncka-Gruz have been influenced by the immediacy of advertising in constructing their films. With Zadrynski, and his film entitled Billboard, the connection can scarcely be in doubt.

Even serious film has fallen prey to this new syndrome. One of the leading young directors of the 1990s, Dorota Kiedzierzaska, has made an interesting hybrid - a film which attempts to be an art film and yet with more focus on style than content. Nic (Nothing, 1998 - not shown at Cottbus) presents a simple story, which elevates its sepia-toned camerawork to the fore.

The film also tries to use a contemporary "issue" to validate its artistic merit - a woman's right to choose. Despite an intelligent approach, Kedzierzawska fails to accomplish a convincing triumph of superficial features over deep content, and the film is somewhat unsatisfying [Click here for a Kinoeye review]

New depths of trashiness

The ultimate issue to be used and abused to justify a weak film is love, or even better sex. Marek Koterski already has two smash local hits to his name - Porno (1989) and Nic smiesznego (Nothing Funny, 1995). His latest feature, Ajlawyu (1999), continues on from both these films by allowing the "super-blonde" from Porno to meet the resurrected hero of Nic smiesznego.

Geek meets airhead bimbo


As the title of Koterski's 1989 film might suggest, his intentions are far from artistic, and Ajlawju - the phonetic transliteration in Polish of the slurred English words "I love you" - plummets to new depths of trashiness, with some particularly bad acting - although Katarzyna Figura's sex-kitten orgasms are probably largely responsible for the film's success.

Figura (who has also appeared in Robert Altman's Pret-a-Porter as well as numerous Polish films) was at Cottbus on the Festival Jury. Introducing a special screening of Ajlawju (it was outside the competition), she was happy to confess to the film's unashamed populistic bent and that Polish critics had in near unanimous harmony derided the film. Despite her claim that the film was popular with audiences, those who saw the film at Cottbus were distinctly underwhelmed, and those who sat through the film to the end left unimpressed. A surprisingly flat ending to what was a gala showing at the closing ceremony.

But sex and stylistics are not the only things which have been used by Polish cinema to make a film work. Jerzy Hoffman's Ogniem i mieczem (By Fire and Sword, 1999) is a Boys' Own-style adventure story based on a Polish literary classic [Click here for a Kinoeye reivew]. Relying on nationalism and a swashbuckling storyline, Hoffman aims to woo audiences with a plot that, in the context of English-language cinema, seems to come more out of the 1950s.

However, Hoffman is not to be mocked, as Ogniem i mieczem has successfully outsold James Cameron's Titanic in Poland. Its brand of simplistic romance places it firmly in the Cameron camp of film-making, and it is doubtful as to whether the film is of any more artistic merit than is Titanic itself.

The film, though, is inoffensive family fare and at least lacks Poland's woozy infatuation with the trappings of capitalism. Furthermore, its chivalrous view of women at least is in some way preferable to the passive blonde sex goddess stereotype that unimaginative Central European directors insist on churning out at a time when even Hollywood seems to be tiring of the cliche.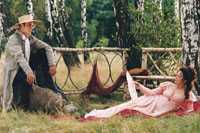 Someone still makes good films in Poland

Not all is lost, however. Despite the fact that it goes against the grain of recent trends in Polish cinema, there are still directors who put content over presentation. Andrzej Wajda's Pan Tadeusz (1999 - not shown at Cottbus) is, like Ogniem i mieczem, based on a literary masterpiece. Wajda, though, avoids the simple mistake of converting descriptions of the Polish landscape into chocolate-box cinematography; instead, Pan Tadeusz concentrates on the characters [Click here for a Kinoeye review].

The antithesis of glitz

The most exciting film shown at Cottbus for Polish cinephiles was Urszula Urbaniak's quiet and low-key film Torowisko (Junciton, 1999). Set in Aniolowo, a small Polish town bearing the brunt of the effects of transition, Torowisko follows the dreams of Maria, a young self-conscious but not unattractive signalwoman.

At first her hopes are raised when a hunky new worker arrives and her tarty friend Krystyna persuades her to show her legs a little. But dreams are just there to be shattered; Maria's beau gets off with Krystyna and then it transpires he is already married. Krystyna's job with an escort agency turns out to be less than expected, and Maria's brother is getting out of his depth dealing in drugs. And that's only the start of things turning sour.

Urbaniak is concerned with much the same things as Koryncka-Gruz, Zylber and even Koterski - the social consequences of Poland's new direction, the demons of society (drugs, infidelity, sex shops and rape) and the quest for personal fulfilment in hopeless conditions.

However, Urbaniak has a sincerity which is completely lacking in the mainstream of Polish cinema today. She refuses to glamorise the vices of modern society (indeed, Aniolowo is the antithesis of glitz) and enters into a real exploration of her characters and their interaction with the time and the space they reluctantly find themselves in. If there is any film of this year which is likely to be relevant in years to come for its long-lasting aesthetic qualities and its sensitive portrayal of the problems of the 1990s, it will be Torowisko.

Urbaniak is not the only film-maker who can claim to be taking such a plot- and character-driven approach in Polish film at the moment. Wojciech Smarzowsk's rejected entry for Cottbus, Malzowina (The Auricle, 1999), also shows promise. Shot almost entirely within a single flat, Malzowina is inventive and resourceful and shows an interest in film-making and not just image-making.

Malzowina is neither an accomplished or even a polished film, though. This leaves Urbaniak as the most exciting director to emerge onto the Polish film scene this year. Given the paucity of good films coming out of Poland, international eyes will doubtless soon focus on her as a rare film-maker for whom image and style is not an all-consuming obsession.

Andrew J Horton, 29 November 1999

Other Films Shown at Cottbus