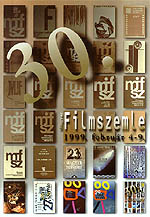 Hungary conjuring up
more films

K I N O E Y E:
New Age Visions (Part II)
Ildiko Enyedi's Simon Magus
---
Andrew J Horton
To read New Age Visions Part I
first, click here.
Ildiko Enyedi has aims which are no less grand than those of Kamondi (see New Age Visions Part I). However, her attempts to evoke magic and mystery with her film Simon Magus (1997-98) are rather more successful.
The original Simon Magus was a charismatic Gnostic, considered to be the first in religious history, living in Samaria in the first century. Legend has it that one day he arrived in Rome and after showing off in front of the local citizens, he challenged St Peter to a dual of magical powers. As Simon was levitating above the city and the surrounding mountains, Peter was silently praying for God to bring shame upon this foreign sorcerer.
Since Simon himself had turned away from Christianity, God now naturally seized the opportunity for revenge and Simon plunged to the ground, taking his authority and arrogance with him and dying of the after-effects a few days later. Another version of the tale, and of Simon's death, has Simon's disciples obediently burying him, after he arrogantly vows to resurrect himself in three days (which, needless to say, he never does).

The director

Enyedi's film, however, changes everything around. For a start, the action is transposed to contemporary Paris, with the mysterious magus from the east coming from Budapest. More intriguingly, in the film, Simon is resigned and exhibits an almost world-weary modesty. After solving a murder mystery for vast sums of money, he is the one who is challenged to a dual to survive buried underground for three days, which he accepts reluctantly. Simon is actually far more interested in an attractive French girl who has won over his hardened cynical heart. (Regular readers of Kinoeye will not be surprised to hear that she is young enough to be his daughter [Click here for Kinoeye's article Gentlemen Prefer Passive and Pubescent]).

In a neat and fancy turn that any aspiring magus would be proud of, Simon concedes the dual and kills off the magus in him, but at the same time wins the day and is reborn as a man.

A magus with a mission

Unlike Kamondi, Enyedi (who first emerged in the 1980s as one of number of adventurous new directors) clearly knows what directing a film is all about. The first fifteen minutes illustrate this graphically, with Enyedi creating an atmosphere of tension and expectation that draws us into the film. The lack of concrete information, the photography and a persistent Bartok motif overlaid on top of it all make for a compelling piece of cinematography. The mood is one of mystery and is infused with a style and an eye for detail that only a truly European film could carry.

Presumably, it was on the basis of these opening 15 minutes that Enyedi was awarded the Grand Jury prize for best director at the 30th Hungarian Film Week. In this respect, Warhol's excessively quoted comment about every person being famous for 15 minutes can be twisted into a rather different meaning in Enyedi's case: Enyedi is not famous for the duration of 15 minutes, but because of a particular 15 minutes.

Although some tensely atmospheric scenes depicting the city return, the rest of the film is on the whole rather less inspiring than the opening quarter of an hour and, surprise, surprise, when it comes to Enyedi filling out her plot, the whole thing falls to pieces, leaving her introduction as a tantalising memorial to what the film could have been, if only a decent scriptwriter had been found.

This is an enormous shame. Kamondi's film is fatally flawed and it is hard to imagine what could have been done to save it, given Kamondi's obvious love of the preposterous; Enyedi 's film, however, has merit. The performances of Peter Andorai as Simon and Julie Delarme as the French girl Jeanne are accomplished, and the scenes in which they first meet are warmly witty and engagingly dynamic.

The film certainly could have done a lot worse. A few weeks after Budapest's Film Week, another film with the title Simon Magus was shown at the Berlin film festival, Berlinale, only to suffer the ignominy of being booed by the audience. Enyedi's Simon Magus, for all its faults, does not deserve to be booed.

Andrew J Horton, 22 March 1999 (republished 20 December 1999)