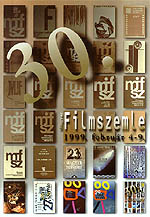 Hungarian Film Week:
Showcase for Hollywood
wannabes?

K I N O E Y E:
Csardas and Cash
Why money alone won't help Hungarian cinema
---
Andrew J Horton
This February, Budapest celebrated its 30th Hungarian Film Week. Not all was joy at the festival, however, and in the end, the jury refused to award a Grand Prize because there was no obvious winner. With Hungary's reputation for filmmaking in tatters, many in the industry see money as a panacea for the ills afflicting Hungarian cinema. They are mistaken.
Hungary has had a long and deep relationship with cinema. While in other parts of the world the debate raged as to whether the cinema should even be accorded the status of an art, the medium was viewed by Hungarian cinematographers as an artistic one from its very beginnings. Influenced by the writings of the critic and theoretician Bela Balazs, Hungarian cinematography was heavily, and healthily, rooted in both documentary and early Soviet filmmaking practices. Furthermore, in the Communist era, Hungarian cinema was relatively free from bureaucratic control and film-scripts were approved on the basis of artistic, rather than ideological, merit. The result was a national cinema that was intense, thought provoking and capable of producing genuinely groundbreaking works, many of which were also openly critical of the Communist regime. Individual directors such as Miklos Jancso, Istvan Szabo and Pal Gabor, among others, emerged in the 1960s and 70s and soon gained outstanding international reputations.
These days, however, Hungarian cinema is less highly regarded. Much of the trouble stems from a shift of focus in Hungarian society. Recently, Hungarians have shown little interest in the intellectuality of the documentary/Soviet model of filmmaking, and have consistently looked to the glitz and glamour of Hollywood for their cinema. Entertainment has superseded aesthetics. Naturally, the changes of 1989 were an important factor in this shift, but the rise of video and television, and particularly satellite television, ensured that this process was underway well before the Communists relinquished power.
Cinema-going per se has not suffered as a result of these changes. Audiences now prefer large multiplex cinemas, which have been mushrooming all over the country since the first one opened in Budapest in 1997. Their success both reflects and has caused the decline of smaller, art-house cinemas, which have previously been assiduous in promoting quality Hungarian film. Multiplexes thrive on high capacity blockbusters and have little concern for altruistically supporting art when they could be making money instead.
The cultural elite in Hungary have reacted badly to all these changes. At one time, their position was assured, and they commanded an automatic and unconditional respect; now their position in Hungary's cultural life is much diminished and they are in competition with America.
Hungarian Hollywood
The 30th Hungarian Film Week clearly demonstrated that Hungary cannot compete with Hollywood on its territory. This principal was admirably demonstrated by Csaba Horvath's debut Europa Expressz (1998). Hyped by its production company as a "new phenomenon" in Hungarian filmmaking, Europa Express tries to combine the adrenaline pumping stimulation of a Hollywood blockbuster with Hungarian stars and a topic relevant to a society in transition - Mafia crime. The film is more likely to be remembered by audiences for its ill-advised haircuts, improbable plot and unintentionally hilarious scripting, all of which are of a standard that connoisseurs of kitsch relish in ultra-low-budget American movies of the 1970s. In this respect, the film could yet become a classic of some sort.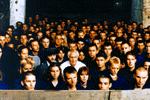 Jancso (centre in the white)
playing in his own film

If proof were needed that the center of Hungary's cultural axis is now America, it could be pointed out that Europa Expressz, for all its glaring faults, was not eliminated by the (all-Hungarian) pre-selection jury for the festival. On the other hand, Nekem lampast adott kezembe az Ur Pesten (The Lord's Lantern in Budapest, 1998), Miklos Jancso's innovative and darkly humorous kick-start to his beleaguered career, which is also a distinctly Hungarian work, was dropped from the competition at the first stage. The international film critics present at the festival took a rather different view of the matter and awarded The Lord's Lantern in Budapest their Gene Moskovitz prize [Click here for a full Kinoeye review].

Money problems

The Hungarian film industry is not short of its own explanations for the decline of Hungarian cinema, although they have little to do with the ideas outlined above. Most insiders see the problem in terms of one word -money. Advocates of this view usually seem to think it is sufficient just to utter this word to muster a compelling argument for what should be done. Rarely do they expand on the more mundane practicalities of how the money should be allotted. Presumably, their logic goes, if enough cash is thrown at Hungarian film directors, they will somehow suddenly be able to make good films again.

It is worth looking at this presumptive and dangerous fallacy in some detail. Firstly, although the Hungarian film industry is stagnating in terms of quality, money is not preventing activity in terms of quantity. This year, 34 Hungarian feature films were presented at the festival, a figure that compares favorably with previous years. Of these 34, the vast majority of them face an uncertain future, if last year is anything to go by. Only 13 Hungarian films were in distribution in Hungary in 1998 and of those a measly four managed to achieve viewing figures in excess of 8000. One of these films only managed to fill cinemas to an average capacity of 6.4% of their maximum. Several others faired similarly. The problem, therefore, is not in the output, but the quality of the output.

The problem with money

Larger budgets are unlikely to improve the above statistics, and the Hungarian film industry would do well to look at the example of Britain. The introduction of a national lottery in the UK led to the availability of large amounts of money for filmmakers. Over seventy films have so far received funding, and almost all of them have vanished without a trace, some earning back as little as 0.1% of their budget in box office earnings. Even big names like Sigourney Weaver and Tom Conti have not been sufficient insurance against unmitigated disaster for some projects. Ironically, recent British success stories such as Trainspotting, The English Patient and Shakespeare in Love received no lottery handouts and instead were funded by international backers who had been convinced of the quality and viability of the projects.

Money is, of course, needed to make films, and historical drama as a genre has suffered in particular as a result of financial problems. However, to blame the current state of Hungarian cinema exclusively on a lack of money is naive. Hungarian directors, in whining about money problems, seem to be absolving themselves of any responsibility for the overall quality of their nation's contribution to this art. The problem with money is that it is only a catalyst - it may (or may not) make a good film better, but money alone cannot create a good film. Good films will never be made in the absence of the essential ingredient of talent. The abysmal viewing figures for Hungarian films and the pitfalls into which British cinema has fallen clearly indicate that revitalizing scriptwriting, acting and directing are primary steps towards improving the status of Hungarian cinematography.

Responding to conventional wisdom on what ails the industry, Balint Magyar, the Hungarian Minister of Culture and Education, used his speech at the opening gala of the festival to announce more money for the industry and a long-awaited film law to protect Hungarian cinema. However, such measures will only be successful if directors can rise to the opportunities they create. If money is injected into the film industry, it should be done so carefully, and with more money allotted to education and training, rather than to converting low-budget flops into high-budget flops. The future of Hungarian cinema lies in quality films, not in expensive films.

Andrew J Horton, 1 March 1999