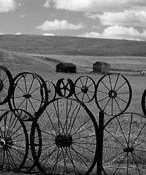 K A R L O V Y V A R Y:
It Was a Dark and Stormy Night...
Djordje Milosavljevic's Tockovi
---
Andrew J Horton
Nemanja, the star of Djordje Milosavljevic's Tockovi (Wheels, 1999), is driving home to visit his father when he picks up a hitch-hiker in the pouring rain. During the brief ride, the bedraggled hitcher warns Nemanya that the road is flooded and recommends that he stay in a local motel named The Wheel. Then he steps out of the car and vanishes into the pouring rain. A police roadblock to hunt down a serial killer and a flat tyre all offer ample opportunities for several other people to access his car, so when he arrives at the motel, he has no idea who is responsible for having left a gun behind for him. Grateful for the protection, he takes the weapon, only to find out that he has the weapon used by the serial killer. He is not the only person to realise this, and the creepy guests at The Wheel soon suspect him of the murders. Curiously though, they seem reluctant to call in the police and prefer, for their own reasons, to administer their own justice. Nemanja is forced to defend himself, and in the bloodbath that follows, he finds it increasingly difficult to persuade people that he is not a killer.
Tockovi is a slick piece of film-making, with a skilful build up of tension. This should not be too surprising as Milosavljevic is already one of Yugoslavia's leading playwrights. Although he has written for film before, this is the first time he has tried his hand at both scriptwriting and directing. The result is generally successful. As is now commonplace for any film that splatters slightly more than the average amount of blood around the place, Tockovi has been branded "Tarantino-esque", whatever that may mean. Milosavljevic, not surprisingly, has resisted the labelling.
His screenplay, however, has less to do with a fashionable American film director and more to do with a decidedly un-hip English author. Tockovi seemingly takes its starting point from an Agatha Christie novel, originally entitled Ten Little Niggers, a title so outrageously offensive the book was adapted to become Ten Little Indians. The inspiration is apparent in the variation of the ditty "Ten Little Indians" which the killer recites at the end of the film, as does the killer in Christie's book.
To say Tockovi is an adaptation of Ten Little Indians would be going too far. However, Tockovi does neatly take the essence of Christie's depiction of the English home counties and transposes them into rural Serbia. Both are apparently civilised worlds of order, good manners and affluence, beneath which lurk dark secrets that society dares not talk about. Perhaps the difference is that Christie's England was a rather fantastical invention to make middle class England seem more exciting and gutsy than it actually was. In Serbia, on the other hand - as in many countries with markets in transition - any excessively well-groomed business man with an expensive car quite probably has more than a few carefully guarded secrets lurking in his past. In this respect, Tockovi is more on the mark as a social portrait.
That said, the film is unlikely to be winning prizes for its analysis of the human condition, even if it has had justifiably good box office returns and a well-deserved run on the international festival scene. Its claims to be a mystery thriller on the level of those of Christie are also diminished by its inability both to make full use of its characters (admittedly something Christie herself was not exactly strong at) and to create a satisfying ending, which justifies the tension of the previous hour and a half. The film consequently works best as a piece of fun and at that it certainly succeeds; no small achievement, since a good many Central European films fall far short of this relatively simple mark.
Andrew J Horton, 22 July 1999
Click HERE to read the first in this pair of articles: a look at a cool and dispassionate view of post-totalitarian violence.
Kinoeye at Karlovy Vary
The following is a list of other films shown at Karlovy Vary which have been covered by Kinoeye.
Nekem lampast adott kezembe as Ur Pesten (The Lord's Lantern in Budapest) by Miklos Jancso, Hungary
Krava (The Cow) by Karel Kachyna, Czech Republic
Okraina (Outskirts) by Peter Lutsik, Russia
Pasti, pasti, pasticky (Traps) by Vera Chytilova, Czech Republic
Kinai vedelem (Chinese Defence) by Gabor Tompa, Hungary