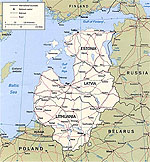 C E N T R A L E U R O P E A N N E W S:
News Review for Estonia
All the important news from Estonia
since 4 December 1999

Mel Huang
---
Politics and foreign affairs
Prime Minister Mart Laar and Foreign Minister Toomas Hendrik Ilves represented Estonia at the Helsinki European Council meeting. They are also due to hold several bilateral meetings with other heads of governments.
Estonia completed its maritime communications network, a project which cost EEK (Estonian kroons) 57 million. This will allow Estonia to properly adhere to SOLAS rules.
The joint parliamentary Baltic Assembly met in Riga during the previous weekend. The group discussed ways to promote Baltic co-operation and passed several joint resolutions on agriculture and lobbying efforts in the US. They also called on Russia to start talks to end the fighting in Chechnya.
Prime Minister Laar made a three-day visit to Lithuania. In Vilnius, Laar met with President Valdas Adamkus, Prime Minister Andrius Kubilius and other officials. Kubilius called the relationship "co-operation with competition" between the two often rival states. The two prime ministers also suggested that all three Baltic countries co-operate in purchasing their airspace surveillance systems, since they need to be integrated into BALTNET anyway. Laar also visited Kaunas on his final day in Lithuania.
Sulev Kannike was named officially as ambassador to NATO and Benelux. The post has been vacant since Juri Luik took over as defence minister back in March.
&nbsp
---
Economics and Business
Analysts were rather disappointed when data came out showing third quarter GDP rose by only 0.2 per cent, which is far below the estimates of between 1.5 and 2.5 per cent from most experts. This is the first quarterly GDP rise in Estonia since the third quarter of 1998, but most analysts now predict a slight drop for the full 1999.
The November trade gap also grew to EEK 1.4 billion, as exports total EEK 3.75 billion and imports EEK 5.13 billion. The EU still accounts for 60 per cent of all imports and exports, while the CIS accounts for 14 per cent of exports and 17 per cent of imports.
The consumer price index rose by 0.3 per cent in November.
The Consumer Protection Agency said that petrol companies are cheating their clients with low-grade petrol. They claim that the four large petrol firms - Neste, Shell, Statoil, and LUKOil - have been selling substandard "95E" petrol. Fuel companies complain that the Estonian standard for sulphur content in petrol is ten times stricter than that of the European Union, and they are selling petrol at the EU requirement. The Agency can fine each EEK 10,000 for the mislabelling.
TV1, the smallest television station in Estonia, was purchased by investment bank Lohmus, Haavel & Viisemann. Originally, Latvia's LNT was courting the small network, but settled for a co-operations deal between TV1, LNT and Lithuania's Baltijos Televizija.
The Tallinn Bourse approved the list of companies for the new joint Baltic blue-chip list. The three banks - Hansapank, Uhispank and Optiva Pank - will join seatbelt maker Norma and telecom giant Eesti Telekom as Estonia's five representatives for now. Qualification for the list consists of both capital and liquidity requirements.
Interesting statistic: 36 per cent of all corporate taxes are paid by the 20 biggest Estonian companies.
---
Social and Local Interest
November unemployment rose a bit to 5.2 per cent throughout the country. It remains highest in the north-eastern Ida-Virumaa, where the jobless rate is 9.5 per cent.
A poll by the Saar agency showed that only 53 per cent of Estonians trust the objectivity of the press. About a third of respondents say they do not think the press is objective. Also, 84 per cent said they feel powerless to influence the government, and 89 per cent said they cannot influence the president.
Fixed line monopoly Eesti Telefon said that they will switch all of Tallinn over to digital lines by the end of next year. The process to digitise the lines have been ongoing for several years now in Tallinn.
---
And Others...
Prime Minister Mart Laar said he wil not send any Christmas cards this year by post - only by the internet. Laar said he is doing his part to cut down on unnecessary expenditures in a year of austerity, which also reflects the high-tech nature of the country. He has asked all government offices to try to adhere to the same idea. The Foreign Ministry said they can cut their costs by over 70 per cent, though some cards need to be sent by post for diplomatic and protocol reasons.
Head of the Medicines Department Lembit Rago became the new head specialist at the World Health Organisation's treatment and prevention department.
Experts warn that interwar-era submarine Lembit could sink if the hulls are not repaired or if the aging vessel is not removed from the water. Lembit was one of two submarines in Estonia's fleet during the interwar years.
Legendary rock band Ruja released a 5-CD boxed set this past week. This is believed to be the first boxed set in the Estonian music business. Most of the six hours of material is previously unreleased, and only 2000 copies of the limited collectors items will be released (see Rock Estonian Style from 1 November for more on this legendary band).
Finally, the new terminal of Tallinn Airport has opened for travellers. For almost two years, during the reconstruction, Tallinn Airport operated out of temporary quarters next door. However, the new airport is a marvel in modern design and is up to the standards of any European small airport. There was a mild problem when the roof - done by a Finnish company - leaked a little.
---
Exchange Rates
As of 10 December 1999
currency
Estonian
kroons
(EEK)
1 US dollar
15.36
1 British pound
24.93
1 German mark
8.00
1 euro
15.65
[Up to date Estonian exchange rates can be found here]
---
Prepared by Mel Huang, 10 December 1999
Archive of Mel Huang's Amber Coast articles
---
News Sources
Radio Free Europe/Radio Liberty