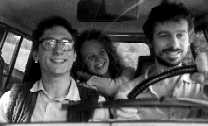 K A R L O V Y V A R Y:
Getting in Gear:
Janez Burger's V leru
---
Andrew J Horton
Janez Burger's feature film debut, V leru (Idle Running, 1998), starts with a long monologue in praise of nihilism, inertia and apathy directed at the camera. Dizzi, the thirty-year-old who gives this speech, lives out his philosophy. Life is a lazy game of "idle running," which the title alludes to; though perhaps "Free-wheeling" would have been a better translation. Drinking, smoking, hangovers, watching television and more drinking are the only features of his existence - and that is how he likes it.
Marina, his girlfriend, has different ideas. She seeks direction and energy and, more specifically, marriage and a stable home. Inevitably, these are all ideas which are anathema to Dizzi and always will be - or so one would think. Things start to change in unexpected ways when a geeky, bespectacled electronics student, Marko, is assigned to be Dizzi's roommate in the dormitory in which he lives.
Dizzi, unimpressed with the squareness of the new arrival, attempts to drive Marko away by continuing his alcohol-fuelled life-style with total disregard for the room's new co-occupant. However, Marko beats him at his own game, refusing to be flustered by the late-night drinking sessions which occur around him and not letting his concentration be deflected from his nerdish, diligent studies. Marko even builds a proper television remote control to save Dizzi the bother of changing channels with a broomstick and a strange sort of mutual acceptance gradually builds between the two.
But changes don't really start to affect Dizzi until Marko's pregnant girlfriend Ana moves into the room. Their tender love for each other, coupled with his own increasingly disastrous personal life, forces Dizzi to wonder who is getting the better deal out of life. As the unexpected friendship between Dizzi and Marko grows, Ana becomes increasingly anxious. A plea from her to Dizzi finally achieves what Marina could not: he turns his back on his life's philosophy and begins to act responsibly.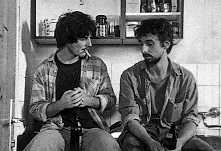 Slovenia is almost unique in Central Europe in that it is practically the only country which has failed to produce a significant body of cinematic art. Only Romania has a film industry which competes with Slovenia in its lack of output. The presence of V leru in the competition was, therefore, particular cause for excitement.
However, V leru failed to win any of the awards. To anyone who has seen the film, the reason will be obvious. It lacked the accessible slap-stick humour of Pelisky (Cosy Dens, 1998) which won the FIPRESCI prize, and it had no striking subject matter, as did Blokpost (Checkpoint, 1998), which won Best Director for Alexandr Rogozhkin.
However, this is not to say that it was in any way a worse film; indeed, it was considerably better. V leru eschewed cheap laughs, large explosions and mock heroics relying instead on a strong script based on the development of real and engaging characters - not things many film directors can be bothered with these days. (This, of course, is lamentable, but, given that audiences don't really seem to be interested in these features either, it is, perhaps, hard to blame the film-makers.)
By this token, V leru was one of the most interesting Central European films at Karlovy Vary this year. As a thoughtful and mature film, it somehow deserves as much play as Pelisky and Blokpost. However, as a warm and humanistic film, it deserves to be screened much more than these disposable award-winners. V leru may well have a low profile on the international festival circuit this year. If that does turn out to be the case, we can only hope that Burger will produce a string of works of this calibre in the future which will retrospectively raise interest in this film.
Andrew J Horton, 6 September 1999
Click here for the second in this pair of articles on films which are character-driven.
Kinoeye at Karlovy Vary
The following is a list of other films shown at Karlovy Vary which have been covered by Kinoeye.
Pelisky (Cosy Dens) by Jan Hrebejk, Czech Republic
Co chytnes v zite (In the rye) by Roman Vavra, Czech Republic
Pripyat (Pripyat) by Nikloaus Geyrhalter, Austria
Rychle pohyby oci (Rapid Eye Movement) by Radim Spacek, Czech Republic
Totalitarnii roman (Totalitarian Romance) by Viacheslav Sorokin, Russia
Tri muskarca Melite Zganjer (Melita and her Three Men) by Snejzana Tribuson, Croatia
Demony wojny wedlug Goi (Demons of War by Goya) by Wladyslaw Pasikowski, Poland
Blokpost (Checkpoint) by Alexandr Rogozhkin, Russia
Tockovi (Wheels) by Djordje Milosavljevic, Yugoslavia
Gengszterfim (Gangster Film) by Gyorgy Szomjas, Hungary
Nekem lampast adott kezembe as Ur Pesten (The Lord's Lantern in Budapest) by Miklos Jancso, Hungary
Krava (The Cow) by Karel Kachyna, Czech Republic
Okraina (Outskirts) by Peter Lutsik, Russia
Pasti, pasti, pasticky (Traps) by Vera Chytilova, Czech Republic
Kinai vedelem (Chinese Defence) by Gabor Tompa, Hungary