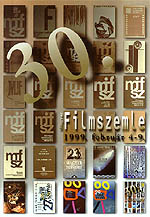 Hungarian film comes home

K I N O E Y E:
A Hungarian Homecoming
Ferenc Grunwalsky's
Visszateres (Kicsi, de nagyon eros 2.)
---
Andrew James Horton
This article was originally published alongside a review of Miklos Jancso's Nekem lampast adott kezembe az Ur Pesten.
To read this review first,
click here.
Ferenc Grunwalsky's latest film Visszateres (Kicsi, de nagyon eros 2.) [Homecoming (Little but Tough II), 1998] is worthy of comparison with Jancso's latest film on several levels. For a start, Grunwalsky is a long-time collaborator with Jancso and worked with him on Nekem lampast (see above) as director of photography. The two films both tackle violence in contemporary Hungary, use many of the same actors and even have soundtracks by the same band, Kispal es a borz. More than this, in a close vote, Grunwalsky was only narrowly lost out to Jancso for the festival's Gene Moskovitz prize.
As the title suggests, Visszateres is the sequel to Grunwalsky's film Kicsi de nagyon (Little but Tough, 1989). Knowledge of the first film is, however, not essential for the appreciation of the second, as Grunwalsky summarises the story so far in black and white flash-backs. Both films concern Bogar, a taciturn and moody burglar. The end of the first film sees him killing a gang of crooks in order to retain a hoard of stolen treasure.
For his own safety, he then has to vanish into the woodwork. Before he does so, he leaves the stolen loot with his sister Zsuzsi and her new husband Bela, hoping to provide them with security and happiness. A decade later he returns to see how the family is doing and he is none too pleased. The location of the treasure has been violently beaten out of Zsuzsi by another gang, her children have been put into state custody and her husband has allowed her to fall into alcoholism. So, Bogar sets about righting all the wrongs, mostly through the use of vengeful violence.
Having invited comparison with Jancso, Grunwalsky defies it. For all the obvious similarities, Visszateres is a very different film. Dark and uncompromising, Visszateres has none of the lightness of touch or comic asides that make Nekem lampast enjoyably black. Jancso's Nekem lampast? has abstracted violence, using that ultimate of instruments for distancing one from the real pain of death and brutality, the gun.
Raw violence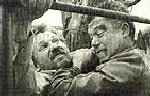 Despite the gangland battles, Visszarteres is entirely lacking in guns and the violence takes on a more concrete quality, as death and pain is administered with bare hands. The result is that the violence is almost unnaturally real and immediate. Certainly, Visszarteres is lacking in the whimsical turns of flightful fantasy which characterise the world of Nekem lampast.
In the midst of this, Bogar is almost a caricature of a hero, seemingly struggling to live up to a cinematic image of a protective angel. Returning after a decade, he rises from out of a lake like a human Godzilla and the revenge he takes is smugly saturated with his own self-righteousness: He kills Bela with his own hands for not looking after Zsuzsi, although he himself has been absent. The film's message is uneasy and unsettling. We want to identify with Bogar, but at the same time his actions have only brought unhappiness to his family and revenge has its price.
Bleaker than its predecessor, the film Visszateres is an unusually visceral piece of film-making which stood out in a festival in which emulating the vacuousness of Hollywood seemed to be a principal trend. Grunwalsky has something to say as a director and isn't just making films because it is more glamorous and pays a lot more than being a sheet-metal worker. Visszateres is well rounded, with its central idea supported by strong performances, a good script and some meaty guitar-work for good measure.
Sadly, the film is likely to sink into obscurity. It is far too bleak and thoughtful to attract Hungarian cinema audiences who are moving away from arthouse cinemas to multiplexes for their entertainment. It may, in fact, only be the few songs by the popular Kispal es a Borz which attract Hungarian viewers. What is more, having failed to garner either the Gene Moskovitz prize or the Grand Jury's awards for either best film (which the Jury, in one of their more sensible decisions, refused to award this year) or for best director (which went to Ildiko Enyedi for Simon Magus), Visszateres is unlikely to attract too much attention abroad. Although the film is not set to become an all-time classic in anyone's books, it is a confident and intelligent achievement and deserves more than simply being eclipsed by Jancso's film.
Andrew James Horton, 26 April 1999