On Friday 19 January, Interior Minister Rado Bohinc issued a press release in which he declared: "Illegal crossings of the state border threaten the stability inside Slovenia. Should this situation continue, or worsen, Slovenia's national security could well be threatened."
The statement was delivered with no false sense of urgency. Indeed, in recent years, Slovenia has become a key transit country for illegal migrants on their way to Western Europe. The number of migrants has been rising sharply in recent years. According to the same press release, 35,743 foreigners crossed the Slovene border illegally in 2000, up 91 per cent from a year ago.
Currently, the major destinations are Germany and Sweden. But as Slovenia prepares for EU membership in the near future, its illegal migration problem could worsen. It could make Slovenia a destination in itself, thereby placing a heavy strain not only on the country's police force and legal system but also on society at large.
The numbers
In 1997, just over 7000 people were arrested for illegally crossing the border. One year later, that number almost doubled, to 13,740. In 1999, the figure was up to 18,695, while in the first seven months of 2000 alone it reached 14,623.
While the number of illegal migrants has risen exponentially in recent years, the demographics of the migrants have been in a permanent state of flux. In 1998, citizens of the Federal Republic of Yugoslavia made up the majority of those arrested for illegally crossing the border (4796), followed by Romanians (3244), Macedonians (765) and Turks (866).
With the end of open hostilities in Kosovo, however, the number of Yugoslavs has steadily declined. From a peak of 7514 in 1999, the first seven months of 2000 saw only 890 taken into custody.
Iranians have taken over the top of the list. In the first seven months of 2000, 5195 were arrested for illegally trying to cross Slovenia's borders. Romanians (1682) held on to second place, and Turks (1682) made it to third.
Organized tours
It seems that the majority of illegal migrants crossing through Slovenia do so as part of highly organized groups operating along underground networks. Most frequently, an illegal migrant's journey begins in Turkey or Iran with organized groups specializing in illegal migration. From there, they fly into Sarajevo, where visa restrictions are notoriously slack.
With the end of open hostilities in the Balkans, the region has been saddled with many remnants of war, including destroyed infrastructure and property, an influx of millions of refugees, suspicion and distrust. One other remnant of the war is the network of black market profiteers and other criminals—a network that is now assisting the illegal migrants. In Sarajevo, they meet contacts that help them travel through Croatia and onto Slovenia. From there, they fan out into Western Europe.
According to UN data, 14,315 Iranians flew into Sarajevo's Butomir airport in 2000, but a mere 1226 have actually returned home. Similarly, 14,083 Turks arrived, with only 4117 returning. Tunisians have recently moved into Bosnia's top three; in 2000, 790 arrived in Sarajevo, and only 75 went home.
In December 2000, Bosnia introduced visas for Iranians. The move was not only prompted by complaints from neighboring countries but also from the Iranian government. It is still too early to tell, but the move should dramatically lower the number of Iranians moving through Slovenia to Western Europe.
Should the number of Iranians fall, other groups are ready to take their place. With the huge influx of Chinese nationals into Yugoslavia as a result of Milošević's loose policy toward immigration from China, the demographics of illegal migrants crossing through Slovenia will surely include large numbers of Chinese in the near future.
The Schengen border
When it achieves EU membership, Slovenia's southern border with Croatia will also become the southern border of the Union itself. Slovenia is currently trying to institute the Schengen agreement (which is, essentially, a set EU guidelines for external borders) on its southern border, but the task is huge and the cost high.
There are currently just over one thousand police officers working in 56 districts on Slovenia's borders. The borders with Austria and Italy, and most likely Hungary as well, will become internal EU borders and therefore pose little threat. There are currently about 700 officers working on the border with Croatia, but in order to institute the Schengen agreement more than 3000 officers will be needed.
Aside from the cost of the necessary equipment and facilities, the cost of salaries for these new officers promises to be no small burden.
Slovenia's response
Earlier this year, the country took the step of introducing new passports in an attempt to curb illegal migration not only in Slovenia but also throughout Europe. The former passport had become one of the most sought-after items on the black market, as it allows entry into 80 countries (including the United States and Canada) without a visa.
The new passports will have 25 security features, ten more than the previous document. The first new passports were issued on 3 January 2001, and it is expected that all of the old passports will be phased out within two years.
Once an illegal migrant gains possession of a black-market Slovene passport, their journey is much less risky. It is hoped that with the creation of the new passport, and a battery of stringent rules and regulations surrounding it, illegal migrants will have a much harder time getting to their desired destination.
Further, Slovenia recently adopted several new laws in order to deal more effectively with the rise in illegal migration and the migrants themselves. The two most important laws, the Law on Foreigners and the Law on Asylum, give the country a much firmer legal foundation in light of the dire problem.
The Law on Foreigners deals with the manner in which citizens of other countries may enter, leave and reside in Slovenia. A list of more than 100 high-risk countries is spelt out in the law.
The Law on Asylum, like the Law on Foreigners, is fully in compliance with EU and international conventions. It maps out the principles, conditions and procedures of acquiring asylum. It is now the major legal document regulating the position of refugees in the country.
In April 2000, the government also adopted a National Action Plan on Asylum intended to strengthen Slovenia's asylum policies.
Making a distinction
It is important to distinguish between those who flee their homes as a result of war, human rights abuses or other legitimate conflict, and those who attempt to immigrate for economic reasons in illegal ways. Legislation must be tough on the latter, but must also take into account the special cases of the legitimate refugees.
The number of requests for asylum in Slovenia skyrocketed from 776 in 1999 to 13,000 in 2000. However, this figure indicates that more illegal migrants are trying to take advantage of Slovenia's asylum legislation rather than an actual rise in refugees. Of the 13,000 applicants, 12,600 left the country while their requests were being processes—most likely moving on toward their final destinations in Western Europe. Only eleven requests for asylum were actually granted last year by Slovenia.
Other important laws dealing with illegal migration that were passed recently include the Law on the Prevention of Illegal Employment (April 2000) and the Law on Foreign Worker Employment and Labor (July 2000). However, the 2000 annual progress report of the EC noted that Slovenia's legislative framework is still incomplete, since the Law on Border Control has not yet been passed.
The Law on Border Control is unfortunately not expected until 2002. The new passports and new legislation, combined with Bosnia's new visa restrictions and increased international co-operation, are all concrete steps towards easing the problem of illegal migration, but clearly there is much more work to be done.
Brian J Požun, 29 January 2001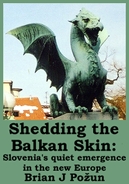 Brian J Požun's new ebook now on sale from CER
Moving on:
Sources:
Delo
Dnevnik
Government Public Relations and Media Office