The storyline to Veit Helmer's Tuvalu (1999) is almost wholly overwhelmed by its style and the quality of its cinematography. By the end of the film, I knew I had seen something quite different and on a higher imaginative level. But I was not prepared for the visual after-effects, which flash up into your head in bright colours for weeks and months, bringing unexpected smiles with them.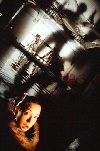 Tuvalu - a real island - represents the yearning most of us have to go somewhere far away to a place that we imagine to be paradise. Thus in Tuvalu the film, the plot is virtually a sideline to the imagery. It is entirely in sepia, although the action is interspersed by coloured segments that represent the imaginings and dreams of the protagonists.
It is set in a grand old public bath that has virtually no regular custom and is almost a ruin. Karl (Philippe Clay), who owns it, is blind and is lovingly kept ignorant of its state of dilapidation by his son Anton (Denis Lavant), who uses tricks too numerous to mention in order to fool him.
The film evolves into a girl-meets-boy odyssey with a plot and acting style which often invites comparisons with Jacques Tati, Edward Scissorhands and Eraserhead. The acting is not grounded in realism, but is extremely theatrical in nature. Every activity is expressed in a heightened and accentuated form.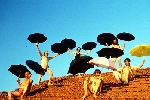 There is no secretive pensiveness in these actors, everything they feel is expressed directly by an action. This might sound alien and perhaps even inferior to modern film acting styles, but it makes an explosive fairytale-like piece of cinema, with acting pulling you into the fantasy land of the swimming baths.
Revelling in the medium
Helmer is not the type of director to hide the fact that he is making a film, he wants the viewer to know this openly and to be imaginative with him. The actors compel you to watch them by their physical expressiveness. Every inch of their bodies is involved in the action, from their eyes through to their fingers.
There is not a single weak link amongst them. They mostly talk to each other in single tones, and different languages, but you always understand what they are saying. The sounds in the film are often overwhelming and reminiscent of audio versions of large exclamation marks. They punctuate and heighten the visual experience.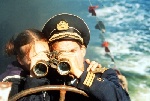 When I caught up with Helmer at the Berlin Film Festival, he admitted that much of the production time was spent on searches; to find money, a producer, actors (he looked in fourteen countries no less) and to find a suitable swimming pool before eventually plumping for one in Bulgaria. The film took three years to plan and only seventy days to shoot.
The exterior of the baths was a miniature built by an animation team. Its shape was also meant to be reminiscent of a steamship, as the film is about a journey, in all uses of that word. Apparently the locals in Sofia, Bulgaria, where the baths were located, became so attached to the miniature, that they were appalled at the thought of it being destroyed as part of the plot. Helmer decided to shoot this sequence very early one morning to avoid the wrath of the locals! The strange otherworldly machinery was designed by an art professor who turned Tuvalu into his project of the year at his academy in Sofia.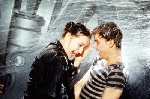 Helmer's enthusiasm for his film is infectious. He has managed to pool a great deal of talent into one project and propel it across the screen in a memorable myriad of unforgettable pictures.
Following the film's Berlinale screening, Tuvalu will be showing in cinemas in Germany from 22 June and can be seen at the Washington Film Fest at the end of this month.
Elke de Wit, 10 April 2000
Moving on: