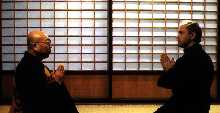 Dörrie: Enlightenment and entertainment

K I N O E Y E:
Growing up Late
Doris Dörrie's Erleuchtung Garantiert
---
Elke de Wit
Usually "coming of age" stories centre around the young, but Doris Dörrie's Erleuchtung Garantiert (Enlightenment Guaranteed, 2000) could be classified as a coming of age story for 40-year-olds.
Uwe (played by Uwe Ochsenknecht) and Gustav (Gustav-Peter Wöhler) could hardly be more different as brothers: the former is an utter slob and the latter a practising feng shui expert. When Uwe's wife leaves him suddenly, taking the entire contents of their flat and the children with her, he turns to his brother for a shoulder to cry on. As Gustav is about to embark on a Buddhist retreat to Japan, Uwe has no choice but to tag along - much to his brother's alarm.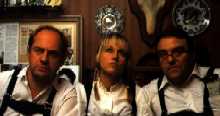 Dressing up as Germans

Almost as soon as the pair arrive in Tokyo, trouble starts to brew. Their credit cards are lost to a "vicious" cash dispenser and they cannot find their way back to their hotel. In desperation, they resort to stealing a tent, which they pitch in the middle of the city on a vacant lot. In order to leave Tokyo, the brothers work in a German-style beer hall, where they earn enough money to make their way to the monastery.

Dörrie could quite easily have got cheap comic mileage by mocking the Buddhist community and Western perceptions of them. Instead she manages to handle this subject with unusual delicacy, and the joke is decidedly on Uwe and Gustav, whose inadequacies of coping in the monastery, with each other, and with their own lives are highlighted. We by turns laugh at them, with them, and feel sorry for them. They learn much and change considerably, but the plot never becomes over-romanticised.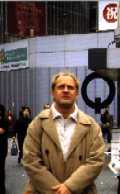 Culture shock

The grainy opening sequences to Erleuchtung Garantiert give the feeling of watching an old-fashioned computer screen. It is only later on that you realise that the lo-fi images, which are intercut with scenes of a more conventional image quality throughout the film, are what Uwe himself videos.

In fact, Erleuchtung Garantiert is - remarkably enough - shot entirely on video. Dörrie switches back and forth between the extremely grainy home video made by Uwe and her own much more sophisticated techniques with you only ever feeling you are experiencing video as a medium when you see the world through Uwe's camera, such is her skill.

This is not a film which could be called intellectually challenging, but I laughed frequently at both the visual and scripted humour. Furthermore, the plot, flicking between the subjective view of Uwe's home video and the more objective eye of Dörrie, holds your attention throughout.

Dörrie shot to fame with her Männer... (Men..., 1985), in which she also worked in her trademark light-hearted style reminiscent of American films and which also starred Uwe Ochsenknecht. Apparently though, Erleuchtung Garantiert was a particular source of pleasure to this fun-loving director as Dörrie has stated with pride that in making it she was finally able to realise a long-standing ambition of fitting an entire cast and film crew into one vehicle. They must have got on well together, if the fun had by the actors on screen is anything to go by.

Elke de Wit, 13 March 2000
Pictures courtesy of Constantin Film