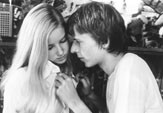 Tender young lust

K I N O E Y E:
The Sunnier Side of
East Germany
Leander Haußmann's Sonnenallee
---
Elke de Wit
Sonnenallee (literally Sun Alley) is the name of a Berlin street formerly divided by the Wall, with its tail end in East Germany, where Leander Haußmann's film of the same name is set. Although it has now been playing for some months, controversy still surrounds it in the former East Germany, where the memory of people being shot at the border and the intimidation by the secret police is still raw and painful. The story, however, provides a rare insight into everyday life in a tiny border area of the old Berlin.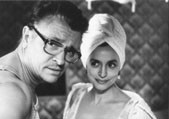 Those crazy Communist 1970s

The film's anti-hero, Micha, craves both pop-stardom and the love of ethereal beauty Miriam and hangs out with Wuschel, a friend with whom he mimes guitar solos and craves rare Rolling Stones albums. In this 1970s Communist world, records are bought secretively from street sellers, who try to satisfy their clients' whispered pleas for "something psychedelic," Micha's father finally secures a telephone by obtaining a doctor's certificate testifying that he has epilepsy and Micha's best friend, Mario, has an impromptu party at which a herbal remedy for asthma is the substitute for experimentation with drugs.

Mario and Micha eventually fall out when their ideologies clash. Micha's uncle, who smuggled everything from tights to lychees, is himself smuggled back into the East.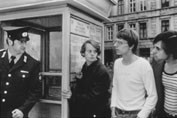 ABV: Comic oppressor

This time though it is only his ashes which return, contained in a coffee jar. Secret policeman "ABV," played with superb comic timing by Detlev Buck (himself a director and one half of the Boje Buck team which produced Sonnenallee), weaves in and out of the action, eventually falling from grace with his superiors. Meanwhile, Western observers standing on a walkway overlooking the "action" in the East, making snide comments about the Ossies (slang for East Germans).

Acknowledging the past

Although the comedy is often rooted in the East/West divide and the politics of 1970s Germany, the film itself is timeless and stateless. The insecurities and dreams of youth and the comedy derived from them are international. wW feel sympathy with the characters and a sense of fun prevails throughout. Although this is Leander Haußmann's debut as a screen director after much work in the theatre, it is accomplished and colourful. One feels that he has truly managed the leap from stage to film.

According to one of the co-producers, Katrin Schlösser of "ö"-Filmproduktion, they intended the film to show that teenagers who grew up in the East did have fun. Most of the film team, including the director and producer also grew up there. The storyline is not entirely rosy and does not imply that those days were better; it just pleads for recognition from West Germans that life for young East Germans was just as valid.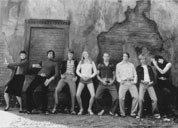 Contagiously ridiculous dancing

From the point of view of someone who does not live in Germany, what is important is the joy that this film radiates the feeling of hope and a faith that Good will prevail that it leaves in you. In this respect, the final dance sequence is so ridiculous it almost persuades you to stand up and dance in the aisles.

Sonnenallee may not have the most original story line but the standards of acting and production are high and if you want to feel good and have a little bit of insight into how it must have been to grow up in East Berlin the film is well worth seeing.

Elke de Wit, 6 March 2000
---
Click here for Elke de Wit's review of Zoe by Maren-Kea Freese, also shown at the 50th Berlinale.
Click here for the Berlinale website.