Emir Kusturica, the Sarajevo-born film director, has in his career experienced the extremes of adulation and moral outrage. Podzemlje - bila jednom jedna zemlje (Underground - Once Upon a Time there was a Country, 1995), his most famous film both won him a Palme d'Or at Cannes and accusations of spreading Serbian nationalist propaganda.
A recent British documentary on this most topical and controversial of directors made for the renowned arts programme The South Bank Show, therefore, had much of interest to discuss and analyse. To further help them to get to the root of the matter, the makers had unrivalled access to Kusturica and much of the hour-long programme, directed by Gerald Fox, was made up of interviews with the director.
This approach allowed the audience to gain an interesting insight to Kusturica's influences as a director and the rationale behind a few of his films. However, not only did the programme fail to answer the critical questions, it failed to even ask them, giving the director almost the entire programme to defend his film-making without even examining the case against his art.
Gypsy king
In most cases, documentaries take a chronological approach to explaining a director's story. But The South Bank Show chose a more thematic approach, dealing with the relatively uncontroversial Gypsy films first, before moving onto the tricky topics of his forays into politics. Interspersed throughout were clips of Kusturica playing with his band, No Smoking.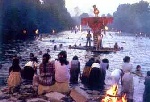 In both his political and his Gypsy films, the directors film-making style has drawn heavily on his childhood in a sprawling near-shanty-town of a suburb at the edge of multi-ethnic Sarajevo. Despite the poverty, Kusturica considers himself lucky to have grown up among the Roma. As he said in the documentary, it enabled him to experience the freedom they have in their lives:
...they started drinking earlier than us, they started sleeping with girls earlier than we did. So, every spiritual process that every man has to go through they had instantly and with no problems.
Kusturica denied, though, that he was romanticising the harsh conditions that the Roma often have to endure.
As well as training an eye for the minutiae of human behaviour, these early experiences taught him that naturalism had its limits in film, a realisation that has led him to the dense magic realism that has permeated the most controversial of his films.
Of interest in this light is the director's admiration for French poetic realism, and particularly the "elegance" and "playful ground" found in Jean Renoir's La Règle du jeu (The Rules of the Game, 1939). Later, Kusturica compared himself to Hieronymous Bosch in his wish to control detail.
Kusturica's fame started in 1981 with Sjećas li se Dolly Bell? (Do You Remember Dolly Bell?), which won an award in Venice for its depiction of Sarajevo life on the breadline. With the kudos this prestigious award gained him, he was able to make Otac na službenom putu (When Father was away on Business, 1985), named after the euphemism used to explain to the children of political prisoners where their dad was by their mothers.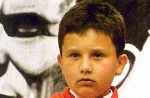 The film was indirectly inspired by him own life, as many of his father's friends were jailed for not supporting Tito, when the decisive split with Stalin came. The political element is only one side of the film though, as Kusturica acknowledged in the documentary, and the painful love story goes "deeply into the substance of human life." It was even more successful than his debut, earning the director his first Palme d'Or at Cannes.
The film also saw Kusturica experiment with magical realism for the first time and also allows one of his characters to fly - another feature that would become increasingly important in his imagery. For Kusturica, this is symbolic of overcoming gravity and of freedom of the soul.
Kusturica's reputation increased with Dom za vesanje (Time of the Gypsies, 1989) which allowed him to vent his imagination more fully. Some audiences, however, started to sense an increasing loss of control over the overall story, with too much attention paid to imagistic detail.
Flop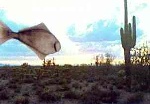 This trend was confirmed in Arizona Dream (1993), the first (and so far the only) Kusturica film to be directed and set in the United States. Made while teaching at Columbia University, Arizona Dream was Kusturica's own interpretation of what the American dream has become. Although he was able to draw on big names such as Johnny Depp, Jerry Lewis and Faye Dunaway in the cast list, the film was a critical flop. Overly long, rambling, pretentious and failing to analyse the American in any meaningful way, the film was felt by many to illustrate that Kusturica was now a director with an ego out of control.
No mention of this was made in the documentary, although Kusturica did put his side of the story across, explaining that faced with a decision to make films in his style or yield to the pressure to make marketable hits he reacted by becoming even more personal than in his previous films.
But the controversy around the director really heated up with his next film, the notorious Podzemlje, his attempt to portray the tragic history of his country. Having returned to a war-torn Yugoslavia, Kusturica was invited to make a film explaining the background to the war and set about adapting a 20-year-old played by Dušan Kovečević.
The first cut of the film was a staggering five hours and 12 minutes, and the studio gingerly persuaded Kusturica to re-edit the film to knock a couple of hours off it. Even now, in its three-hour form, its most ardent defenders agree that it is still too long and could do with an extra half hour removed from the middle
50 years of history
The story concerns two loveable rogues, Blacky (Lazar Ristovski) and Marko (Miki Manojlović). When World War II comes, the two staunch patriots join the resistance to win back their country and, more importantly, the women they both love from the clutches of the Germans. Forced into hiding, the two carry on their resistance by manufacturing rifles. When the war ends, Marko is somewhat reluctant to give up his armaments factory, and so he convinces the people hiding in his cellar that the war is still over. The guns produced Marko sells for his own profit.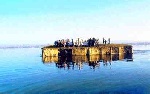 Meanwhile, Marko is also getting ahead in the Communist Party, using his war-time resistance credentials to help him up the ladder. This is not the only duplicity he engages in, as he is also married to Natalija in his above-ground existence without Blackie knowing. By the time the characters emerge from their cellar, the Bosnian war has started and the deception is complete.
The South Bank Show merely pointed out that the film is "controversial" and that it made him persona non grata in his home town, and all else it chose to say on the subject was that is won Kusturica his second Palme d'Or, a rather selective presentation of the arguments raging over the film.
Supporters maintain that it is a complex work on many levels with an acute awareness of the contradictions of Yugoslavia's troubled history and that it satirises the dishonesty and opportunity of the warmongers. As one critic, mindful of both the comedy and tragedy of the film, describes it as being "as if The Marx Brothers had been enlisted to tell us the history of man's inhumanity to man."
Detractors have labelled the film pro-Milošević, pointing out that it presents the Balkans as some great arena of madness, in which some ingrained mentality makes violence inevitable and unstoppable. This, critics say, puts Kusturica in line with Serbian foreign policy at the time, which was to try and cloud the issue of Bosnia and make it seem somehow beyond and incapable of rational comprehension. The aim was to induce a "there's no easy solution, let's leave them to shoot it out"-type.
Moreover, the film's subtitle, "Once Upon a Time there was a Country," has been taken by many to indicate that the film is an exercise in nostalgia for Yugoslavia in its largest sense.
Critics interpreting the film in this light have some powerful extra-filmic evidence to draw on. Kusturica defended the Milošević regime in its early years in interviews, and later, although he was less vociferous in his support, adopted much the same language that Milošević was using to express himself to the press. At the film's premiere in Belgrade, the warlord Arkan and other high-profile nationalists were invited and attended.
Unrepentant
All of these are points which The South Bank Show seems unwilling to touch upon, either to defend or attack. As with almost everything in the programme, Kusturica's own words, spoken in a thick accent and with dodgy grasp of English grammar (the director's quotes below have been edited for the sake of readability) are all that is presented.
"I grew up with a certain resistance - which I think is good anyway - to the politicians in power," he explains while talking about Otac na službenom putu. On Podzemlje itself he says that it is:
...about the kind of absurdity of when people swallow the ideological pill. They basically become hypnotised and they don't realise that time has past. There are endless extended sequences that show what was the lie of all Communism. Underground was made as a deep reaction to all that I felt about us. It is basically a story about love, about manipulation and about the tragic history of this country and of its people with their great emotions, and by their tradition they stay almost half a century behind and developed a deep misunderstanding with the rest of the world.
He went on to explain that Podzemlje was a reaction to a sort of collective amnesia which gripped Yugoslavia when it started to break up and that people wanted to deny that Yugoslavia had ever existed. Podzemlje was an attempt to remind people that "Once Upon a Time there was a Country." However, he acknowledged that Podzemlje had attracted some critical flak:
This movie gained me my biggest controversy, you know, because I was not screaming slogans against Milošević. For most people it was a sign I was Milošević's man. But anyone who sees this film can recognise that somebody who was close to Milošević could never make this film. It was just a continuation of the absurdity of my life that, on the one hand, I was described as a darling of the Milošević regime... and, on the other hand, Milošević's wife was heavily attacking me in Serbia for not losing even a minute to portray the Serbian nation in a bad light. And somehow it was proof to me I am on the right path
Such comments are hardly going to convert the skeptical, and presented almost completely without a context, as they were there, is little to probe what Kusturica really intended (either consciously or unconsciously).
About turn
The failure of the programme did not end there. Following the row over Podzemlje, Kusturica swore never to make a film again. However, a few years later he was back with Crna mačka, beli macor (Black Cat, White Cat, 1998). This sudden u-turn is not something which Kusturica deigned to comment on and quite why he changed his mind is still not entirely clear.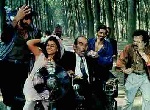 All the more interesting to know would be his feelings about making a film about Yugoslavia at the end of the 1990s in which there is a total lack of reference to the country's history and to the wars. Whilst some might argue that there is nothing wrong and perhaps even something commendable to such an approach - why should we reduce Yugslavia to a stereotype of violence and internecine war? - it is definitely something of a retreat.
Kusturica returns to a subject that has won him acclaim with criticism - the life and culture of the Roma. More than any other film made by Kusturica, this is a film out for laughs.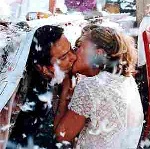 Kusturica does not abandon his love of the absurd, though. This time it is channelled more into the set design than into the narrative structure or the plot. Lasting a relatively slim 130 minutes, the film sees Kusturica reign in his ego and creates a tightly controlled film which is not going to upset anyone. Its light, inoffensive style makes it reminiscent of an Ealing comedy.
Kusturica is now reportedly (not reported by The South Bank Show, mind you) working on a Dennis Potter script of D B Thomas's novel The White Hotel. Whether this will see a return to the director's old adventurousness or see him continue in his new-found timidity remains to be seen, all the more so since Gerald Fox and The South Bank Show have totally failed in revealing this in advance to its viewers.
Until that film is released, Kusturica commentators have plenty to chew on and the debate over his career - and especially Podzemlje - is far from finished. To my mind, Kusturica is likely to be written into the history books as a politically naive film-maker who has chosen his company foolishly, rather than being an ardent nationalist, and as a man whose ego outstrips his understanding of his actions.
Until a better documentary on Kusturica is made, all this is conjecture though, and the vital questions remain unanswered.
Andrew James Horton, 10 April 2000
Other CER articles on Yugoslav film:
Moving on: