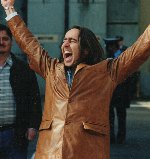 One night of miracles

K I N O E Y E:
Chance at the End of the Millennium
Thorsten Schmidt's Schnee In Der Neujahrsnacht
---
Elke de Wit
Thorsten Schmidt's Schnee In Der Neujahrsnacht (Snow On New Year's Eve, 1999) is a film aiming to cash in on millennium fever, by trying to intertwine the fates of a group of motley characters on the last night of the twentieth century.
The opening scenes to promise a gangster comedy with at least a semblance of realism. Two jailbirds leave prison, Frank is picked up by his gang in a flash van, the other, "Toto," played by Jürgen Tarrach, leaves on foot and makes his way to the bus depot, where he starts work as a bus driver.
All subsequent events rely on implausible coincidence. Toto ends up with a heavily pregnant Russian beauty, the corpse of an African drug runner and an escapee bear on his bus, and all on his first night to boot. We soon discover that the drug runner was about to do a deal with Toto's jailbird pal, so Frank's gang are after Toto to retrieve the drugs, which are still handcuffed to the dead body.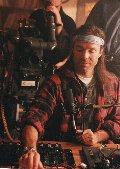 Voyeuristic DJ

Subplots show us a drunken Irish man, Rory, in a home made hot-air balloon flying over Berlin trying to locate and shoot his errant wife. Rory (played by 1960s pop icon Eric Burdon - so that's what he's up to these days!) is mercifully shot down by fireworks. Then there is a solitary young woman, who happens to be Frank's girlfriend, but she has also been adored from afar by a wheelchair-bound DJ called Zippo. The film is loosely (sometimes very loosely) linked together by the dulcet tones of DJ Zippo's voice over the airwaves. Any possibility of suspense is thwarted by the predictability of everyone being connected to everyone else.

The ending of Schnee In Der Neujahrsnacht is unsurprisingly sensational: the Russian woman's baby is born at midnight; Toto helps to deliver it in the open air, overlooking the fireworks of Berlin, the drug dealers crash the bus, with the bear still on it. At this point someone from the cast comments "it's almost over", my silent response was "yes, please let it be soon!" The final joke is the bear opening up the suitcase containing the drugs and throwing clouds and clouds of white powder - the snow of the film's lamentable title - into the air.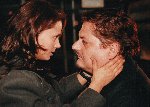 From Russia with love

The characters are so one-dimensional that we don't particularly care what happens to them. Perhaps one could feel ever so slightly sorry for the pregnant Russian girl whose yuppie German (married) lover denies knowing her, but isn't she a tiny bit too glamorous to be credibly destitute?

The hapless Toto is a typical anti-hero, and I was grateful that Jürgen Tarrach managed to play him with some dignity. Although excellent acting skills cannot be a substitute for a silly plot, without Tarrach this feature would surely have degenerated further. A film is certainly failing to entertain when you stop caring about what's going to happen next, but yearn for an actor to reappear, just so that there is someone of interest on screen.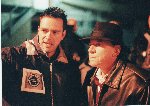 Schmidt directing Burdon

Although this is Schmidt's first feature, he has made several short films and his skill is apparent. There is no doubt that this film looks good. What is difficult to understand is why anyone would want to make a film simply about events on one particular New Year's eve - 31 December 1999 - as, with millennium mania now long passed, the film already has a dated look to it.

DJ Zippo's challenge to his listeners to make the last night of the century a night of small miracles may be a sweet idea, but unfortunately sweet ideas alone do not stimulate for 1 hour and 40 minutes.

Elke de Wit, 20 March 2000
Pictures courtesy of UFA Film & TV Produktion