All in the best
possible taste

K I N O E Y E:
Devilishly Bad
Bernd Eichinger's Der Große Bagarozy
---
Elke de Wit
Bernd Eichinger is a well established and respected producer. His directing debut, Der Große Bagarozy (The Great Bagarozy, 1999), would suggest that he might be better off remaining one.
The opening scene with the words "Everything is possible on the middle of a bridge" splashed across the screen is obviously supposed to lure you into thinking "how mysterious." I, however, merely felt a little irritated.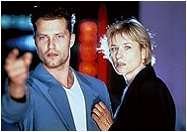 Part man, part poodle

The look of this film is glossy, polished and extremely Hollywood. The editing is good, apart from a few very ropy cuts and the acting is accomplished. If only it were possible to be a fraction as complimentary about the storyline and the script. The plot is confusing and, moreover, it is derivative, being reminiscent of Angel Heart.

Nagy (Til Schweiger) comes to see Cora (Corinna Harfouch), a psychiatrist, because he has seen Maria Callas in a park. At this first meeting he engages in bizarre behaviour; his eyes turn green, and he crawls around Cora's legs under her desk. He also tells her that he belongs to those people who are destroyed if they are healed. At this point Cora might have been alarmed, but nonetheless she finds him irresistibly attractive and interesting, partly because she is in a boring relationship. Thus their adventure begins.

Cora has repeated flashbacks to a music box she was given as a child and a black poodle that supposedly smiled at her in the park when she received it. Nagy steals an identical music box for her by smashing a shop front. One night he takes her to the department store where he works and they both dress up in swanky clothes. He shows her a picture of Maria Callas and a black poodle and tells her that it is a photo of himself with Callas. At this point we realise that Nagy was actually a poodle in a previous life. Not only was he Callas's poodle, but also the same poodle that smiled at Cora. It is impossible to remember, or care, at what point we realise that Nagy is in fact not only a black poodle, but also the devil.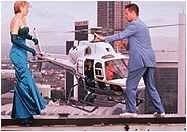 Sad Hollywood wannabes?
When Nagy fails to turn up for his next psychiatric appointment, Cora finds out where he lives and tracks him down. When he leaves Cora on her own in his extremely shabby warehouse digs, she tries to look for clues about him. Her curiosity is awakened by a huge chest freezer which is covered in, and effectively glued shut by, candle wax. When the police raid Nagy's place they discover, would you believe it, a deep-frozen white poodle in it. Oh dear, black poodle = the devil, white poodle = God. The full depths of the plot's banality suddenly becomes clear.
Nagy tells Cora that he has fallen for her and wants to become human. The only way he can do this is to die first. Cora then tries to kill her partner unsuccessfully and ends up running around the hospital that he is brought to, dressed in a green evening gown.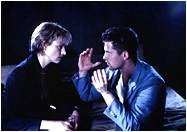 Dark encounter
In the final sequences we see her partner getting married to someone else, and it looks like he has now been taken over by the devil, the tell-tale green eyes and devil's ladies-in-waiting being rather obvious pointers. Cora is left to wander alone to the bridge, where lo and behold she meets Nagy in his latest human embodiment, right in the middle, thus explaining the "mysterious" text at the beginning of the film.
The script is filled with tedious cod philosophy, often spoken by mythical-type figures that have nothing to do with the rest of the action. The plot is frequently ridiculous and overly dramatic. It might have worked better as a straight forward pastiche. Der Große Bagarozy tries hard to be exciting and eerie and cash in the X-Files craze for the other-worldly. Unfortunately, it fails.
Elke de Wit, 27 March 2000