In this week's Coming Up section we have:
Click on the appropiate heading or just scroll down to browse.
---
---
A celebration of Gypsy music and arts
Barbican Centre
, London, 30 April - 14 May 2000
The Barbican Centre brings a truly remarkable selection of global Roma culture for this celebration, with events covering live music, film and the visual arts. Central and Eastern Europe is, of course, very well represented in all categories.
The gigs include appearances by Goran Bregović, who wrote and performed the music for many of Emir Kusturica's films and Věra Bilá, a singer of such importance that she has managed to to achieve outstanding success in the normally racially intolerant climate of the Czech Republic.
Bilá also appears in the film section, being the subject of the recent documentary Black and White in Colour. Other films showcase the works of already famous directors such as Kusturica, Tony Gatlif and Dorota Kędzierzawska and introduce rarely seen documentaries about Roma life in Central and Eastern Europe.
In the visual arts, you can buy pottery and textiles from the Poets and Warriors exhibition and admire Klaus Reimer's photographs of Romanian Gypsies.
See the Barbican's website for a full and detailed schedule.

---
---
The centenary of Freud's The Interpretation of Dreams
Various locations, London, 2 May - 4 June 2000
The Austrian Cultural Institute celebrates the 100th anniversary of the publication of Freud's seminal work with an eclectic season of events which covers more than just Austrian culture. As well as the obvious seminars, talks and readings, there are concerts, dance and theatre performances and a film weekend, all of which rely heavily on the subconscious world of the dream.
The film weekend is particularly substantial. Although there are some rather corny choices (Eyes Wide Shut, yawn), there is also some inspired programming, with rare opportunities to see some masterpieces of early German film, such as GW Pabst's Secrets of the Soul and Paul Wegner and Carl Boese's adaptation of the Golem of Prague Jewish myth. Also look out for an early silent film by Hungarian director Miháli Kertész, later to achieve fame as Michael Curtiz for Casablanca.
See the Dreamscapes website for a full and detailed schedule.

---
---
Political Posters from Central Europe 1945-1995
Imperial War Museum
, London, until 7 May 2000
A double exhibition and symposium to celebrate the breadth of political and artistic ideas explored together in the form of the poster.
With a staggering range of posters, this exhibition encompasses everything from high Stalinist kitsch to anti-regime subversion and everything in between. Whilst some of the images conform to what we might expect from a Communist poster, there are some surprising discoveries to made as well.
Click here for CER's review of the London exhibition.

---
---
Art
I-Spy
until 1 May 2000
97-99 Gallery London, 97-99 Sclater Street, London E1
Tel: 0207 729 9498
Group show featuring work of a new generation of contemporary artists living and working in Vienna. More information will shortly be available on the gallery's website, which is currently under construction.
Theatre
Escalation: obscene by Werner Schwab
19-21 May 2000
Studio One, St Peter's Street, Huddersfield
Tel: 01484 478 465 or e-mail
Escalation:obscene could almost the title of any of Schwab's plays. This work follows the rise and fall of Helmut Kilo-Joules, a recently unemployed building society worker, a man with a furious appetite for hotdogs and the hottest of Balkanesian mustards.
Visit their website for more details.

---
---
Art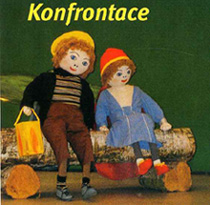 Konfrontace
14 March - 14 May 2000
Czech Centre, 95 Great Portland Street, London
Phone: 0171 291 9920
Czech and British contemporary art at the Czech Centre, in an exhibition covering new and old works. The title of the show is homage to a series of impromptu exhibitions of works by underground artists that took place in the 1980s, often being held in make-shift galleries converted from barns or abandonded buildings.
The current exhibition also explores the links between British and Czech artists through the British Council's Window Gallery in Prague, which was founded in 1993, and contains works by three generations of contemporary artists of both nationalities who have exhibited at the gallery.
Czech Culture in the UK
The Czech Cultural Centre in London has a full calender of Czech events in the UK, including its own extensive programme of activities and those outside. It also lists non-cultural events, such as discussions, seminars and conferences on all manner of Czech-related subjects.

---
---
Hungarian Culture in the UK
Check out the website of the Hungarian Cultural Centre in London. As well as listing events of international importance, the site also carries details of their support network for Hungarian au pairs working in the UK and Catholic mass in Hungarian.

---
---
Polish Culture in the UK
Check out the website of the Polish Cultural Institute in London if you want to see a full calendar of Polish events in the UK.

---
---
Romanian Culture in the UK
There is the website of the Romanian Cultural Centre based in London. Click here if you want to see a their diary page.
If you are a Romanian academic or student working in the UK or have links to Romanian studies you might be interested Romanul's site. It aims to give wider support to educational, scientific and cultural issues and has pages devoted to the Romanian community's acitivities in the UK. Click here to have a look.

---
---
Cinema
Aleksei Balabanov's Brother
from 14 April
ABC Swiss Centre, Wardour St (just off Leicester Sq)
Phone: 020 8795 6402
With the dramatic rise in interest in Russian cinema following the staggering success of Aleksandr Sokurov on English screens, promoters have been eagerly eyeing up who to import next. Aleksei Balabanov is an obvious choice being at the same time both distinctly Russian and easily accessible (far more so than Sokurov). Brother sees the eclectic director turn his hand to a dark but stylish gangster story in modern Russia, a country where a recent poll showed that most teenaged boys would like to be a Mafia mobster when they leave school.
Following a successful week at the ICA, the film is now on show at the ABC Swiss Centre
Aleksei Balabanov's Of Freaks and Men
opens 14 April 2000
Curzon Soho, Shaftesbury Ave, London W1
Phone: 0171 734 2255
First Happy Days in January, then Brother and hot on its heels Of Freaks and Men. This is certainly a good year for Balabanov fans in London, who now have the chance to see his exploration of the early sadomasochistic photography in pre-revolutionary Russia. Perhaps it is no surprise the British press are billing him as "Russia's David Lynch."

---
---
Slovak Culture in the UK
The Slovak Embassy in London now has a full calendar of Slovak events in the UK, including items on and off their premises (amongst other things).

---
Compiled by Andrew James Horton
Please do submit your event for inclusion in Coming in the UK