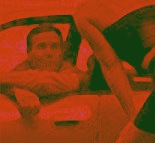 C Z E C H R E P U B L I C:
Taxing the Professionals (part 2)

---
Kazi Stastna
It is no accident that the majority of organisations working with prostitutes in the Czech Republic are focused on one of the most mundane realities associated with the profession: sexually transmitted diseases (STDs). With the increased mobility of citizens within the region following 1989 and with the country's strategic location as a point of origin, sale and transfer, the incidence of STDs is on the rise. Thus while legislators debate the murky points of taxing prostitution, social workers patrolling the borders, streets and sex clubs in the Czech Republic spend their days spreading the word about protection, lubrication, HIV testing and recognition of any number of diseases.
One of the most active organisations on this front is Rozkos bez Rizika (R-R, Pleasure without Risk). Headed by Dr Hana Malinova, R-R has been handing out condoms and providing STD information and testing for prostitutes since 1993. Today, they run their operations out of a small, clean, bright clinic and drop-in centre near Prague's main train station. Over the years, word has got out and R-R now receives an average of 25 clients on the days that an in-house doctor conducts free gynaecological exams at the centre. Some of those making the visits come from as far as Zelezna Ruda, on Bohemia's south-western border with Germany. These are women who have first encountered R-R on one of the rounds of its travelling clinic, which heads out across the country, primarily to the border regions, twice a month to provide on-the-road testing.
On these rounds, R-R co-operates with locally based organisations working with prostitutes in the border regions monitoring the effect of condom distribution campaigns carried out by local social workers and often supplementing the grossly inadequate (or just plain non-existent) medical supervision the prostitutes usually receive. "Sometimes they think that if they have been to the local doctor and he has looked in their throat that they have had a full examination. We bring along our own doctor and when he sees what the local doctor has examined and how…well, it's not even worth mentioning," says Malinova.
The price of freedom
Recently, aside from an all around rise in STDs, one of the most disturbing developments that R-R has witnessed has been the sharp increase in the number of cases of Syphilis. This is especially alarming since the disease is extremely infectious - it is transmitted across mucous membranes and hence can be passed on just as readily when sharing a spoon as when sharing a needle - difficult to detect and, if untreated, fatal; all in all, a lethal combination.
Fortunately, it is also easy to treat. And it is on treatment and prevention that Malinova and her colleagues concentrate their efforts, not only through their rounds of regular check ups and condom hand-outs but also through the distribution of a colourfully illustrated booklet which provides practical on-the-job information about early detection and prevention, including street-smart tricks for recognising STD symptoms in your customer and tips on sneakily slipping a condom on him. The booklet is available in five languages to serve the large percentage of foreign sex-trade workers in the Czech Republic.
Despite these efforts, the number of cases of Syphilis that R-R has encountered has risen significantly in the past two years. "This year, we had 23 Syphilitic cases, last year 22, but before that it was no more than 2 or 4," says Malinova. The highest incidence of the disease is currently among Ukrainian women, which make up about 25 to 30 per cent of the prostitutes R-R works with. According to R-R's own statistics, currently one in every ten Ukrainian prostitutes has Syphilis.
Malinova points out that these types of problems are to be expected with the increased mobility and migration of populations: "Free movement of inhabitants was accompanied by sexually transmitted diseases. This is simply one of the prices of freedom."
It is precisely this mobility which poses a huge problem when trying to track or even examine the girls, since most remain in the country no longer than six weeks, and their pimps are certainly not going to complicate their own lives by sending their prostitutes for medical checks. Sometimes, the girls disappear in a single week, as in the case of the only one of its clients thus far that R-R has not managed to track down. Malinova's team returned in less than a week to inform the girl she had tested positive for Syphilis but was told she had left the country to get married.
The price of freedom could prove to be even more costly than anticipated in the very near future, since, as Dr Malinova points out, a wave of Syphilis usually precedes a wave of AIDS. "We're not sleeping on a bed of roses," she adds forebodingly.
"Wo ist die Kleine?!"
The issue of mobility also raises the question of who is to take ultimate responsibility for health problems that are so inextricably linked to movement across borders. Malinova, for one, feels that countries such as Germany and Austria, whose citizens make up a large majority of the clientele for prostitutes working in the Czech Republic, especially in the border regions, should bear some of the financial burden.
According to social workers working with prostitutes in Czech border towns, Germans and Austrians make up between 80 to 90 per cent of the clientele. But it is R-R and similar organisations who carry out the regular testing and treatment of prostitutes at their own expense, serving the public on both sides of the border by attempting to curb the spread of STDs, including life-threatening ones such as Syphilis and AIDS. "Who is it that comes here? The Swiss, Germans… Basically, we examine the girls that they infect so that the others don't get infected."
But so far, R-R has had little luck in convincing neighbouring governments to assume some of the financial responsibility for resolving - or at least containing - a problem they are contributing to. In fact, when Malinova approached the Austrian Ministers of Health and Women's Issues she did not get much of a warm - or even honest - response. "They acted as if their johns never go there. Of course they do - they chase after the girls [squealing] 'Wo ist die kleine?'[Where is the little one]... And here we are on our side with 16 girls, 2 of them Syphilitic. But they act as if there was only pure air coming from their side."
This despite the fact that Malinova provided the ministers with statistics and even conducted a detailed analysis of the customers visiting the prostitutes on the Czech-Austrian border. Malinova's research revealed a clear and consistent profile of the regular Austrian border-region clientele: predominantly bachelor farmers from the Niederoesterreich region.
"[They] inherit a farmhouse and can't find a woman who will go there and tough it out, because it's awfully hard work. Women who would go and work on a farm are harder and harder to find. So it is bachelors who accumulate in these border regions," explains Malinova. "But that's the same here [in the Czech Republic]. It is a general phenomenon across Europe."
She then goes on to describe what these bachelors find when they venture over the border: "They comes across the border and see these beautiful Ukrainian girls with hair down to here and are beside themselves. They often get it confused with a dating service. They come there and immediately fall in love and then begin to protect her. But she's come to earn money and not to be continuously guarded, so there are constant feuds. Meanwhile, it is the Ukrainian girls who are the most often sick out of all those we examine. Primarily with Syphilis."
A European problem
Of course, on the domestic side of the border, local and federal authorities are not too keen on bearing the financial burden either. And although Malinova acknowledges that the current one-third of R-R's budget that is covered by the state is an improvement from the days when the organisation was fully funded by the Swiss, like other Czech NGOs, R-R is still looked upon as a bit suspect by the authorities. The City of Prague, for example, has provided the organisation with funds only one out of the six years that it has been serving on the capital's streets and, in Malinova's view, carrying out an invaluable service for the city.
Thus, R-R has had to cut and paste funds from the usual culprits, such as Soros, the EU-funded Civil Society Development Foundation and the British Embassy. Overall, the organisation has had more success getting in-kind contributions than cash: a rather meagre Kc 500 (USD 14) a month in goods from the local grocery store, free copies from the copy shop, free condoms from several major manufacturers and, probably its most significant in-kind contribution, reduced rates on insurance of its ambulance.
It is clear that prostitution in the region is, as Malinova points out, a "European problem," and countries must work in consort on addressing it. Currently, most of the organisations active in the Czech-German border region, such as Magdalenium, Karo and Angela, are based out of and partially funded by Germany, but just as other foreign funders are pulling their NGO support out of the region, so too are these. Angela, a program originally started in 1994 as part of a cross-border AIDS prevention project of the World Health Organisation, plans to end operations by June 2001 and it is expecting a Czech organisation to take over.
The question is whether such an organisation will be found and whether in future corresponding organisations and institutions on both sides of the border will be ready to take up more of the slack on the issue of prostitution and provide the services necessary to stabilise the situation and minimise the risk of the profession.
Click here for Part I of Taxing the Professionals
Archive of Kazi Stastna's articles.