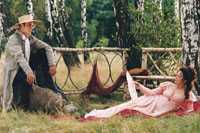 K I N O E Y E:
A Bygone Harmony
Andrzej Wajda's Pan Tadeusz
---
Wojtek Kosc
Filming legendary works of literature is not an easy task. They have been read by many, everyone has their own idea of "how it really looked," and each person interprets those beautiful verses or gripping prose in their own way. A film director presenting his or her own vision of a cherished book has to compromise (at least a little), as the monuments of national literature are not good subjects for experiment. The scale of this compromise decides whether a film becomes a commercial yet ambitious venture or an overdone and incomprehensible flop which only gives the critics an opportunity to babble.
Adam Mickiewicz's Pan Tadeusz is a national epic poem of the highest degree of sanctity in Poland. Ever since it was written, it has caused heated debates on its meanings. And although Mickiewicz's contemporaries criticized it, time has made it a universal masterpiece which can be interpreted and adapted for different times and different people. It is a simple love story set in an old-style Polish countryside mansion for the gentry and its surroundings, against the rising hopes of Napoleon invading Russia and the subsequent prospect of regaining the country's independence - lost years ago.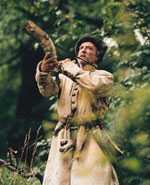 Filming Pan Tadeusz, Andrzej Wajda escaped from copying the masterpiece scene for scene. Thanks to this, we do not get prolonged shots of beautiful countryside, descriptions of which are excellent in verse but would be kitsch in film. Instead, he focuses on people living their lives through quarrels of a mundane nature (we have two families in conflict and the young couple in love are, of course, from the two opposing sides). Until, that is, a time comes to put these squabbles aside and face a bigger enterprise - to help Napoleon bring freedom to their country. But even in the face of such a challenge, family animosities surface and patriotic efforts are in vain - although not entirely, as the families realize how foolishly they have acted and that it is better to live in harmony. Wajda shows the much-laughed-at Polish character: fiery patriotism expressed in the heat of the moment without much thinking and cozy living that obscures bigger matters, but in the end – guided by Mickiewicz – he also shows that perhaps those national vices are not so deeply rooted.
But that is only one side of the film - an ironic, yet warm portrayal of people, which, by the way, would not be so if not for the excellent actors. The choice of, for example, Grazyna Szapolowska, Daniel Olbrychski or Boguslaw Linda is unquestionable, once the film is seen. The other side emphasizes the metaphysical nature of the poem - one of the last poems of this kind, as the Polish author Czeslaw Milosz pointed out. This is contained in the harmonious lives of the film's characters (even if marred a little by quarrelling): living in a world where births and deaths, subsequent seasons and daily chores all contribute to this unusual harmony that can rarely be found today.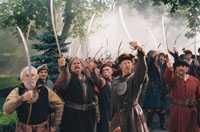 The dramatic scenes – like the one with Jacek Soplica's (played by Boguslaw Linda) confession while he is dying, give the viewers a sense of taking part in something disturbing but mystical. The overall rural harmony leaves us with a rarely experienced peace of mind. Without mindless violence or slick pop-video shots, Pan Tadeusz lives up to today's tastes.
Wojtek Kosc, 15 November 1999
Click here for the Kinoeye review of Wajda's previous film Panna Nikt (Miss Nobody, 1996).