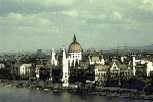 C E N T R A L E U R O P E A N N E W S:
Hungarian News Round-up
News from Hungary since
20 November 1999
---
Paul Nemes
Finnish Prime Minister Paavo Lipponen said on 23 November that the European Union would set a date for when it will be ready for enlargement at next month's summit to be held in Finland. However, Lipponen also said that any decision on when the actual enlargement would take place was not likely. Meanwhile, during a joint Hungarian-European Parliament Joint Committee Session meeting, Guenter Verheugen, EU Commissioner in charge of enlargement, praised Hungary for fulfilling the Copenhagen criteria, but criticised the way Hungary has handled issues such as the environment and the Roma. He also said he would like to give a clearer timetable for accession. The joint session agreed that it would be feasible to work out the ratification procedure of EU reforms while, at the same time, conclude accession talks, which Hungary aims to do before the end of 2001.
After Thursday's cabinet session, Hungary began discussing another four chapters of the acquis - justice and home affairs, free movement of persons, financial control and regional policy. Also, Foreign Ministry State Secretary Zsolt Nemeth said on 24 November that there is a good chance that the EU would withdraw its visa requirements for Romanians. This means that Hungary would not have to introduce visa restrictions on Transylvanian Hungarians and other Romanian citizens when it becomes an EU member.
Geza Jeszenszky, Hungary's ambassador to Washington, caused a scandal when he said that Hungarian Pulitzer Prize winners used "Goebbels methods" to damage the reputation of Jozsef Antall, the first prime minister after Communism, and his government. In a letter to Pal Fabry, founder of the Hungarian Pulitzer Prize, Jeszenszky said the following about 13 recipients of the prize and three editorial boards: "...in the eyes of decent Hungarians, their work is repulsive, they are old (Communist) party members with few exceptions, and today they are the hired tools of the Socialists and constitute the intellectual wing of the bad elements of the Alliance of Free Democrats." The opposition called for Jeszenszky's dismissal, as the Socialist Party Chairman said that he was an unsuitable representative of Hungary, but the Foreign Ministry said that the Ambassador would not be recalled and that his private remarks did not affect his work. Foreign Minister Janos Martonyi, however, later said that he would issue a warning to Jeszenszky, and would also "call on him to avoid causing similar misunderstandings in the future."
Organisation for Security and Cooperation (OSCE) Chief Commissioner for National Minorities Max van der Stoel has praised Hungary's "dynamic, initiating role" in the Southeast European Stability Pact. After meeting Foreign Ministry State Secretary Nemeth in Budapest on Tuesday, van der Stoel said that the stability pact would give Hungary, which in 2000 will co-chair "working table no 1" - on democracy and minority and human rights - all possible help. Nemeth stated, "The Hungarian co-chairmanship will give priority to strengthening local government and supporting the independent media in Yugoslavia."
The Alliance of Hungarians in Vojvodina (VMSZ) has expressed its support of the European Security Charter that was approved at the Organisation for Security and Cooperation in Europe (OSCE) summit. A VMSZ statement said: "This has been the first case since Trianon (the 1920 treaty which placed one third of Hungarians under foreign rule) that the international community has acknowledged Hungarian demands." Prime Minister Viktor Orban said that autonomy is a must for the effective management of some situations. He thought the right to autonomy would produce results in Central and Eastern Europe. Max van der Stoel has said that it would only be possible to answer the question of Vojvodinian autonomy after Milosevic had been removed from power.
On Monday, Zsolt Nemeth received leaders of the reform wing of the Hungarian Democratic Alliance of Romania (RMDSZ) in Budapest. He described national objectives in Romania as worrying but said that it would best serve Hungary's interests if Romania's current foreign policy was maintained after the Romanian elections. Tibor T Toro, who called his group of the RMDSZ its "national liberal platform," said that the RMDSZ not only is the party of Transylvanian Hungarians, but of all Hungarians in Romania. Parliamentary State Secretary for Cultural Heritage Attila Varhegyi, who also met with the RMDSZ representatives, said that the short-term agenda should include promoting the language and culture of the Csango - an isolated Hungarian community who live outside Transylvania. Varhegyi was also reported as saying that a Hungarian "cultural map" of the Carpathian basin was needed in order to define ways of promoting Hungarian identity.
Members of the Alliance of Free Democrats (SZDSZ) who last week visited Slovakia said they hoped Hungary and Slovakia would join the European Union together so that the Schengen agreement would not stand between Hungary and the Hungarians of Slovakia. Visiting Free Democrats Balint Magyar, Gabor Demszky and Istvan Szent-Ivanyi said after meeting Slovak President Rudolf Schuster that they hoped the Helsinki summit would result in the initiation of accession talks with Slovakia. Chairman Magyar, Budapest Mayor Demszky and Executive Secretary Szent-Ivanyi, invited for the tenth anniversary of the "Velvet Revolution," also held talks with Bela Bugar, Pal Csaky and Laszlo A Nagy of the Party of the Hungarian Coalition in Slovakia. Demszky signed a statement which promises to strengthen cooperation between Budapest and the capitals of Austria and Slovakia.
President Arpad Goncz stated after his visit to Peru that the trip had been a success. Goncz said, "The visit has confirmed at state level the intention of the two sides to develop links comprehensively in areas marked out last year on the basis of mutual interest." Goncz also visited Panama, where he was honoured with the Special Great Cross of the Vasco Nunez de Balboa Order of Merit. After meeting his Panamian counterpart, Goncz said that Panama could be a major partner to Hungary in Central America.
Foreign Secretary Martonyi said before his visit to Moscow on 28-29 November that Hungary's relations with Russia should not be troubled by political matters and differences on international issues. Martonyi is expected to discuss several questions on which Hungary's and Russia's opinions differ, such as European security, NATO, Russian cooperation with NATO, the Kosovo crisis and its settlement. It is also thought that Martonyi will bring up questions such as the return of treasures confiscated by Russia and the settlement of USSR government debts.
After visiting Sofia last week, Foreign Minister Janos Martonyi said that, when it comes to Southeast European stability, Hungary and Bulgaria's interests are indistinguishable. Martonyi, who said that his visit was intended to develop Hungarian-Bulgarian cooperation in as many areas as possible, also confirmed that Hungary supports Bulgaria's efforts to begin accession talks with the EU at next month's summit. He added that Hungary was working for the removal of EU visa requirements for Bulgarian and Romanian citizens.
On Wednesday, a Hungarian journalist was given only hours to leave Yugoslavia after the Yugoslav Interior Ministry refused to renew his residence permit. 40-year-old Janos Dezso, who was born in Yugoslavia but has been a Hungarian citizen since 1991, said he only had two hours to pack up and leave with his two children and pregnant wife. Dezso has been the Hungarian state radio correspondent in Belgrade since 1996 and has not had any complaints about his work from the authorities. The Hungarian Foreign Ministry, who will issue a protest, said, "We shall urge Belgrade to revise their decision and make it possible for Dezso to return to Belgrade and to resume his work as a correspondent."
After meeting in Szentendre, just outside Budapest, the Cabinet expressed its satisfaction with the economy's performance this year. Gabor Borokai, a government spokesman, said that the average wage increase is higher than expected, but Gross Domestic Product (GDP) growth, which was forecast to be four to five percent, will only reach four percent. Inflation, earlier projected to reach 11 percent, will only be ten percent. Meanwhile, Finance Minister Zsigmond Jarai has said that GDP could decline to 4.5 percent this year and four percent only next year. Jarai also reiterated that the government predicts a four to five percent economic growth next year, and said he anticipates the public sector deficit to fall by one to 1.5 percent of GDP next year.
On Monday last week, Zsigmond Jarai and Deputy Speaker of Parliament Katalin Szili held talks with the budget committee heads of the other Visegrad countries - the Czech Republic, Poland and Slovakia. Jarai and Szili informed the representatives about Hungary's budget for next year. Finance Ministry Deputy State Secretary Jozsef Thuma said, by the time the countries join the European Union, conditions for a more effective use of EU support needs to be established.
Magyar Hirlap has reported that the differences between NATO and Hungary's calculations for next year's spending on the armed forces are substantial. Hungary's ambassador to NATO, Andras Simonyi, has hinted that Hungary may downsize its air force overhaul plans. Simonyi said that, as NATO was asking Hungary to adapt its armed forced for more specialised roles, it may not be necessary for Hungary to buy new fighter planes. It has recently been indicated that Hungary may decide to upgrade its Russian MiG-29 fighters and buy helicopters instead. Hungarian Chief of Staff Lajos Fodor said last week that the target of armed forces reform should be the creation of a smaller, more mobile and better-trained force that is easier to finance.
Budapest has again stressed the dangers posed by debris left by bridges bombed by NATO during the Kosovo crisis. As winter arrived in Central Europe, Jozsef Varadi, of the Ministry of Transport, warned that the wreckage could obstruct the ice sheet on the Danube, which in turn could lead to flooding. It is thought that southern Hungary will only be affected in the case of a very cold winter, but Foreign Minister Janos Martonyi told the news agency MTI that immediate action was required. After Yugoslavia seems to have become more open to clearing the Danube, Martonyi said that "as soon as the European Union gives the green light, Hungarian companies can get involved in the works."
Anatoli Bykov, a Russian businessman charged with money laundering and accessory to murder, has applied for asylum in Hungary. Bykov, the Chairman of Krasnoyarsk Aluminium Works who was arrested in Hungary on 29 October, is, according to his lawyers, only a victim of a "character assassination campaign." He said he sought asylum in Hungary to escape "Kermlin jackals" and his archenemy Alexander Lebed, who is governor of the Krasnoyarsk region of Russia.
On Tuesday, Parliament's Immunity Rights Committee came to the decision that Istvan Csurka, leader of the Hungarian Life and Justice Party (MIEP), would not have his parliamentary immunity rights suspended. Budapest Mayor Demszky had charged Csurka for smear after he wrote in Magyar Forum that Demszky was a voluntary secret police informant in the 1970s. The SZDSZ has appealed to the Hungarian Civic Party (FIDESZ) not to assist the MIEP.
A parliamentary committee has also decided that alleged illegal data on FIDESZ politicians will not be available until 2003. Denes Kosztolanyi, Chairman of the committee and a member of FIDESZ, said on 22 November that the documents of the politicians under the pervious administration would be kept secret because they might contain state secrets. According to the daily Magyar Hirlap, Viktor Orban is not mentioned in the draft report, nor are any other FIDESZ members who supposedly were under surveillance.
Around 500 people gathered in Parliament Square on Thursday to protest against the growth of the far right in Hungary. The demonstrators, organised by the Young Left Wing, The Social Democratic Youth Movement and the Youth Federation of Trade Unions, handed a petition to the Speaker of Parliament, Janos Adler, calling on politicians to counter "inhuman, exclusive racist phenomena in Hungarian public life and Parliament." The demonstrators also voiced their opposition to what they called the rehabilitation of the Second World War Hungarian gendarmerie, which was recently honoured by a memorial plaque.
The decline of the population continues to haunt Hungary, as the population of Hungary continues to decrease at an ever-quicker rate. According to a survey by the Central Statistical Office, Hungary's population dropped by ten percent more between January and September 1999 than in the corresponding period last year. After a decrease of 2554 in the number of births and an increase of 272 deaths - giving a total fall of 32,958 - the country's population is now 10,059,000.
Hungary was hit by heavy snowfall last week. The large amount of snow in the Carpathian basin, caused by the coming together of wet air from the south and polar air, resulted in a number of deaths, and accidents on the roads blocked traffic. Trains ran late and Ferihegy airport also experienced delays. By Thursday, the emergency services said the situation was improving, but several villages in Fejer County were still cut off due to snow and ice. Motorists driving out of town are advised to prepare by bringing warm clothes, hot non-alcoholic drinks and extra petrol. Istvan Bozoki of the Hungarian Institute for Meteorology said that there might be a white Christmas in Hungary this year.
Paul Nemes, 26 November 1999