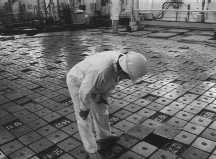 C H E R N O B Y L O N F I L M:
Ghost Town
Nikolaus Geyrhalter interviewed about his latest documentary
---
Andrew J Horton
Pripyat is three things: it is the name of the town which had a population of 48,000 until the nuclear power station on its doorstep, Chernobyl, went into meltdown and the town had to be evacuated; it is the name of the river which flows through the now deserted town and on into the Dnieper and through Kiev; and now it is the name of a new documentary film by Austrian documentarist Nikolaus Geyrhalter which looks at life around the disaster site twelve years after the accident occurred.
The fact that "life" might continue so close to Chernobyl will probably be to many something of a revelation in itself. Despite there being a 30km exclusion zone from which 116,000 people were evacuated, a total of 15,000 workers are still employed in "the Zone", as it is known. Some work in rotating shifts at the Chernobyl power plant itself, the surviving reactors of which are still running at full capacity. "A satisfied, well-paid worker is the guarantee of a safe power plant," claims Nikolai Nikolayevich an engineer responsible for safety at the power plant who has not been paid for several months. His salary is not enough to feed him and his family even when it arrives.
Despite the passing of twelve years, nothing is safe here and the land as one environmental scientist on the film explains "One hundred years will pass, and 150, and this place still won't be suitable to live in." But there are others who have, despite the ban, chosen to return to this desolate wasteland, unable or unwilling to live life away from their homes. Other people are sitll waiting to be evacuated. Both groups live off the poisoned land and fish in the River Pripyat - downstream of the power plant.
CER talks to Geyrhalter about his film and his two-month time in the Zone and how he managed to get special permission to have unrestricted access it.
---
CER: It strikes me that there are a lot of documentaries on Chernobyl already. Why do we need another one?
NG: Nobody really needs a film like this, and I am not one of those who believe that you could make the world a better place by means of a film. So the decision was not made primarily because I felt that this subject definitely had to be covered once again, but rather because I myself started to become really curious about the circumstances and living conditions there. This approach to concentrate on people's stories and their own daily worries makes a difference to most of the films about Chernobyl that I have seen before. They are usually of a rather informative nature - except Motohashi Seiichi's Nahja no mura (Nadia's Village, Japan, 1997); and my film needs those other works as a basis to work on. Somebody who doesn't know anything about Chernobyl and what had happened there, will not know what to do with my film. It very strongly rests upon the basic facts about the accident, and these aren't discussed in my film at all. In that sense, I think that my film and the previous works about that subject complement each other quite well rather than compete.
CER: Were the authorities reluctant to give you access to "the Zone"?
NG: In the beginning we were of course very concerned about getting all the necessary authorisation to work in the exclusion zone; in fact, this area is something like a state in the state, having its own administration, own executive organs and even its own secret service. The whole hierarchy is mysterious, and if they let journalists in, they do so for a rather short period of time only and have them constantly accompanied by some guide, who of course also takes care of you not only in the sense of your health.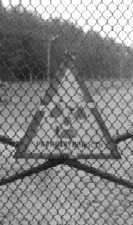 As we intended to stay in the exclusion zone for a total of two months, it seemed logical to us, that we would hardly get the permission for such a long stay by following the usual procedures applying for the filming permits. During our research, we came into contact with the Commission on Chernobyl Affairs that was founded by the Ukrainian parliament to make proposals for the future management of the zone and also to fight corruption there. This commission wanted to use our film for themselves to get an overview of the situation in the zone, so we agreed on a deal by which they could use the material for their internal work and in return we got some general filming permission from the Ukrainian Parliament, saying that we as foreign filmmakers are working in their order. That permission was quite useful, and we had the unique opportunity to move freely inside the zone whereever we wanted even without guards. On the other side, this permit gave us the right to use our own car, which gave us all the freedom we needed. (Usually journalists are supplied with a car and adriver from the administration of the zone).
As you can imagine, cars with foreign registration are very rare in the exclusion zone, and in the end all the policemen at the checkpoints knew us from far off and we somehow became part of the zone and the social life there. To our own surprise, with one exception we never had any serious problems with authorities during the period of our stay. This might be also due to the fact that no journalist ever stayed in the zone for more than some days and we were treated as freaks rather than potentially "dangerous" journalists.
CER: You document the saftey precautions that people living and working in the Zone take (or don't take in some cases). What about for you and your crew?
NG: From the very beginning we were advised and monitored by an Austrian research centre running a small NPP for scientific work. We had our own geiger-counter and were wearing dosimeters; additionaly we were scanned whenever we returned from the Ukraine or Belorussia to see how much radiation we had really absorbed. We avoided eating too much of the food being offered to us, and tried not to inhale any dust when the weather was dry and windy. On some spots we found the background radiation doses were surprisingly low, being not much higher than maybe ten times the average level of Vienna.
Of course, other spots, especially close to the power plant itself, are heavily radiated, but it was quite easy to avoid being held-up there for two long. The doses we absorbed during our work is comparable with the doses everybody in Austria absorbed in 1986; this dose is said to be far from being dangerous and is actually much less than we expected. It turned out, that the obstacle was not so much radiation, but the vodka we were invited for where-ever we got out of the car.
CER: Did you have any preconceptions about Pripyat or the area which were shattered when you went there?
NG: I got my information about Pripyat and the exclusion zone from some books and articles I read before my first visit there, so I had quite detailed ideas of the area that turned out to be close to reality. Nevertheless, the easy-going way people - even the officials and scientists - dealt with radioactivity exceeded all my expectations.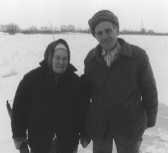 CER: Some of the people you met there seemed to me to have immense fortitude in staying there. Did you find their actions admirably, foolhardy or just necessary for them in their situation?.
NG: I can understand those older people who definitely want to stay. And it seemed to me that radioactivity is less dangerous for people who are older than 40 or 50 years, as it simply takes some time until the effects become perceptible. I know of people who used to be farmers in the exclusion zone and who were resettled in Kiev; for them, integration into a society they have never known seems to be the harder burden than living with some level of radioactivity, even if this life might be some years shorter.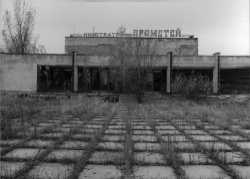 CER: You shot the film in black and white. Obviously this emphasises the starkness of the landscape and the eerieness of it too. But at the same time it was obviously, in some ways, a very green place with nature running rampant and taking over the city (one of my favourite shots in the film was of the trees growing in the football stadium).
NG: In fact, it was not easy to make up my mind to shoot this film in black and white, and even during filming there were moments when I questioned my decision. One reason not to use colours was that everything would have looked interchangeable with many other places in the world. For example, I was reminded of areas in Bosnia and Herzegovina, because what you actually see are destroyed houses and abandoned villages. In the end the story of "the zone", which very strongly holds the film together, would maybe not have worked out if it had been shot in colour. I wanted to tell the story of a place where everything is in the same time normal and strange, and the fact, that this place is fenced in and guarded because of something you can neither see nor feel made it necessary to work with black and white. A not undesired side-effect is a certain tragicomic atmosphere, occasionally bordering on the absurd.
CER: It seems to me in the film, you are spending a lot of time trying to create a sense of scale visually - the hugeness of the landscape, the vast vehicle pound, the aerial shots of a city deserted. Was there one fearful moment when it really struck home to you "God, this is unimaginably big!"?
NG: Again and again I was overcome by the dimensions of the devastation, and I believe that I still saw only a small part of it. What you can see in the exclusion zone are the remains of some former civilisation on a ground being contaminated by radiation; but what happened to the people who were called in for the cleaning-up still stays unimaginable even to me. You can find victims and traces of the disaster all over the former Soviet Union and even much further, and compared to this aspect what you can see in the zone is just like the top of an iceberg.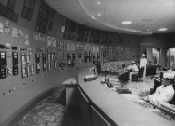 CER: Your were able to film in the Chernobyl power plant itself and even go into the control room. I'm trying to imagine a feeling of what it was like; presumably unsettling - maybe something like seeing an electric chair or visiting Auschwitz. How would you describe it?
NG: By the time we decided to shoot inside the actual power plant we had quite a lot of "zone-experience", so the step to finally get into the monster wasn't really a big one. In fact, the level of radiation we were measuring in the control room was one of the lowest we found in that area, as they really try to keep at least their working places clean. And the people we met and who became somehow confidants gave us the feeling that they knew what they were doing.
Standing in the control room is comparable with sitting in an aeroplane: You know that nothing should happen, but still anything could happen. And of course, knowing that this is a very special control room, makes everything a little bit more a challenge. In fact, I did not get the impression that the Chernobyl power plant is more unsafe than probably any other power plant of this type, and I trusted in the workers' experience of improvisation, whenever something is running unusually. I believe that this routine in handling small incidents every now and then is very valuable training for the worst case, in which inexperienced workers of a "normal" nuclear power plant might panic very soon.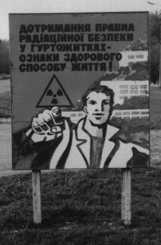 By choosing such a subject for a film, you can guess a little bit of my opinion about nuclear power in general. But seeing the dramatic energy situation in the Ukraine meaning that in the smaller villages you will not have any power during the night, especially in winter. I can very well understand the governments decision to keep the Chernobyl power plant running as long as possible. And it is probably really more wise than building an new power plant in some place where it is clean.
CER: How did it feel when you "came back to reality"? Was there a process of things becoming more shocking with time?
NG: Shooting a film is a kind of job, and you have to be very careful not to let subjects come too close to you, if you don't want to loose the ability to work in a concentrated manner on that issue. Things don't become more shocking with a distance, but "normal reality" becomes more unreal and you really learn to appreciate this kind of normality by having in mind that what had happened in Chernobyl could happen at any other place just tomorrow. Travelling between different realities is bearable as long as you know that you can return to the one you prefer most whenever you like.
CER: Your film is very focused and you concentrate on building up an atmosphere of Pripyat and the people there and leave clear of many of the side issues involved here. For instance, there have been other nuclear disasters in the Soviet Union - some of them in the Urals even bigger than Chernobyl in terms of radioactivity released. Presumably they have their own exclusion zones, and if they don't that is also a story in itself. Are you tempted to go back and follow up some of these divergent strands?
NG:Thank you, but I've had my dose and have no intention of becoming a radiation-junkie. Seriously, I have settled up with this topic. I showed what seemed to be important to me, and besides this I don't want to become any more specialised on radioactivity-stories. There are other areas left that attract me much more at the moment.
Andrew J Horton, 16 August 1999
Pripyat was shown at the Karlovy Vary International Film Festival. The following is a list of other films shown at Karlovy Vary which have been covered by Kinoeye.
Totalitarnii roman (Totalitarian Romance) by Viacheslav Sorokin, Russia
Tri muskarca Melite Zganjer (Melita and her Three Men) by Snejzana Tribuson, Croatia
Demony wojny wedlug Goi (Demons of War by Goya) by Wladyslaw Pasikowski, Poland
Blokpost (Checkpoint) by Alexandr Rogozhkin, Russia
Tockovi (Wheels) by Djordje Milosavljevic, Yugoslavia
Gengszterfim (Gangster Film) by Gyorgy Szomjas, Hungary
Nekem lampast adott kezembe as Ur Pesten (The Lord's Lantern in Budapest) by Miklos Jancso, Hungary
Krava (The Cow) by Karel Kachyna, Czech Republic
Okraina (Outskirts) by Peter Lutsik, Russia
Pasti, pasti, pasticky (Traps) by Vera Chytilova, Czech Republic
Kinai vedelem (Chinese Defence) by Gabor Tompa, Hungary