K A R L O V Y V A R Y:
Dreaming a Bad Reality:
Rychle pohyby oci and the legacy of Jaromil Jires
---
Andrew J Horton
Rychle pohyby oci (Rapid Eye Movement, 1998) by Radim Spacek is one of a wave of recent Czech films to be directed by the new generation of Czech filmmakers. Indeed, it is the director's graduation film for the famed Prague school of the film and television arts, FAMU, which can count among its previous students Oscar-winners Jiri Menzel, Agnieska Holland and Emir Kusturica.

The "story" of Rychle pohyby oci - named after the phase of sleep in which dreaming occurs - concerns a teenaged musician named Poppy and the world he lives in. The structure of the film mirrors the form and content of his dreams, or rather his nightmares, which centre on his relationship with a girl called Akja and his preoccupations with violent death. While the film lacks any coherent form of plot in the traditional sense of the term, there are plenty of opportunities for Spacek to experiment with colour, light and sound as he enters Poppy's mind.
This might all sound exciting and innovative stuff but somehow it fails to live up to its promise. The real trouble is that the mind that the film seeks to explore is not a particularly interesting one. Poppy's problems are quite mundanely adolescent and this comes out in the pompous and immature meditations on death. Spacek tries oh so hard to create a work of mystery and darkness infused with metaphor and subconscious allusions, and instead he simply ends up being rather teenaged himself.

Its telling that the most successful sequences are those in which there is no dialogue. Notable amongst these is the closing section in which Poppy walks through the streets of Prague shot in negative, whilst he himself retains an eerie semi-positive colour to his complexion. (I presume they covered him in green body paint and dyed his hair and then shot the whole scene in negative.) All the time, an atmospheric soundtrack builds up the tension and the mystery. But this is pretty slim material to base a film on; something that Spacek himself must have been aware of since the film runs only ten minutes over the hour, stretching claims that it is feature-length.
Given these obvious weaknesses, one might wonder how on earth this film managed to get distributed at a national level. The answer might have something to do with a name which flashes by on the closing credits. The film was made under the supervision of a number of Spacek's teachers at FAMU, one of which is the famed director, Jaromil Jires. In this light, Rychle pohyby oci can clearly be seen as following on from the film traditions set by his teacher. Jires, who was born in Slovakia but has largely worked in the Czech Republic, is best known for his films The Joke (Zert, 1969) and Valerie a tyden divu (Valerie and her Week of Wonders, 1970). The former is a relatively straight adaptation of Milan Kundera's unpretentious first novel which was written in the liberal interlude of the Prague Spring.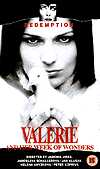 Being the story of man who was expelled from university when the Communists took power after the war, the film did not win Jires any favours with the authorities and after this black mark on his record he had to step carefully in order to make films. Valerie a tyden divu was made when film directors were under the most careful scrutiny.
The story, on the surface at least, was apolitical and concerned a thirteen-year-old heroine Valerie (played by Jaroslava Schallerova) and her loss of innocence in a world of vampires and wicked grandmothers. Although it is more linear than Rychle pohyby oci, the overall effect is built up poetically rather than through development of action. A full and detailed description of the plot would probably actually take longer to read than to watch the entire film, so labyrinthine are the twists and turns of the story line.
Jires said of the film that he wanted to explore "the connections between reality and dream, horror and humour". He certainly created something unique, coming up with a film which draws on the traditions and narrative conventions of children's fairy tales, B-movie horror flicks and soft porn. The film was another literary adaptation for Jires, this time of a book by the Czech poet Vitezslav Nezval. Nezval's name is closely associated with surrealism and in 1927 he published an early essay on the nascent artistic movement. He is also connected with another well-known Czech erotic film, Gustav Machaty's Erotikon (1929), for which Nezval worked (uncredited) on the script.
Whereas Machaty's work retains the highest artistic integrity, Jires's balance of camp horror and smut has guaranteed the film an eternal audience of horror buffs who like to see girls below the age of consent in diaphanous white dresses. Jires is now a name which frequently crops up on American websites devoted to Eurotrash and exploitation films and his films attract comments such as "great artistic sleaze" there.
If there is any interest in Valerie a tyden divu to less sexually frustrated film audiences, it is the in the film's relationship to the era in which it was made. Shot only a few years after the Soviet tanks rolled into Prague, the film is filled with images of corrupting innocence, rape and the betrayal of youth by those who should be protecting it. These themes are perpetuated both in the story line and in the film's images: pure white clothes being stained with blood is a notable example. Aside from the titillation of seeing a lithe young Schallerova with not very much on, Czech audiences could identify, at some deep level, with the correlation between the film's plot and the way they perceived their nation as being defiled and abused by a foreign aggressor.
Where Rychle pohyby oci fails is that it cannot compete with the film it is trying to emulate. Valerie a tyden divu works because it plays either on people's voyeuristic sexual desires, romanticism for the purity of childhood or their deep sense of political disappointment, all factors which are evidently strong enough to overcome the film's weaknesses to produce some form of popular success. Spacek tries to work similar tricks with our feelings about death, love and fate but ultimately we don't care enough about his sulky adolescents to wade through the histrionics. However, at least Rychle pohyby oci didn't try to boost its box office figures by putting in cheap gratuitous shots of a scantily clad teenaged actress. In that respect we should, perhaps, praise Rychle pohyby oci for being bad in the manner that it is.
Andrew J Horton, 23 August 1999
Click here for the other Kinoeye article in this week's issue.
The following is a list of other films shown at Karlovy Vary which have been covered by Kinoeye.
Totalitarnii roman (Totalitarian Romance) by Viacheslav Sorokin, Russia
Tri muskarca Melite Zganjer (Melita and her Three Men) by Snejzana Tribuson, Croatia
Demony wojny wedlug Goi (Demons of War by Goya) by Wladyslaw Pasikowski, Poland
Blokpost (Checkpoint) by Alexandr Rogozhkin, Russia
Tockovi (Wheels) by Djordje Milosavljevic, Yugoslavia
Gengszterfim (Gangster Film) by Gyorgy Szomjas, Hungary
Nekem lampast adott kezembe as Ur Pesten (The Lord's Lantern in Budapest) by Miklos Jancso, Hungary
Krava (The Cow) by Karel Kachyna, Czech Republic
Okraina (Outskirts) by Peter Lutsik, Russia
Pasti, pasti, pasticky (Traps) by Vera Chytilova, Czech Republic
Kinai vedelem (Chinese Defence) by Gabor Tompa, Hungary