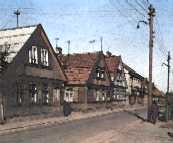 M I N O R I T I E S:
To Be a Belarusan in Bialystok
---
Wojtek Kosc
What does an average Pole think when asked about Belarus? A neighbouring country with a grotesque president; a backward economy and a huge Polish minority, not always treated well by the authorities. Oh, and there are some of them here in Poland. Belarusans (not Belarussians) form a 250- to 300-thousand-strong minority in Poland (estimates vary), not always well-treated by the authorities either.
To an outside observer everything might look fine. Belarusans have their organizations such as the "Center of Citizen Education: Poland - Belarus," and their events, such as an annual rock festival in Grodek. In other words, Belarusans can be Belarusans in Poland. Even at the "Small Europes" festival, organized by the Solidarity-owned Gazeta Wspolczesna daily, a band from Belarus performed freedom songs. The band, whose concerts are forbidden by the present-day Belarusan authorities, sang about its dreams of a democratic Belarus. But should the band's members perhaps take a closer look at Poland, the hospitable country that allowed them to play their songs of freedom?
They should. In recent years - since the electoral victory of the Catholic right-wing coalition, Jednosc (Unity), in 1994 to be precise - Belarusans in Poland have experienced the effects of quite overt anti-Belarusan policies. Apparently, in this case "unity" does not mean sticking together for the sake of Bialystok's future but rather unifying along religious and nationalist lines. This is an observation made, not by some disappointed Belarusan or a blindly anti-right-wing leftist voter, but one expressed on the pages of Kurier Poranny (Morning Courier), a Bialystok daily, not associated with any political force and valued for its impartiality.
It is also an observation made by Mieczyslaw Wnuk, an essayist from Jerzy Giedroyc's respected Paris-based journal Kultura (Culture). In an article entitled "Big City of Bialystok," (Kultura 8, 1998), Wnuk describes how the city's authorities carry out their policy of erasing Belarusans and their culture from Bialystok's image, creating a wholly artificial picture of the city - which has always been a city of many cultures. Wnuk writes:
"The victorious Catholic right-wing make it no secret that they want no Orthodox officials (and no ineffectual ones either) in the Bialystok region."
As a Catholic party, Unity sees no role for Orthodox followers. And since the words "Orthodox" and "Belarusan" are synonymous in the minds of Bialystok authorities, both groups are discriminated against equally.
However, those two words are not synonymous. Belarusan national awareness stems from Catholicism, and the Orthodox Church in Poland steers clear of both national and ethnic identification.
Some striking facts illustrate the growing discrimination against Belarusans. After the AWS (Solidarity Election Action) parliamentary victory in 1997, money for renovation of the Orthodox monastery in Suprasl (which had been kept in a special budget reserve) was taken away. Last year, the Belarusan Society was refused funding for all its projects. The Belarusan Social-Cultural Society has yet to receive any money this year, although the Ministry of Finance has apparently already transferred the funds to the Ministry of Culture. Moreover, it is already known that next year's allocation will be ten percent less. Bialystok's 250th anniversary was celebrated without any reference to Belarusans' and/or Orthodox followers' contribution to the city's development.
When Member of Parliament Jozef Mozolewski (AWS) said that the money originally allocated for the renovation of the Suprasl Monastery was a "thank you" from the former Communists for the Belarusans' vote, the true reasons underlying the policy of Bialystok's authorities became clear. It is true that before 1989, Belarusans were quite loyal to the Communists, who allowed them to advance financially and socially, often at the price of denying their national identity. But if this were to serve as a basis for discrimination, it would be a very short-sighted policy indeed.
Belarusans and followers of the Orthodox Church have always formed a vital part of eastern Poland's society. Not only after 1945 but long before that as well. Exacting political revenge on them for choosing a particular political affiliation may be appropriate for a totalitarian country, but not for the model Central European democracy that Poland wants to be.
The amount of money involved in subsidizing Belarusan/Orthodox projects is not that large, and, to cite Wnuk again, "it will save neither the region nor Poland, but may seriously harm Poland's image."
Wojtek Kosc, 17 September 1999
Internet links:
1) For those with a command of Polish, the Kurier Poranny (Morning Courier) from Bialystok maintains a website. This daily provides impartial and quality coverage of current affairs in the Bialystok region, including minority problems.
http://www.kurier-poranny.com
2) For those who want some direct insight into Belarusan matters, I suggest subscribing to this Belarusan discussion list. To subscribe you need to send an e-mail to: belarus@solar.cini.utk.edu with your name and the word SUBSCRIBE in the message's body. The list is in English.