On Sunday, the Washington Post began an article with: "President Bush's advisers knew they were assuming a certain risk when they scheduled him to visit Slovenia, a country he once confused with Slovakia. But they figured it would all work out." And largely, it did. The chance the country got last weekend to host the first summit between American president George W Bush and Russian president Vladimir Putin may just have been the final push Slovenia needed to break onto the world stage.
Since independence in 1991, the country has constantly jockeyed for the world's attention, but, tucked into its little corner of Europe, it more often than not goes overlooked. Not so last weekend, when the world was all but forced to turn its undivided attention to "the sunny side of the Alps."
Overall, the coverage was spotty at best. As the Slovene newspaper Finance pointed out on Sunday, though the international media covered the Summit in depth, it had little to say about the host country. Generally, most articles referred to it as a former Yugoslav republic, and presented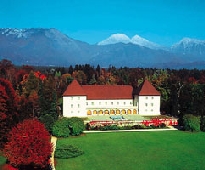 Brdo, the actual venue of the summit, as the former summer home of Tito. The New York Times, the Financial Times and The Sunday Times of London all took this tack.