Sculptor of stone and wood, farmer and sometime monk, Vilius Orvidas is a cultural symbol in the documentary by filmmaker Vytautas V Landsbergis. Still, Ovidas the artist, like his sculpted work, is not a monolith. Even as this account of his life and work creates a cultural terrain, it is uneven, stony ground.
The film that bears his name, Vilius Orvidas (2001), provokes the central question of the auteur and the nature of creativity. The Lithuanian tradition in documentaries is very creative, adding its own aesthetic value to a subject. This film evidences an intricate editing job with the inclusion of works and interviews on Orvidas as well as interviews with the man himself.
The story of Vilius Orvidas and the family farm he embellished with his carvings in wood and stone is developed through layers of mediation, far from fly-on-the-wall, but engrossing in perspective.
In the first rank, Landsbergis uses filmmakers and other artists out of whose work this documentary was stitched in part. Leonidas Surgaila, the film's cameraman, appears intermittently to assimilate the material of others, who include Jonas Mekas, Lithuanian poet-filmmaker living in Manhattan; Audrius Stonys, whose documentary Antigravitacija (Antigravitation, 1995) was recently shown in London; and artist Henrikas Šablevičius. Surgaila has the final word with his announcement that he taped an interview with Orvidas three weeks before the artist died.
Another tenet of the film is that behind the artists, the forces of society, state and tradition continually shape art, attributing meaning, supporting it, repressing it, interpreting it. The Communist party-state, an arbiter of meaning for the greater part of the 20th century, appears to have undertaken interpretation of Orvidas's work, from the level of the local authorities and the Komsomol all the way up to the national leadership.
Orvidas notes (in Lithuanian, not Russian) "a new terror" from Yuri Andropov. Still, it was soldiers who brought him stones for his projects. When Mikhail Gorbachev visited the Orvidas farm in 1980, he conducted a sympathetic, almost indulgent, exchange with the young Orvidas:
"How did you harm the State?"
"I believe in God, and so does my father."
"That is a matter of opinion."
Despite this, Orvidas gives us a measure of the restriction on his art stemming from external interpretation, frequently disavowing his work and attributing it to his father to divert the harsh gaze of critics. The religious nature of some of his carvings, he says, "irritated the Soviet authorities' sensibilities." Filmmaker Mekas adds, "Lithuania doesn't take him seriously, either."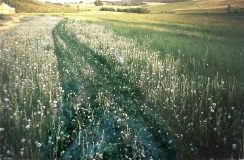 Bestowing inspiration and attracting trouble to him in equal measure, God, for Orvidas, is an inalienable part of art. "You can do all 99 per cent right, and get one thing wrong, and it's all in vain," he says. Elsewhere, he attributes much of his inspiration to "subconsciousness." So strongly does Orvidas identify God as creator that his thoughts on art and creativity begin to reveal a fragmented concept of the artist. Christianity shows a parallel in the schism between Christ's divinity and mortal nature.