Never could it be said that the Rusyns and Hungarians are strangers to one another. From the very beginning of Magyar statehood over one thousand years ago, the two nations have existed side by side. The very fact that the East Slavs, who became the Rusyns, found themselves under Magyar rule for an entire millennium is the crux of the Rusyns' claim to the status of the fourth East Slavic nation; related to, but separate from, the Russians, Ukrainians and Belarusians.
While the history of the treatment of Rusyns by the Magyars is not necessarily something that can be held up as a shining example of majority-minority relations, the current policies in force in Hungary certainly can. Now that the Rusyn community in Hungary is counted in the hundreds and not in the hundreds of thousands (as it was before the First World War), Budapest has finally given the Rusyns what they had demanded for a millennium: a degree of autonomy.
Hungary and its minorities
The Rusyns may very well be the oldest minority group in Hungary, but they are by no means the only one or anything close to the largest. The country is currently home to thirteen groups recognized as national minorities. Armenians, Bulgarians, Croats, Germans, Greeks, Gypsies, Poles, Romanians, Serbs, Slovaks, Slovenes and Ukrainians all join the Rusyns in what could be a zoo with most all of the nations of Central Europe—and several more exotic species—on display.
The 1990 census counted Rusyns together with Ukrainians, following standard Eastern-Bloc practice, and found only 674 people speaking either Rusyn or Ukrainian as their mother tongue. Today, Budapest's official estimates say there are 1000 Rusyns in Hungary (separate from Ukrainians), while Rusyn organizations claim the figure is as high as 6000.
Rusyns no longer make much of an impact on Hungarian society. The Rusyn language is used as a significant mode of communication in just two villages, both in Borsod-Abaúj-Zemplén county in the north-east. One the Rusyns call Mucon (Múcsony) and the other Komloška (Komlóska).
The Rusyn movement in Hungary has made significant progress since taking its first steps in 1991 with the formation of the Organization of Rusyns in Hungary. Several cultural institutions have been created, among them the Andy Warhol Arts Association (1995), the Rusyn Research Institute (1996) and the Rusyn Museum in Múcsony (1998).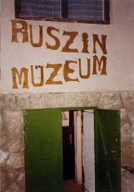 Beginning with the 1995/6 school year, eighteen grade schoolers in Múcsony had the opportunity to study in the Rusyn language, and the following year enrollment jumped to 68.