I had the great pleasure of meeting Hungary's foremost legal expert on the issue of domestic violence, Professor Krisztina Morvai, author of the groundbreaking study "Terror in the Family," in the office of the Women's and Children's Rights Foundation in the tranquil and opulent surroundings of the Buda hills. Her pioneering work has done much to dispel the clichés of the heavy-handed drunkard knocking about the wife and kids as a vent to relieve the frustrations of the daily grind to unearth the deeper and more subtle psychological mechanisms at play.
Professor Morvai's writings have offered new hope to thousands of abused women by offering them a framework for making sense of the hell on earth they lived through, liberating them from the vicious circle of self-loathing and self-recrimination in which they were trapped. For this, we owe her an inestimable debt of gratitude as a society.
In short, a criminologist
Central Europe Review: Could you please introduce yourself and say a few words about what led you to write the book and about your involvement in drafting the new law aimed at protecting women and children?
Krisztina Morvai: I am Professor Krisztina Morvai and I have been working at the Faculty of Law of the Loránd Eötvös University of Sciences [abbreviated in Hungarian as ELTE] almost ever since I graduated in 1986. I studied law before going to King's College in London where I obtained a master's degree in law. I acquired further experience abroad whilst teaching in America on a Fullbright scholarship, and I also worked as a lawyer for a year at the Human Rights Committee in Strasbourg. Alongside all of these activities, I have always taught at university in Hungary as my full-time job is here.
In my days as a law student, my original career plan was to work as a practising lawyer. This is why I spent a year in the provinces as an apprentice lawyer in a small community by the name of Dabas, here in Pest County. I passed my specialist court exam in 1989, following a stint at the Supreme Court.
In short, then, I am a criminologist, I teach at university, have a specialist court qualification, travel abroad frequently and there is one other very important fact of relevance to an introduction, which is that I have three children, all girls, as I need to do my bit to strengthen the Women's Movement.
As a criminologist, I have noticed that we teach the students something which is also reflected in the media, namely that violence exists as a nasty phenomenon. That violence is assuming ever more serious proportions, that the number of violent crimes perpetrated is constantly on the increase, that you can no longer go out on to the streets safely because you risk being beaten up and so on and so forth; and whenever we talk about violent crime, it would never occur to anyone that the most dangerous surroundings, the most dangerous place is not the open streets or a dark, unlit park or similar location, but the home.
It can also be demonstrated statistically that most violent crimes are committed between the walls of the home and that women and children are at greatest risk within their own homes. Grown women are most likely to be murdered at the hands of their own husbands or partners.
We always take the students along to attend a trial. It was then that it struck me: most murders dealt with at court occur within the family. Then I began pondering how it could be that all the publications, studies and the likes on the subject of where people lose their lives all focus on street violence, the mafia and goodness knows what else, organised crime, and so on—these are the really trendy topics of the moment.
Domestic violence shrugged off
When I began discussing domestic violence with my colleagues, they shrugged it off as sociology, psychology, as a not genuinely scientific issue, saying that a serious lawyer does not bother with the likes of that. This is both highly interesting and can be regarded as a symptom of a wider attitude, since it contains the same element of trivialisation, of minimalisation, as it immediately besets every area where women are involved. The same applies to any such theme whether it be prostitution, rape, trafficking in women: none are considered to be particularly important! It is possible to trivialise them.
The other standard response is to maintain that they are not legal issues. Women are not looked upon as equal citizens, as subjects enjoying rights, whose situation the law has to occupy its time with, whom the law has to protect by preventing them from being put at risk in the first place. Instead, they are regarded as somehow different.
What, in that case, are the really serious, weighty issues that a self-respecting lawyer or legal expert devotes his energy to? Anything involving men. Organised crime and the mafia are primarily dominated by men. If someone does deal with matters affecting women or children, it is not felt to be the real McCoy. The best technique employed to take the wind out of your sails is for colleagues to whisper behind your back that you are a feminist. If you are branded a feminist, then you are already written off, and what you do and say no longer has to be taken seriously.
The press and the media, in general, sat up and took notice of my book, giving it a lot of coverage, but the specialist legal, academic press hardly gave it a second glance and only very few of my colleagues felt the need to react, because I had been labelled as a feminist. This meant that they are not obliged to respond to my contentions to the effect that, for example, at least one woman a week in Hungary dies as a result of domestic violence. Because this is just some sort of feminist nonsense.
These were the thoughts that inspired the book, because I felt that someone in Hungary has to start looking at these problems. The single most important new development in recent months has been that the Ministry of Social and Family Affairs has set the process of preparing a new law in motion. The Committee, of which I am also a member, has convened to begin drafting the new law on domestic violence. We have really revved up now as far as the working rhythm is concerned, meeting every week.
I have been charged with the task of drawing up the system that institutes restraining orders. I have been asked to write a comprehensive paper on it and come up with proposals. One of the biggest shortcomings of today's provisions in Hungary is that they do not contain the concept of a restraining order. In Hungary, it is always the battered woman who has to flee with her children from the abuser, whilst the abuser is free to stay undisturbed in the shared home or, in certain cases, in the woman's home.
This is the starting point and we would like to reverse it, thereby bringing it in line with the system in the countries of Western Europe, according to which the abuser has to vacate the home and the women and children—the victims, in other words—are to receive the relevant support. One of the fundamental legal preconditions for achieving this is for this system of restraining orders to be established. This would mean that whenever the police are called to the scene of such a crime and whenever it reaches the courts at a later stage, the main rule should be that the abuser is forced to leave the shared home and is thereby prevented from continuing to use violence in it.
The Committee itself is small, comprising four lawyers, but the work it does is of the utmost gravity and importance. Because we would like to progress by leaps and bounds in a very short space of time, we demand a lot by way of work from each other and a lot is expected of us collectively as a Committee.
The Foundation
The other project which calls for equally large amounts of work is our foundation, the Children's and Women's Rights Centre [Női és Gyermekjogi Központ] and, in particular, the domestic violence legal clinic that we launched this year. Student lawyers take part in the legal clinic programme and it represents an interesting, exciting new form of training for them.
What it boils down to is that student lawyers, students of the Police Academy, aspiring social workers, political scientists and students of other faculties receive training on the issues of violence against women and domestic violence and are also given the opportunity to work with the battered women and their children in so-called Mother's Shelters [anyaotthon].
On the one hand, this involves their offer of emotional and moral support to the victims by visiting them, chatting and listening to them on a regular basis and, on the other, they accompany the victims to court hearings or to the police or other authorities, to name but a couple of examples. Or they might fill in application forms for them. Under the guidance and supervision of qualified experts, they do a little legal and a little practical work.
It is quite an uplifting phenomenon to observe the transformation in a Police Academy student who was taught not to interfere in such matters, that it is up to the woman herself to sort out her problems herself, when the student is confronted by the appalling tragedies, by the massive burden placed on the woman's shoulders—often as a direct result of the attitude shown by the police—and realises that she is quite simply unable to free herself of the violence. Your average police officer in Hungary still says that it is a private affair and that he will not get involved.
I firmly believe that the type of training the Foundation provides is one of the most effective around. That, before they begin their careers as police officers, jurists, prosecutors, judges, defence lawyers, social workers in the child protection organisations or in the authorities, these students should witness with their own eyes and have first hand experience of what domestic violence really means and what its devastating consequences are.
We launched this training course at the Foundation a fortnight ago, and we have reached the stage now where we had, together with the students, listened to the stories of nine battered women. Now we are consulting the students about how we ought to be tackling these cases, how we should be proceeding. This is a very demanding period for everyone both emotionally and intellectually, including for our battered women clients themselves, because for them it is a new development to have people actually trying to help them.
There is a slight residue of suspicion in them, because they have been disappointed by so many different people before and they are afraid of being in for a disappointment again. The students are fretting about whether they will succeed, whether they are cut out for this kind of work. We are anxious about how things will turn out. The reason why the course is emotionally draining is that these women recount the most appalling stories to us and we try to help them, to work in a kind of partnership with them.
As to what kind of accounts we have heard from the women this year, the last one we listened to—which is why it sticks in my mind most clearly—told of how she was regularly beaten, raped and kept in a state of psychological terror by her husband over the years, that he also turned the children into nervous wrecks and that she was eight months pregnant with her third child when they fled. Her other children were aged two and three.
They fled from their home and turned to various organisations, such as the police and family welfare services, to ask where they could go, where they would be safe—only to be brusquely informed that the organisations in question did not know the answer, that they should sort it out for themselves and that their safety was their own responsibility. Just imagine that this woman, who was eight months pregnant and had two small children, was forced to live on the streets for three weeks!
The Red Cross helped them by providing a pram with big wheels, as they thought it might be easier to carry the children about the streets that way. To give a complete picture of the truth, I am compelled to point out that every single organisation they turned to started off by expressing their disbelief that someone like her can become homeless and have nowhere to go.
Convenient excuses
In Hungary, the victim is always blamed that it must be her fault; that she must have misbehaved in the eyes of her husband. The authorities and organisations came up with all sorts of convenient explanations to suit themselves, and gave rise to a situation in which the woman had to live on the streets for almost a month, sneaking furtively through entrance doors to hide under the stairs where one child would shudder with cold through the night in the pram, whilst the others huddled up in cardboard boxes before slipping out early the next morning so that nobody would notice that they had been there, as this could have caused a major uproar.
She did not have a single penny to her name. She did have an acquaintance she could have gone to stay with, but whose daughter smuggled out the dried bread from the shop along with everything else that would otherwise have been thrown out so that the children would have something to eat.
This was just one of the stories we and the students heard from the nine women. Another woman went through exactly the same experience, only with five children (ranging in age from two to five), and she put them in cardboard boxes to sleep at night as well. Nobody lifted a finger to help them. The local authorities such as the police and the child welfare workers told her to leave the village, because they knew her husband and how aggressive he was and they did not want to have to deal with the problem.
As you can see, two of the nine women were forced to get by on the streets for the best part of a month, and this is the year 2001. If you include the child the woman was carrying, a total of eight children were affected in just these two cases. Eight children, two women and goodness knows how many authorities, because in such cases it is not possible to keep an exact tally on them. It really was a mere matter of chance that they survived at all and that they were, eventually, able to get into a Mother's Shelter.
It is interesting to note that, in Hungary, we do not have shelters or refuges pure and simple, but there have to be Mother's Shelters, which is a problem for two reasons. First of all, because in the very name it is apparent that only mothers with children are entitled to places there. Although there have been slight improvements here and there, I do not think that there is a general social awareness of what domestic violence really entails, people do not really grasp what it means and the debate has not really gotten underway. It is against this backdrop that these women and children are treated simply as homeless people. They are inserted into the care system for the homeless and put up in homes designed for down-and-outs, for up to two or three years in some cases.
These homes are not safe for one. These women and their children have different safety requirements to people who are not able to pay their bills, who are evicted from their flats and who might have various social problems. In the case of the latter, good relations may prevail between the mother and the father. The mother might live in the home with the children and the father visits them regularly.
A battered woman's situation is in stark contrast to this: she lives in perpetual fear of death and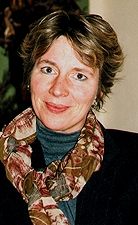 both her and her children's lives are at genuine risk. If the need for such shelters exist, what should be done is to make sure they are places of absolute safety, that they are guarded and their locations are secret. There is only one such refuge in Hungary at the moment, run by the Salvation Army, and it has five places. It can accommodate five women, in other words.