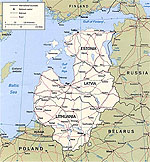 C E N T R A L E U R O P E A N N E W S:
News Review for Estonia
All the important news from Estonia
since 15 January 2000

Mel Huang
---
Politics and foreign affairs
Head of the Citizenship and Migration Department Andres Kollist was sacked by Interior Minister Tarmo Loodus. Loodus cited the problems with the department and its lack of reforms, evident by the long, "humiliating" queues for those waiting for permits and other documents. Some are also attributing the sacking to a reprimand issued against Kollist in December for failing to complete a database of ex-Soviet military officials in Estonia, while others believe there was a political motive. Kollist is well-connected with the opposition Keskerakond (Centre Party). The Citizenship and Migration Department often earns angry responses from citizens and non-citizens alike for their unfriendly and intimidating service and is widely blamed for exacerbating the problem of illegal aliens not wanting to register, due to the bureaucracy and intimidating surroundings. Many Europeans and North Americans also purposely bypass the legalisation process, due to the bad reputation of the Citizenship and Migration Department.
The Estonian Foreign Ministry, alongside counterparts in Latvia and Lithuania, filed protests with their Czech counterpart for the latter's violation of the visa-free agreement. The new visa regulations passed by Prague force Estonians, Latvians, Lithuanians, Australians and others to provide extra documentation at the border - such as proof of funds and accommodations reservations. However, Czech authorities told their Lithuanian colleagues that the border guards have been taking the regulations "too straightforwardly" and it is not a violation of the visa-free travel agreement.
Former accused spy Pjotr Kalatšov was arrested on charges of selling explosives. In an undercover operation, the Security Police (KAPO) caught Kalatšov trying to sell 500 grams of plastique to officers in a Tartu McDonald's. Detonators were found in his car later. Kalatšov is best remembered for trying to buy Russian military documents in April 1999, which at the time he claimed to be an Estonian agent. Estonian authorities have denied it, and this case supports the argument that he is just a "freelancer" in the dangerous world of espionage.
Georgian Deputy Foreign Minister Merat Antadze made a visit to Estonia to learn about regional co-operation and to promote bilateral ties. Antadze met with various officials, including Foreign Minister Toomas Hendrik Ilves and Defence Minister Jüri Luik, discussing successes in Baltic regional co-operation projects, such as the joint Baltic peacekeeping battalion BALTBAT and the joint parliamentary body, the Baltic Assembly.
Parliamentarian and Deputy President of the Parliamentary Assembly of the Council of Europe (PACE) Kristiina Ojuland was a part of the PACE delegation, led by Lord Russell-Johnston, to Russia. Ojuland added that acting President Vladimir Putin has shown interest in co-operating with Estonia. The PACE group is inspecting the Chechen conflict and trying to broker a peace deal.
Also, border guard Vaino Kõva joined the new OSCE mission at the Russian-Georgian border. The new mission is entrusted with monitoring the border, at which much tension has been building. Border guard Kalle Kandroo will also be sent to the WEU MAPE mission in Albania.
The government approved the country's EU integration plan for the year. Foreign Minister Toomas Hendrik Ilves said this year will be crucial, since they would like negotiations with the European Commission to conclude in 2001. Areas with extra focus include harmonising legislation with the acquis communautaire and especially reforms in the administrative sector.
Foreign Minister Ilves also added that all Estonian diplomats must have some knowledge of French by the year 2003. A project in conjunction with the French Embassy in Estonia will begin language instructions for the diplomats. All Estonian diplomats today are generally already required to be able to speak four languages: Estonian, English, Russian and Finnish.
The heads of the three Baltic militaries - Brigadier General Jonas Kronkaitis (Lithuania), Colonel Raimonds Graube (Latvia) and Colonel Märt Tiru (Estonia, acting) - met with their Nordic counterparts in Denmark to discuss co-operation. After the meeting, the three, along with Danish commander General Christian Hvidt, travelled to Bosnia to inspect the joint peacekeeping force BALTBAT.
Lord Mayor of London Clive Martin made a visit to Tallinn to forge stronger ties among the financial communities.
Former Narva mayor Raivo Murd admitted guilt in misappropriating city funds. This stems from an illegal guarantee the city offered to a private company that eventually failed. Due to the agreement signed by Murd, the city was forced to pay off the loan.
Clyde Kull presented his credentials to UN Deputy Secretary General Vladimir Petrovski, becoming Estonia's new ambassador to United Nations organisations in Geneva. Kull previously served as ambassador to the Benelux countries, as well as the EU and NATO. Kull was also the former chief Estonian negotiator with the WTO, of which Estonia gained membership last year.
---
Economics and Business
The Finance Ministry announced that at the end of the year, only 90.32 per cent of planned revenues was collected. The gap was filled by funds from privatisation and sale of state property, such as the ultra-successful IPO of Eesti Telekom (Estonian Telecom) - which is listed on the Tallinn Bourse and London Stock Exchange.
The Statistical Department announced that inflation in 1999 was 3.3 per cent, with fourth quarter CPI growth at 0.7 per cent.
Finance Minister Siim Kallas, calling it the "worst year since the restoration of independence," said that in 1999 the GDP dropped by 0.5-1.0 per cent. This comes as preliminary figures put Q4 growth at about 3.5-4.0 per cent. Kallas optimistically said in the year 2000 growth should be four per cent, thus increasing revenues for the state.
Estonia's Eesti Loto officially became a part of the pan-Nordic Viking Lotto, which means larger jackpots. The agreement was signed in Helsinki, after auditors and specialists confirmed the security and readiness of Eesti Loto. Viking Lotto, starting in mid-March, will encompass the following countries: Denmark, Estonia, Finland, Iceland, Norway and Sweden. Estonian players are rejoicing, as jackpots for the lotto draw will go up from the current average of about EEK (Estonian kroons) 1.5 million to the usual EEK 13.26 million for the cross-national lottery.
November trade numbers showed the highest trade deficit of 1999, at some EEK 2.4 billion.
The producer price index in December rose by 0.5 per cent.
Both large banks raked in strong profits in 1999, with Hansapank earning EEK 540.4 million (up from EEK 310 million in 1998) and Ühispank earning EEK 101 million (up from 1998's loss of EEK 290 million). However, third largest bank and consummate takeover candidate Optiva Pank raked in a surprising EEK 18.7 million loss - with a major charge taking in December. The one-time charge taken in December is fuelling rumours that a large foreign bank, perhaps MeritaNordbanken, is about to swallow up shares in Optiva currently held by the Central Bank.
Reformierakond (the Reform Party) said that public television ETV should not be in competition with private television stations and partly suggested that privatisation is a possible solution. That was met with anger by other coalition members. Reform Party leader Siim Kallas then suggested that the privatisation of the Health Fund is also a possibility, but that has been met with criticism even within the party.
The Finnish company Action Copter wants to launch a regular helicopter service between Tallinn and Helsinki. The company has two Sikorski choppers ready, which can carry 12 passengers each. The trip between the two capitals would then take only 20 minutes. However, helicopter pads and assorted infrastructure must be built first. Many do not like to wait long on the boats, and it is quite senseless to go through all the airport mess for a flight that is shorter than the check-in procedure. Could you imagine flying a jumbo jet from Vienna to Bratislava?
---
Social and Local Interest
A new report shows that less than half of military recruits have completed secondary school and of that ten per cent have not completed even nine years of education. The same report said that in 1999, only one recruit had a university degree - and that there was also a man who had less than four years of education and could not read or write. Though the figures for early recruitment in 2000 already indicate three university graduates, this typifies the problems stated by Defence Forces Commander Lt. General Johannes Kert concerning the lack of well-educated military personnel (see Amber Coast from 17 January 2000 for more details).
Estonia's population decreased again in 1999. During the year, there were 12,454 births, up by 258 from 1998. However, there were also 18,448 deaths.
Another poll conducted among 15- to 16- year-old students indicated drug use is growing in Estonia and suggested it has doubled in four years. More than 25 per cent of students in that age group in the north-eastern Ida-Viru county have tried drugs, compared to 23 per cent in Tallinn. Another concern is that 29 per cent of all Russian-speaking youths that age have used drugs.
The same poll also raises alarm bells on teenage alcohol abuse, as more than half of the youths have consumed hard alcohol more than ten times in their lives. This is up to 55.1 per cent from 43.2 per cent. Only 33 per cent of students said they've never been drunk before.
A research study by Lithuanian academic Vygandas Paulikas shows Estonia spends the least among Balts considering government support for agriculture. For every hectare of agricultural land, the Estonian government spends USD 27 for support. This is much lower than Lithuania's USD 51.50 and Latvia's USD 32.75 per hectare.
Several reporters of business daily Äripäev got off the hook as prosecutors decided not to charge the group with bribery. This comes from a case of zealous investigative journalism, as an undercover reporter offered a bribe to a clerk to speed up the process of a business registration form.
The World Wildlife Fund has rated Estonia's forests as the second worse-kept in Europe. Estonia gained a cumulative score of 38, with only Denmark below at 36. Latvia fared a little better at 40, while Lithuania was highest among Balts at 51. Slovakia, along with Sweden and Austria, took third at 57 - behind Switzerland and Finland.
Using PHARE funding, the "Interest" programme will refund half the money for Estonian language courses for those who pass the language exam for citizenship. The programme, which is funded this year with EEK ten million by PHARE, will refund EEK 1200 to each successful language learner. They predict about 6000 people will take advantage of the scheme.
Social Minister Eiki Nestor, alongside Latvian Welfare Minister Roberts Jurdžs and Lithuanian Health Minister Raimundas Alekna, signed in Copenhagen a co-operation agreement with their Nordic counterparts against the spread of tuberculosis in the Baltics. A total of NOK (Norwegian krones) 15 million will be granted to the three countries in their fight against TB (especially drug-resistant variants).
---
And Others...
Sad story. A small boy in the city of Tartu was killed after being mauled by a pack of stray dogs. This case dramatises the problem of stray dogs, as urban residents have often complained of problems from the animals. However, a legal precedent may be set as investigators are probing whether they can charge an elderly women with negligence over the mauling. The elderly lady does not officially own the dogs, but she has been feeding them for a long time. However, later police suspected foul play, as some of the wounds appeared to not be canine in origin.
---
Exchange Rates
As of 21 January 2000
currency
Estonian
kroons
(EEK)
1 US dollar
15.42
1 British pound
25.53
1 German mark
8.00
1 euro
15.65
[Up to date Estonian exchange rates can be found here]
---
Prepared by Mel Huang, 21 January 2000
Archive of Mel Huang's Amber Coast articles
---
News Sources
Baltic News Service (BNS)
The Baltic Times
Radio Free Europe/Radio Liberty
Reuters news on Yahoo