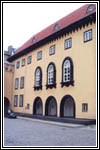 T H E A M B E R C O A S T
The Visionary of Hiiumaa
---
Mel Huang
Estonians often refer to the island of Hiiumaa as a national paradise for its rural and quiet atmosphere, perfectly conducive to artistic and creative pursuits. Many artists and musicians retreat to this small, local nirvana, using its proximity to nature and purity as inspiration for their next endeavour. In most cases, Hiiumaa is a paradise that is discovered by the outside world; but there is one Hiiumaa-born musician who has managed to bring his vision from the small island to the world: Erkki-Sven Tüür.
Among classical and chamber music lovers, the name Erkki-Sven Tüür automatically

conjures up intriguing and dynamic music, often challenging the established "norms" of the genre. Some who think of Hiiumaa as a place of complete relaxation and simplicity would feel that such a "challenge" is in contrast with the Hiiumaa nature. However, on this unique island the feeling of liberation and freedom is epidemic, placing unrestricted creativity above the narrow definitions of certain artistic genres. Often, influences and motifs from other genres fit into the scheme of Tüür's music very complementarily, revealing - as the liner notes for one of his recordings say - "a refreshing, unencumbered approach to the composition of a piece of music." In other words, in his style and music, Erkki-Sven Tüür embodies the Hiiumaa nature.
Compositions such as "Crystallisatio" (ECM New Series 1590 Crystallisatio) and his Symphony No 3 (ECM New Series 1673 Flux) typify the musical vision of their composer, who has become in a few short years one of the most sought-after and popular classical and chamber music composers in the world. Tüür's name stands prominently among a strong field of Estonians in the classical music world: contemporary composers Arvo Pärt and Veljo Tormis; historic composers Eduard Tubin and Rudolf Tobias; world-famous conductors Neeme Järvi and Eri Klas; as well as renowned choir conductor Tõnu Kaljuste.
In many ways, Erkki-Sven Tüür was a natural and destined to create unique and fascinating pieces of music. Born in 1959, Tüür reached his teenage years just as rock became the dominant genre in music. In his mid-teens, he began building a reputation as a songwriter in a start-up band with friends. Though the material, as well as his singing and guitar playing, was understandably raw, the surprisingly mature compositions gained a lot of attention from serious musicians at the time. This led to a collaborative project with the most popular band of the time, the legendary progressive rock band Ruja (see this week's revised version of "Rock Estonian Style," Amber Coast from 1 November 1999, for more on this legendary band and its retrospective project). Though this combined project, named ESRA, did not develop, it did leave a memorable mark in the Ruja song "Avanemine" ("The Opening"), written by the teenage Tüür.
It was also at this time that Erkki-Sven Tüür began his formal education in music. When he was 18, he started taking lessons in flute and then also began taking composition courses from the renowned Jaan Rääts at the Tallinn Conservatory. Upon completion of his studies at the Conservatory, Tüür pursued further studies with well-known composer Lepo Sumera.
At the same time, Erkki-Sven Tüür founded the band In Spe. For the next few years, from 1979 to 1983, he devoted his time to the band and his musical studies. In addition to playing flute, recorder and keyboards for In Spe, Tüür also stepped up front and provided excellent (and underrated) vocals for the few songs with lyrics. In Spe falls clearly in the category of progressive or symphonic rock - creatively termed "chamber rock" by some. The fabulous composition "Sümfoonia seitsmele esitajale" ("Symphony for Seven Performers") successfully linked the rock and classical music genres in a creative and fantastic union and established itself as the benchmark of Estonian progressive rock. This and several other excellent compositions made it onto the limited-release self-titled LP released in 1983; but it was not until the very end of 1999 that this crowning achievement of Estonian progressive rock was reissued on CD (Eesti Raadio ERCD-028).
In 1983, Erkki-Sven Tüür left In Spe and continued his musical studies, eventually also teaching composition. Within a few years, some of his works became well known in Estonia and he won many awards throughout the 1980s. In fact, he nearly monopolised the top musical prize of Estonia, winning it four times: in 1986, 1987, 1989 and 1992.
The period of glasnost allowed Erkki-Sven Tüür to finally reach beyond Estonia's borders; but it was the restoration of Estonia's independence in 1991 that allowed Tüür to showcase his talent to the rest of the world. A breakthrough year came somewhat earlier in 1989, when success in Finland opened the door to various commissioned projects. Subsequently, works such as "Architectonics VI" and "Lighthouse" for strings, commissioned for special music events, brought Tüür into the forefront of the classical music world within a few short years.
They key to Erkki-Sven Tüür is his uniqueness and desire to constantly be exploring while retaining a commitment to his roots. He still spends a good deal of time on Hiiumaa. In the liner notes of one of his releases, the writer remarks:
Hovering in the background is the optimistic face of an unprejudiced rock musician who is not afraid to show himself in a state of disorder. In his music, he gladly mixes and matches elements about which audiences will usually have very preconceived views.
The writer reminds listeners that "Erkki-Sven Tüür does not disavow his background and will turn to the CD player and listen to King Crimson." In fact, Tüür was recently given a copy of Föld és ég by Hungarian "chamber rock" band After Crying for his listening enjoyment. But what really demonstrates Erkki-Sven Tüür's nature are his own words on writing composer's notes:
I trust my listeners' creative and imaginative senses and would not wish to restrict this by any sort of dictated point of view from myself... We could speak about structure but I much prefer listeners to discover any hidden logic of the forms within the music for themselves. If this is not apparent to the ear, I would not wish to excuse myself by means of some grandiose, constructivist ideas.
Mel Huang, 20 January 2000
Photo of Erkki-Sven Tüür by Anu Tammemägi
Erkki-Sven Tüür will be presenting his Crystallisatio in a concert in New York City at the St Ignatius Loyola Church, 980 Park Avenue, on 8 February 2000. Contact number is (212) 288-3588. Definitely worth checking out if you're in the Tri-State Area.
Archive of Mel Huang's Amber Coast articles
Related Links:
Information on Erkki-Sven Tüür from one of his publishers, Edition-Peters
Information on Erkki-Sven Tüür from the Tallinn Philharmonic Chamber Choir
Information on In Spe from the Estonian Progressive Rock Website
Information on In Spe from Eesti Raadio