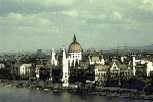 C E N T R A L E U R O P E A N N E W S:
Hungarian News Round-up
News from Hungary since
17 January 2000
---
Paul Nemes
Hungary's three main railway workers' unions will, in a third attempt to have their wage demands accepted, go on strike from midnight on 3 February until an agreement is reached with MÁV (Hungarian State Railways). The last strike, which started on 10 January, lasted for 60 hours, but this time the there will be no time limits as to how long the strike will go on for. The announcement came after the Engine Drivers' Union, the last of the three unions to decide it would join the strike, declared its unanimous decision to go on strike for an indefinite period unless an agreement can be reached with MÁV before then. Both previous strikes have brought as good as all domestic and international rail traffic in Hungary to a halt, with the last strike costing MÁV HUF 350 million (USD 1.4 million) profit loss. MÁV still maintains that it cannot offer more than an 8.5 percent wage increase. During talks on 20 January, some progress did, however, appear to have been made.
FIDESZ - Hungarian Civic Part Deputy Chairman József Szájer and Parliamentary Speaker János Áder have both said that they support Secret Services Minister László Kövér's candidacy for the party chairman. The three candidates said they had agreed to summon the FIDESZ steering board before the 29 January party congress to decide whom to nominate for the post of chairman. Earlier in the week, the FIDESZ parliamentary group asked Áder not to accept a nomination for the post.
During his visit to Budapest last week, French European Union Affairs Minister Pierre Moscovici said that he is convinced that Hungary will be the first, or one of the first, of the applicant countries to join the EU. Moscovici stated that necessary institutional reforms in the EU would be completed during France's presidency. He agreed with Foreign Minister János Martonyi that Hungary is close to meeting the criteria of the acquis, but criticised Hungary on a number of points. He noted that Hungary still needs to reform environmental protection, transport, justice, internal security and agriculture. During his visit to Budapest, Moscovici also met Defence Minister János Szabó, Economic Affairs Minister György Matolcsy and President Árpád Göncz.
Hungary's chief negotiator with the EU, Endre Juhász, has expressed concern over the pace of negotiations once the six new applicant counties begin talks with the Union on 15 February. Juhász told Reuters that he had been promised that the talks with the six new countries would not slow down EU preparations for accepting new member states. Hungary has so far completed talks on nine of the 30 chapters, but it is now feared that the process will slow down once negotiations begin on more difficult chapters like agriculture, the environment and the free movement of workers. According to Juhász, "the fact that 12 countries will be negotiating could overload the agendas of EU meetings, and the process of reaching common positions could be longer."
After the second meeting of the Hungarian-Slovak joint committee, the Foreign Ministry said on Tuesday that the two countries would shortly establish in which areas "expert-level of exchanges of experience and information" is likely to be successful. Slovak Foreign Ministry Secretary of State Jan Figel said after the meeting that EU political goodwill might prevent the implementation of Schengen borders between Hungary and Slovakia if Slovakia should join the EU at a later date than Hungary. Figel also said that Hungarian-Slovak relations today are of a different character than earlier, which will become noticeable in the two countries' strengthening integration cooperation.
After returning from the Grüne Woche international agricultural fair and the East-West Agrarian Forum in Berlin last week, Agriculture and Regional Development Minster József Torgyán said his talks with agriculture ministers there had been a success. Many discussions centred on EU accession. Torgyán said he had met both Agriculture Minister Capoulas Santos of Portugal, now hosting the EU presidency, and German Agriculture Minister Karl-Heinz Funke. Santos said that he though Hungary had the best chances of all EU hopefuls to join the Union, while Funke promised Torgyán that Germany would so everything it could for Hungary to retain its leading position among EU candidate countries.
At last week's celebrations marking the tenth anniversary of the Democratic Alliance of Hungarians in Romania (RMDSZ), splits within the organisation once again became apparent. On 17 January Hungarian radio reported that RMDSZ Honorary Chairman László Tőkés rejected a distinction from RMDSZ Chairman Béla Markó. The Tîrgu Mureş (Marosvásárhely) daily Népújság recently quoted Tőkés as saying that "heroes are being decorated together with traitors." Tőkés has previously directed heavy criticism at Markó and his way of leading the party.
A solution to the issue of a Hungarian university in Transylvania does not seem to be any closer. Romanian Education Minister, and rector on leave of the Babes-Bolyai University in Cluj/Kolozsvár, Andrei Marga said on 17 January, following talks with OSCE High Commissioner Max van der Stoel, that the best way to create a "multicultural university" is to "consolidate the existing structures of the Babes-Bolyai University". Marga said it should be possible to take full degrees in Romanian, Hungarian and German. RMDSZ Chairman Markó responded by saying that the Hungarians will continue to demand a state-run Hungarian university. He also said that he is in favour of full degrees in Hungarian at Babes-Bolyai University, but for this to become a reality the current language groups would have to be replaced by Hungarian faculties and departments.
Meanwhile, Foreign Ministry spokesman Gábor Horváth said on 19 January that the new Romanian land restitution law will "help ethnic Hungarians to preserve their identity and pursue happiness in their motherland." The Foreign Ministry said the new law means that Hungarians can claim restitution, as well as providing the possibility of restitution of land to schools, churches and other associations. Whether minorities actually will benefit from the return of confiscated property remains to be seen. Justice Minister Ibolya Dávid will meat with her Romanian counterpart in early February to discuss, among other things, the return of the Magyar Ház (Hungarian house) in Timişoara/Temesvár.
The Hungarian Prime Minister's Office is planning to put forward a proposal on the use of state property by political parties. The move comes after the Office found that the Socialist Party occupy 79 percent of state properties, the use of which no rent is charged.
On 18 January, Hungarian Jews remembered the 55th anniversary of the liberation of the Budapest ghetto with a ceremony in the Dohány utca synagogue. Rabbi Tamás Verő warned against extremism in Hungary, saying, "We must speak out against covert and overt attacks. This is very much in the public interest, and is not at all limited to the Jews." Leading members of the Hungarian Jewish community, Justice Minister Ibolya Dávid, Parliamentary Cultural Committee Chairman Szilárd Sasvári and other government dignitaries attended the event. Hungarian Jewish organisations have welcomed the idea that Hungarian schools should have a Holocaust Day, a proposal last week put forward by Education Minister Zoltán Pokorni. Smallholder Béla Horváth has since suggested that schools should also commemorate the victims of Communism, not only those of the Holocaust.
In the meantime, Hungarian neo-Nazis were last week organizing a "Waffen SS Memorial Trip" to Budapest for German neo-Nazis. In February, Hungarian neo-Nazis will hold their annual meeting to commemorate the SS soldiers who died defending Buda castle against advancing Soviet forces in 1945. Last year, neo-Nazis not only from Hungary, but also from Germany, the Czech Republic and Slovakia, held a demonstration after which three police officers were injured. The Hungarian and German intelligence services were thought to be watching the situation closely, but police said that if an application to hold such a demonstration came from private individuals, permission would be granted.
According to a report by Parliamentary Human Rights Ombudsman Katalin Gönczöl, human rights of both foreign citizens held at Ferihegy airport and border guards are abused. Foreigners who do not pass immigration are currently held overnight in a transit zone as there had been complaint from other passengers staying in the hotel, which was originally used for this purpose. According to the report, there are two problems with the transit zone. It is not suitable for an overnight stay, and the authorities regard it as extraterritorial. Hence, it is seen as a place where Hungarian law has no jurisdiction. The report states: "The lack of clear legislation creates room for abuses with regard to constitutional rights for the respect of fundamental rights and personal freedom." Moreover, the lounge is said to be far below normal standards and, therefore, the rights of immigration officers, who sometimes do not receive overtime pay, are also abused.
The Budapest Sun writes that the assassinations of two businessmen, one in Budapest and another in Dunajská Streda (Dunaszerdahely) in Slovakia, are suspected to be connected with the killing of Serb paramilitary Arkan in Belgrade. Both victims were murdered in their cars, Ignác Reichardt of Budapest was hit by 15 to 16 bullets while Tamás Vida of Dunajská Streda was hit by around 20 bullets. It is thought that all three are connected through Swiss banking.
On 19 January, the National Bank of Hungary (MNB) announced a base rate cut of 1.5 percentage points to 13 percent. A statement read, "The base rate cut happened based on favourable macroeconomic processes and is in line with the reduction of the Central Bank's benchmark [two-week deposit] rate and its money market interest rates." The cut, which is the biggest since the MNB began its rate cut policy in 1995, is believed by analysts to stop short-term speculators and stabilize the markets.
The Minister of Economics György Matolcsy said last Thursday that Hungary needs a "New Deal" to boost the economy. Matolcsy announced that he would work out a new economic policy together with the business sector, domestic and international financial groups. The new policy, which promises to include the construction of more housing and highways, will be ready in late February.
On 19 January, Hungarian doctors announced that results from tests for new cancer treatment are promising. The new method uses a Hungarian drug together with more traditional treatment. In Szeged, 190 patients, all in their final stages of cancer, have been helped by the new drug during a ten month treatment.
According to Balázs Fürjes, Chief of Staff of the Ministry of Youth and Sports Affairs, the Budapest Sportcsarnok is planned to be rebuilt by summer 2001. The Ministry has three proposals to rebuild the arena, which burnt down on 15 December. One proposal would only build a new arena, while another, slightly more expensive at HUF 23 billion (USD 91 million), would incorporate the construction of a recreation centre as well. A third plan, costing around HUF 50 billion, would combine a new area with a renovation of the next-door Népstadion. It is though that a decision will be made in April.
Heavy snowfalls and blizzards last week blocked several roads in western Hungary. Due to power cuts caused by the snow three villages in the Bakony Mountains cancelled school classes. Police also closed roads in the counties of Somogy and Veszprém.
Hungary's forests received 52 points out of a possible 100 on the European Forest Scoreboard 2000, which assesses the environmental standards in European forests. Neighbour Slovakia was the top Central European country with 57 points, while Switzerland topped the list with 62 points. The European Forest Scoreboard 2000 report is published by the World Wildlife Fund.
Paul Nemes, 21 January 2000