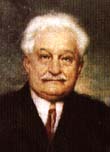 M U S I C:
Janáček from all angles

---
Zuzana Slobodová
Do you know who were the most frequent targets of criticism at the recent international conference on Leoš Janáček [A Tale of Three Cities: Janáček's Brno between Prague and Vienna], which was held in London between 22 and 24 October this year? - Leo Nikolaievich Tolstoy, Fedor Mikhailovich Dostoyevsky, Nikolai Vasilievich Gogol and Karel Čapek, no less.
Speakers called Tolstoy's Kreutzer Sonata, the controversial novella which took Europe by storm at the end of the last century, "that ghastly product of Tolstoy's unhappy old age". Dostoyevsky's Notes From the House of the Dead was dismissed as mere "autobiographical notes". This was again an indirect attack on Count Tolstoy, who had valued this work above anything else that Dostoyevsky produced. Gogol's Taras Bulba was referred to as a "jingoistic work". As for the author of the The Makropulos Case, Karel Čapek, "overrated" was the mildest expression used. He was angrily accused of being only a glorified journalist who contributed nothing to the development of Czech literature.
Speakers were kinder to Janáček himself even though it was his choice to set all these works to music. We were told that he had vastly improved on them. In fact, the conference seemed to be devoted to a celebration of Janáček's genius. "Janáček is a better composer than Bartók or Stravinsky," said Professor Roger Scruton, "and it is only in these last ten years that his greatness has been truly appreciated." We were told again and again that Janáček is all the rage in New York at the moment and that his work is a benchmark in the history of music in this century.
German and Russian influences
Amidst all this adoration there was mention of a controversy: Janáček's opera Jenůfa was rather popular in Nazi Germany, we heard. It is true that Nazi ideologists were not keen on Max Brod, a Jew who translated the libretto into German, or the Slav origin of the composer. Yet the opera was performed again and again in the Third Reich, mainly in the provinces where the ideological purge in the theatres was less thorough.
Its folksy setting must have pleased the National Socialists. Also, it is beautiful, and the bestiality of Nazis didn't prevent them from admiring beauty. Someone remarked, in fact, that many of them were highly cultured. It is only a pity that their ability to appreciate good art didn't make them more humane. Should Janáček's reputation suffer because he was admired in a fascist state? Was that not a simplistic attitude? The Nazis also admired Beethoven, but nobody has ever suggested blaming him for that.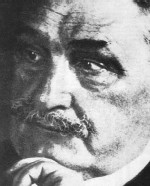 And what about Janáček's Russophilia? It is not reflected merely in his choice of librettos. He chose Russian names, Olga and Vladimir, for his children. Furthermore we learnt that it was a family trait. One of his two brothers moved to Russia and raised his family there. Leoš visited Russia and loved what he saw. Even before the visit he had already used motifs from Russian Orthodox Church music.
However, a specialist in Russian studies was adamant that Janáček's Russophilia was affection but not affinity, and that his Káťa Kabanova was more of a Moravian than a Russian story. Janáček left out everything that made the libretto, Ostrovskiy's Storm, a Russian play, he said. Yet it was the opera that gave the play any claim to international fame.
Proto-feminist or misogynist ?
What about Janáček's attitude to the fair sex? For a male artist he had unusual empathy with his heroines. They are usually complex women who become victims of weak and selfish men and of family pressure, and he would always take their side. In his time, a speaker from the USA told us, feminism was rife in Bohemia and Moravia and Janáček became sensitised to women's problems.
Why then was he attracted to Tolstoy's The Kreutzer Sonata, a misogynist tale describing the mental processes of a wife murderer? Janáček made the story more humane, speakers assured us: his sympathy was with the battered wife. There was a debate about the appeal of the story for the composer but the question remained unanswered.
At a meeting of the Dvořák Society on 4 November, former Radio Three producer Patrick Lambert spoke about the women in Janáček's life. He described Janáček as a choleric man, whose behaviour towards his loving wife of many years, Zdena, bordered on cruelty. He married her when she was almost a child, struck her very early in the marriage and had one mistress after another without even bothering to conceal them from her. The pair separated over his infidelities, but then reunited.
When he was well into his 70s he chose the occasion of a Christmas dinner, which she had tried particularly hard to make pleasant for him, to inform her that he was going to visit his latest mistress. When she dared to protest he fell into a rage. Then, after they had made it up, Janáček put on a tie that was a gift from the mistress with a tie-pin given to him by his wife, to show his magnanimity. Was Janáček aware of this cruel streak in his mental make-up, I wondered. Was his sympathy with wronged women born of guilt? What about the dark passions that are palpable in his music?
Back to the conference. As a distraction from the avalanche of heavy lectures with hardly any rest in between apart from meal breaks, we were shown slides of postcards which Janáček sent to friends and relatives, and of works of art in his possession. They depicted mostly rustic figures and Jugendstil buildings. Most of them were in good taste but nothing was outrageously avant-garde. His revolutionary attitude to art was limited to music.
Zuzana Slobodová
Editor's Note: This article was written for the British, Czech and Slovak Review.