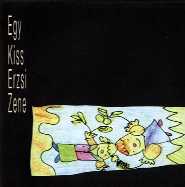 M U S I C:
World Music at Play
Egy Kiss Erzsi Zene
---
Andrew James Horton
Whilst Egy Kiss Erzsi Zene's eclectic blend of ethnic musical influences have an enthusiastic following in their native Hungary, their international profile is far lower, with just a few appearances in the Czech Republic and Croatia to their name and their music adorning the soundtrack to a film by leading Hungarian director Miklós Jancsó. Recently though, ReR Megacorp, a UK-based international distributor of all manner of wonderfully obscure and hard-to-get music, started distributing the band's eponymous 1998 album (their first and only to date) - and apparently the CD is selling like hot cakes.
The band's monicker is derived from their lead singer, Erzsi Kiss, translating as "Erzsi Kiss Music." It's a name which has a humble simplicity and yet is audacious in that it seems to be aiming to define a new style of music (even if one that will be played by them) as much as the formal entity this particular grouping of musicians constitutes. And to a large degree they are successful in this, marking out musical territory which is quite distinctly theirs. As well as labelling this Erzsi Kiss Music, they also describe it as a kind of "virtual world music" in its use of global influences to create a sound which is ethnic, but doesn't have its roots in any one country.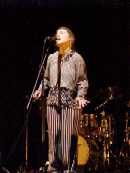 Kiss: virtuoso
playground chants

The hallmark of the band's sound is the extraordinary voice of Erzsi Kiss, with strong support from Gabi Kenderesi (lead singer of Kampec Dolores) or overdubbing from herself, with guitarist Csaba Hajnóczy occassionally chipping in. Working with tightly weaved and multi-layered vocal arrangements, the band evokes tribal chants, folk melodies, religious music and meaningless playground ditties (amongst other things) using a wide selection of squeals, yelps and other assorted vocal contortions along with more conventional ethnic and Western harmonies. It may not exactly be Cathy Berberian in its vocal range, but its certainly virtuosic in its effect.

Kiss was led to form the group in 1996 after a period of more than a decade in the theatre, in which time she studied African and Asian folk songs. The band provides a mature synthesis of diverse influences, and one that shows a deep intuitive musical understanding. But for all this the music is far from a po-faced academic exercise and the music exudes a sense of seriously good childhood fun, emphasised in the child-like drawings for album's artwork.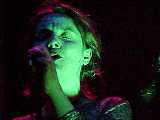 Kenderesi providing support

With so much attention on the vocalists, it is not surprising that out of the albums' 16 tracks, five of them are a cappella. On the remainder of the numbers, Hajnóczy and drummer Csécs Tamás provide a laid-back accompaniment. In contradiction to the computer capability of the CD (shove it in your pc and you get a pretty picture to look at while you tap your feet along to the music), the sound of the band is remarkably rooted in the analogue world. There are a few parrot-like special effects screechings on "Feele" and DJing scratch noises on "Zimmezum" as Hajnóczy tries out his sampler, but they are used sparingly and subtley. The consistently even sound character for the voices (very occassionally some reverb is added) and the spacey echo on the drum may suggest a rather primitive recording environment. More to the point though, it highlights an interest in making the music sound good in the composing and the performance rather than in the production.

As such it is interesting to ask why their music has taken this long to escape Hungary's national borders. Their first album clearly shows they are a formidable musical force with great potential for international success, almost by definition of their wide-ranging influences. All that remains to be seen now is whether they can back up this success with more music which continues to challenge and surprise.

Andrew James Horton, 27 March 2000

Visit the Bahia Music website and listen to the music of Egy Kiss Erzsi Zene

International readers can order Egy Kiss Erzsi Zene's album from ReR Megacorp while stocks last.