György Kurtág

C O N T E M P O R A R Y M U S I C:
The Mind is a Free Creature
The music of György Kurtág
---
Rachel Beckles Willson
There was a quick handshake and a matter-of-fact "good day." Then we came straight to the point. No warm up or getting used to the piano. I played just three notes at the start of lesson number one, and there was a loud exclamation: "No no no no no no no no!" Students of György Kurtág were subjected to some of the most critical listening they are likely to experience: every single note has a reason, and the player must understand it.
At the start of each lesson, this Hungarian teacher-composer shifts from an austere, withdrawn quietness to leaping, intense, spontaneous and joyous activity, playing the piano, gesticulating enthusiastically and singing. "I understand music only when I teach," he says. "Even if I listen to it or play it myself, it's not the same as working on it and trying to understand it for others. I just love music."
Too soon, the lesson ended, the music stopped, he returned to courteous but dry formalities and there was a long, slow walk down three flights of stairs at Budapest's Liszt Academy - in complete silence.
Words are used sparingly, because they are a matter of seriousness and import to Kurtág, whose music appeared in five concerts at last year's Edinburgh International Festival. With a monastic seclusion and an uncompromising search for bare, Spartan truth, he is seldom persuaded to speak about himself in public.
Yet his relationship to words is very strong. Already speaking Romanian, Hungarian, German, French and English, he learned Russian to read Dostoevsky in the original and has recently added ancient Greek to his repertoire. He draws on these languages to set the texts of a range of great poets including Blok, Sappho, Hölderlin and, most characteristically, Kafka.
Like Bartók, he has never taught composition, but has coached chamber music and piano with an almost unparalleled energy throughout his life. His teaching of chamber music is legendary in Hungary and abroad. His pupils at the Liszt Academy included András Schiff and Zoltán Kocsis, for whom Kurtág's approach provoked a complete revision of what he had understood about music and performance.
Economy of language
Kurtág's need to say only the most fundamental, and his determination to say it in as few words as possible emerges in his works too. "I keep coming back to the realisation that one note is almost enough," he once said - one note to sum up the essence of a sensation, a happening, a shriek, a sob, a gesture. And even one instrument may be enough - many of his works ("Signs" op 5 for viola is one example) limit themselves to a single voice or instrument.
"One can make music out of almost nothing," says Kurtág. That "nothing" rejuetcs rigid system and arbitrary complexity; it also rejects musical or political manifesto. He has been a figure of unrivalled integrity in the eyes of younger composers through his unswaying quest for a true, individual means of expression and his complete dissociation for political pressures.
Kurtág was shut off from democracy and the twentieth century's musical developments for a large part of his life. Born in 1926 in the village of Lugoj (Hungarian name, Lugos) in Romanian Transylvania, a region acquired from Hungary by Romania in the partitioning following World War I, he spent a quiet childhood enjoying playing piano duets with his mother and was especially fond of tangos and foxtrots.
When, aged 13, he heard Schubert's Unfinished Symphony on the radio, he decided he wanted to be a composer. Piano and composition lessons in the larger town of Temesvár (Timisşoara in Romanian) led him in search of Bartók and, with some difficulty, he crossed the border into Hungary in the hope of gaining piano lessons from the great Hungarian composer, whose return from America was expected. This was the autumn of 1945, and alongside the devastation in Budapest brought about by the war, Kurtág was confronted on arrival with the black flag flying on the Liszt Academy building. Bartók had just died in New York.
Writing behind the Curtain
Only from 1955 were Hungarians able too hear a little Schoenberg, middle-period and late Stravinksy and even the most "modern" works of Bartók were banned by the communist party between 1949 and 1953. Radios were permanently jammed and only in 1955-56 were cheap West German record players imported. Kurtág concentrated mainly on his piano studies until about 1954. Following the uprising in 1956, he was able to spend one year studying in Paris. Here, while attending courses of Darius Milhaud and Olivier Messiaen, he worked with the art psychologist Marianne Stein.
He was able to examine his musical equipment and decide how much of it was really needed: a process necessary, perhaps, who had suffered a dictatorship's indoctrination with extravagant, vacuous, rhetorical slogans. Kurtág's works up to this point included two "mass songs," some smaller instrumental works, a Korean Cantata (expressing partisanship with the Koreans at war with the US) and a Viola Concerto modelled on Bartók. The methods learned from Stein, working with very small units of music, gave Kurtág the technical means with which to realise his ideas of simplicity and honesty.
That simplicity allows for direct, personal expression. For Kurtág is anything but the cool academic that his linguistic and literary brilliance might imply: of all composer this century, he must be the one most dedicated to the subjective, human side of music. Inspired by Goethe, his works are full of homages and dedications. The pieces themselves may portray one aspect of the dedicatee, may be in memory of a deceased acquaintance, or may even contain a secret message.
For Kurtág, composition has sometimes provided a means of working through happenings in his life. "Single events, banalities, led to reactions that I could translate into music more easily than into words," he has said. His reluctance to commit himself to words leads him to communicate with friends and colleagues in a unique way: he sends messages through pieces of music rather than in words. Signs, Games and Messages for string trio is a musical diary of personal moods and responses to events.
Space and surprise
Personal experiences have also led to innovations with music: one stimulation to write Gravestone for Stephan, which has instruments surrounding the audience, was an event which happened to him at home. His wife and son had arrived home not realising that he was already there. Sitting at the piano, he began to play Beethoven's Piano Sonata op 110.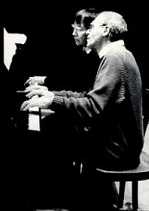 Kurtág and his wife at the ivories

They were startled and moved to hear music coming from such an unexpected place: Kurtág realised the power of space and surprise. A sense of theatre id apparent in his Beckett settings too: ...pas a pas - nulle part op 36, is an implicit, secret pantomime and shows a hidden, humorous side to Kurtág.

The profound seriousness, however, the determination to learn and to understand everything possible in his life, remains Kurtág's strongest characteristic. Despite enormous success as a composer, he remains humble and in awe of artistic creation. "Every composition has its own rules aside from what the composer wants," he says. "The more precisely I knew what I was going to write, the less the piece wanted to go. The child decides when it wants to be born, not its mother."

His retreat into silence, or into only the most profound of texts, becomes understandable in the constant quest for truth. As Kafka wrote, in a fragment set for soprano and violin by Kurtág in Kafka-Fragmente op 24, "There is a goal, but no path to it. What we call a path is hesitation." Life is too short for hesitation and prevarication; on with the music.

Kurtág reached the age of thirty-three before he was willing to give any of his works opus numbers. The few works he still acknowledges from before 1959 belong to a period of his life which is quite detached from what followed. After a childhood and schooling in Transylvania, a region of Central Europe acquired from Hungary by Romania following World War I, Kurtág became a student of piano and composition at the Liszt Academy in Budapest.

His early choral piece Beads, his Suite for piano and his Viola Concerto date from this student period 1946-55, demonstrating the composer's intimate acquaintance with the works of Bartók and his consequent understanding of musical structure which was to serve him for several years longer. Between 1949 and 1953, Hungary's Stalinist regime banned middle-period Bartók, thus heightening Bartók's importance for artists seeking a path independent from authoritarian dictates. Only when Kurtág had spent a year in Paris (1957-58) was he able to lift himself beyond this stifling environment to produce his op 1 String Quartet.

Opp 1 to 6, a group which also includes a Wind Quintet and solo piano pieces, presents a clear picture of what Kurtág absorbed in Paris. Short, expressive, highly-concentrated musical motives reveal his discovery of early Webern; the motives' rhythmic vivacity is indebted to Olivier Messiaen's theatrical concept of rhythmic cells as "personnages," something Kurtág absorbed from his analysis classes.

The controlled exploration of music within clearly defined limits (sometimes just two notes) was suggested to Kurtág by Marianne Stein, the art psychologist with whom he worked in Paris, as a way of composing most suited to his temperament. This reduction process also enabled him to cleanse his language of any empty gestures accidentally absorbed from the empty musical rhetoric by which he had been surrounded in communist Hungary.

His master's voice

Kurtág's attachment to speech is also to be sensed in the works from this first period of maturity, something which emerged more concretely in his op 7, The sayings of Péter Bornemisza for soprano and piano. Phrases of music that evidently sprang from figures of speech and retain their communicative urgency now appear in op 7 with the terrifyingly vivid sermons of the 16th century preacher Bornemisza. Op 7 was originally to have been an opera on Bornemisza's translation of Sophocles's Elektra and despite its subsequent metamorphosis, it bears some of Greek Tragedy's horrifying realism.

Op 7 is the culmination of a musical language developed in opp 1 to 6 and led to a need for new musical stimuli. The work's dates, 1963-1968, include a period when Kurtág was not composing, but studied afresh the works of Beethoven, Schubert, Debussy and Bartók (among others) alongside working as an accompanist for the Budapest State Concert Agency. Following op 7's completion, he encountered considerable difficulties with composition, to which another process of simplification and reduction provided a solution.

The result was Games for piano, which he began in 1973. The influence of Milhaud, whose classes Kurtág attended in Paris, emerges for the first time, through Kurtág's acceptance of all ideas as possible future materials without prejudice, even if they are apparently banal on first sight.

Games was initially commissioned and conceived as pieces for children, which added to their liberating effect on the deeply serious and critical Kurtág. They developed into a unique blend of musical diary, analysis (of the works of others) and also compositional workshop. Many of the ideas generated in Games formed seeds for larger works in the ensuing years 1975-1979; Hommage à András Mihály (12 Microludes for String Quartet) op 13 (1977) is one example.

Diffusing unity

The next influence on Kurtág was the Russian language, which he learned especially in order to read Dostoevsky, and which is almost "sacred" for him, in the way that Latin was for Stravinsky. In his Russian works, opp 16 to 19, Kurtág's response to Russian prosody transforms his musical dialect with a poignant lyricism; this is to be heard both in the works for solo soprano and instruments such as Messages of the Late Miss R V Troussova op 17 (1976-1980) and the triumphantly pessimistic set of choruses, Songs of Despair and Sorrow op 18 (1980-1994).

His subsequent development was with instrumental genres: in the 1980s he introduced a spatial dimension to large ensembles, dispersing 'families' of instruments in different locations in the concert hall. Works such as ...quasi una fantasia... op 27 no 1 (1982-1987) explore this idea of "diffused unity," a development which also heralded the most recent work of all.

For aside from Stele op 33 (1993-1994), unique in this period for its formal synthesis, Kurtág now disperses his music either in space or in time. The gradually expanding Messages op 34 (1991-1996...) for orchestra relinquishes a synthesising formal time construct, just as have the other 'Works in Progress' that vary from performance to performance, and will continue to evolve as long as the composer lives.

Bartók's legacy of synthesis between folk music and firm Western structures was both a wonderful gift to, and an overwhelming shadow over, Hungarian composers of Kurtág's generation. Kurtág's most recent works represent his ultimate transcendence and diffusion of Bartók's closed formal constructs, and the constant, invigorating acknowledgement that:
The mind is a free creature.
Neither with chains nor with rope can it be bound,
but all the time, day and night, in our dreams when we sleep,
it wanders.
Rachel Beckles Willson, 27 March 2000

Read Rachel Beckle Willson's review of Kurtág in Edinburgh as well.

Kurtág on CD

You can order Kurtág CDs from the United States via Amazon.com or from the UK via Amazon.co.uk. Note that the two companies don't necessarily have the same stock of CDs, so some titles are only available from one country.

(.co.uk)
pieces by Kurtág and the great German Romantic (.com)
Hommage to Robert Schumann

(.co.uk)

Hungarian Contemporary Organ Music -


6 pieces by 6 composers, including one from Kurtág (.com)

Hungarian Music for Wind Quintet


5 pieces by modern composers (.com)
Kurtág and his wife play the composer's "games" for piano(.com)
Játétok

(.co.uk)
(.com)
(.com)
Music for Strings

(.co.uk)
double CD (.com)
Portraitkonzert 1961-1992

(.co.uk)
(.co.uk)
Boulez conducts his famous Ensemble InterContemporain (.com)