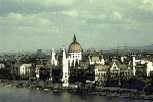 C E N T R A L E U R O P E A N N E W S:
News Round-up for Hungary
News from Hungary since 20
March 2000
---
Paul Nemes
After meeting Romanian Prime Minister Mugur Isărescu at the Southeast European Stability Pact conference, Prime Minister Viktor Orbán said that he had now heard "all possible explanations" to the causes behind the pollution originating in Romania. He told journalists, "Hungary has suffered damages caused by others and those others must make compensations." Romanian Foreign Minister Petre Roman conceded during a visit to Brussels last week that the cyanide leakage could have been avoided if more attention had been given to preventive planning at Baia Mare (Nagybánya). Günter Verheugen, the EU commissioner for enlargement, said that the "polluter pays" principle must be adhered to in this case.
The Romanian Minister of Water, Forestry and Environmental Protection, Romică Tomescu, told his Hungarian counterpart, Kálmán Katona, that the Ministry would close all plants that did not meet environmental standards within two weeks. The talks between the two ministers at the World Water Forum in The Hague, which included discussions on preventing such disasters in the future, were described by Katona as "successful and constructive." Katona had earlier held discussions with the environment minister of Slovakia, László Miklós, and later agreed with Tomescu that the agreement recently signed between Hungary, Romania and Ukraine should in the future also include Slovakia. Katona said that the Hague meeting had been a success from a Hungarian point of view, because pollution has, alongside flood and drought, been pronounced a matter in which international agreements have to be worked out.
Opposition politicians last week criticised the government for not condemning comments made by Hungarian Justice and Life Party (MIÉP) leader István Csurka, who said that the pollution is "an offensive war without the crack of rifles" aimed against the Hungarian nation. Orbán told Hungarian Radio that the Cabinet is not compelled to respond to comments by opposition politicians. Foreign Minister János Martonyi said the comments were "irresponsible and unfounded" and not worthy of any further commentary.
Investigations indicate that there is no life at all in the Szamos river. In the Tisza, near Tokaj, there are now only three kilogrammes of fish per hectare, compared to 150 to 200 kilos per hectare before the cyanide spill. In central and lower sections of the Tisza, things are not quite as bad, with Tiszafüred having 90 kilos per hectare, and Szolnok 160 kilos.
At least relations with Slovakia seem to be improving. Slovak President Rudolf Schuster visited Hungary last week, where he met Árpád Göncz, Prime Minister Viktor Orbán, Foreign Minister János Martonyi and Foreign Ministry State Secretary Zsolt Németh. Orbán, Németh and Schuster discussed mainly cross-border cooperation, and confirmed that the Mayors of Košice (Kassa) and Miskolc soon will sign a document on the Euro-region that will be set up in the area. When the two countries' presidents met, they both urged further economic cooperation between Hungary and Slovakia. Agriculture Minister József Torgyán meanwhile, met his Slovak counterpart, Pavel Koncos. They both said that neither want to limit Central European Free Trade Agreement (CEFTA) trade, which other countries wish. Instead, the two ministers want to further expand CEFTA cooperation between the two countries.
Defence Minister János Szabó visited Bratislava, where he was met by Prime Minister Mikuláš Dzurinda and Foreign Minister Eduard Kukan, to hold talks with his Slovak counterpart, Pavol Kanis. Discussions centred on NATO enlargement and Hungarian-Slovak military cooperation. Szabó promised that Hungary would do all it could to bring early NATO entry for Slovakia. Slovakia is now worried that further enlargement might be postponed indefinitely, which in turn might affect adversely the Dzurinda government's hopes of staying in power after the next election.
Working table no. 1 of the Southeast European Stability Pact, co-chaired by Hungary, met in Szeged on 23 and 24 March. Chief Coordinator Bobo Hombach, Viktor Orbán and János Martonyi addressed the conference, which was attended by Yugoslav opposition parties and media as well as the mayors of Belgrade, Niš and Novi Sad (Újvidék). Németh said that local governments and independent media have a key role to play in transforming Yugoslavia. He also described reports saying that Hungary would be left out of several of the Stability Pact's projects as "misleading."
Following a suggestion by Péter Szegvári of the Prime Minister's Office that free contraceptives should be given to Roma, the Office has now initiated legal proceedings against Szegvári. Szegvári's report said, "It should be proposed to supply the Roma population with free contraceptives [...] The increase of the Gypsy population is too high compared to their living conditions. Having six to eight children, they are reproducing their own misery and have no chance to get out of it." Human rights groups and Roma organizations immediately condemned the report, saying, "We reject that a senior official of the Hungarian government should work on plans to practically sterilize our people and should even publish these thoughts." Péter Balázs, who prepared the document, has been dismissed, although the Office says this was unrelated to the Roma comments. Orbán has clearly distanced himself from the proposal, while many have urged him to dismiss Szegvári. Meanwhile, a report by the Commission Against Racism has criticised Hungary's treatment of its Roma population saying there is "latent anti-Semitism" in a section of the media and society, while openly nationalist statements are used by "elements in the parliament."
On 22 March, a third media body made up of only government representatives was elected. Parliament voted for a four-member, all-government board of trustees for Duna Televízió, instead of an eight member-board with opposition representatives. As in the case of the MTV and radio boards, the opposition could not agree on whom to nominate for the position of trustees. László Kovács of the Socialist Party (MSZP) said, "With this, the government has obtained full and exclusive control over the state-owned public service media." Opposition MPs said that their candidates had not even been considered. The Free Democrats (SZDSZ) and the Socialists did not take part in the voting on Tuesday, stating, "We shall not contribute to creating an illegal situation." The MSZP said they would turn to the Supreme Court if the board of trustees was registered as it stands.
Parliamentary speaker János Áder said it was "unfortunate" that the board of trustees could not be filled. But, he said, this only came about because the SZDSZ and MSZP rebuffed every offer to find a legal solution. According to Áder, the two opposition parties are more interested in continuing the current crisis than finding a solution, in order to "continuously blame and point a finger at the government coalition parties and the speaker of the House, as well." Áder said that the media law is very clear - both government and opposition parties are required to nominate nominees for the board, but the opposition parties refused to do so.
In a bid to out an end to the controversy, the chairman of the parliamentary Cultural and Press Committee and FIDESZ-Hungarian Civic Party member, Szilárd Sasvári, proposed to amend the current media law. Sasvári last week suggested that the board of trustees should be made up of only six members, instead of eight. Then, each one of the six parliamentary groups could nominate their own member. It is believed that the SZDSZ would support such a change.
Viktor Orbán said on 22 March that the European Union seems determined to find obstacles to enlargement. The Prime Minister stated, "The EU seems to be coming up with more and more requests for applicant members," and highlighted free movement of labour as a growing source of alarm for existing EU members. Orbán made it clear that Hungary expects to be ready for accession at the end of 2002, but expressed doubt as to whether the EU would be ready by then.
Zlato Tomčić, President of the Croatian Parliament, held talks with MOL (Hungarian Oil and Gas Company) officials on 22 March in Budapest. Tomčić confirmed that merger talks between MOL and the Croatian oil company, INA, have not been affected by recent reports in the Croatian press, saying that MOL is controlled by the Russian mafia. Former Croatian Prime Minister Zlatko Matesa, meanwhile, has demanded assurances from the Hungarian ambassador to Croatia, György Csóti, that the merger plan is not a plot to turn the company over to criminals.
A recent National Bank of Hungary (MNB) report says that the MNB will aim to secure the present reduction in inflation. According to the Economic Research Institute GKI, inflation could be the most sensitive part of Hungary's economic situation. Meanwhile, Finance Minister Zsigmond Járai made assurances that the intervention zone of the Forint will not be widened, even if this costs the MNB tens of billions of Forints. Prime Minister Orbán said on Wednesday, after attending a US Chamber of Commerce lunch meeting the day before, that all investors were positive about Hungary's economy last year. Orbán said that even though there had been some doubts surrounding the economy, those uncertainties have now disappeared.
Conductor Iván Fischer has suspended himself from working as music director of the Budapest Festival Orchestra, and will not be conducting. Although Fischer has not resigned from the post, the Budapest Festival Orchestra Foundation said in a communiqué that the decision had come as a shock. Fischer's decision follows a number of contract breaches by Budapest's SZDSZ-MSZP local government. The statement from the Budapest Festival Orchestra Foundation supervisory board read, "It truly has been impossible for the Budapest Festival Orchestra to operate at a high level of professionalism, because the City of Budapest has stubbornly refused to adhere to a valid contract concluded with the Foundation in 1992."
Paul Nemes, 24 March 2000
Sources: