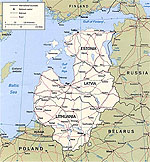 C E N T R A L E U R O P E A N N E W S:
News Review for Latvia
All the important news from Latvia
since 18 March 2000

Mel Huang
---
Political and foreign affairs
Russian Ambassador to Latvia Aleksandr Udaltsov warned that Russian-Latvian relations have hit a "dangerous stage" with the current debate in Latvia over economic sanctions against Russia. The Latvian Foreign Ministry is drafting a plan of action in case the sanctions are imposed. Latvia remains dependent on Russia for trade, thus the dangers in the imposition of economic sanctions.
A radical Russian political organisation, the Workers of Russia, headed by Viktor Anpilov, threatened to kidnap the Latvian ambassador in Moscow over Latvian prosecution of Soviet war criminals. This follows weeks of protests outside the embassy building and several incidents of vandalism of embassy property by still uncaught assailants.
A Saeima committee declined to pursue the revocation of the parliamentary mandate of Jānis Ādamsons, who was found earlier this month by a court to be linked to the KGB. Members of the committee stated that inconsistencies and a lack of information from the court do not allow the committee to pursue the matter at this stage. Ādamsons could lose his mandate, according to a lustration regulation not allowing KGB operatives to serve in parliament. The leader of the Social Democratic Workers Party, Juris Bojārs, is barred from running for the Saeima. Ādamsons is a member of the same party.
A first of its kind, the interior ministers of the three Baltic countries signed an agreement on cross-border witness and victim protection. Now victims and witnesses can be housed across borders before testifying in court. The agreement was signed in Tallinn by Tarmo Loodus of Estonia, Mareks Segliņš of Latvia and Česlovas Blažys of Lithuania.
Defence Minister Ģirts Valdis Kristovskis visited the United States during the week, meeting with officials in Washington to discuss Latvia's defence developments. Kristovskis also travelled to Michigan to meet with officials of the Michigan National Guard, which has a long-standing partnership with the Latvian Home Guards.
The trial of a group of terrorists, named Perkonkrusts, began this past week. However, the trial has been suspended in order to appoint public defenders for some of the defendants. The group is accused of planning terrorist acts, including the bombing of several monuments. Some supporters protested outside the courthouse during the session. The name Perkonkrusts is sensitive to Latvians, as it was a mythical symbol (literally meaning "thundercross") which was co-opted by an ultra right-wing movement during the Interwar period.
---
Economics and business
Business tycoon Ernesto Preatoni sold off his 43 per cent stake in candy maker Staburadze to Iceland's Nordic Food. The Icelandic offer beat out five challengers, some were rumoured to be from Russia.
The producer price index rose by 0.1 per cent in February, compared to January.
Head of the State Revenue Service Andrejs Sončiks estimated that 40 per cent of taxes have not collected. Earlier estimates by the Revenue Service suggested 30 per cent of taxes remained uncollected.
Economics Minister Vladimirs Makarovs accused the board chairman of power utility Latvenergo of being involved in a conflict of interest. Ojārs Kehris denies the charges, which include issues of payment for office space for another institution and payment for an automobile.
---
Social and local interest
Unemployment in Latvia remained at 9.1 per cent across the country. The highest regional rate remained in Rēzekne, where the jobless rate is 27.7 per cent.
A poll by SDKS shows that 51 per cent of Latvians are concerned about the "Americanisation" of Latvian culture. This shows a fractional rise from the same results a year before.
A UN report shows that Latvia has one of the fastest aging populations in Europe and the world. Currently, about 20 per cent of Latvians are over the age of 60. However, in 2050, the projected figure goes is expected to rise to 36 per cent, putting Latvia in tenth place in Europe.
President Vaira Vīķe-Freiberga told the press that Latvia is not yet ready to demographically offer non-citizens the vote in local elections, saying the best scenario is for non-citizens to naturalise and be eligible to take part in all elections. Estonia currently allows non-citizens to vote in local elections.
Government officials warned that 12 per cent of apartment buildings in Latvia are unsafe, and that if nothing is done in the next five years, some 30 per cent of the buildings could be critical.
---
And in other news...
Well-known composer and music professor Ādolfs Skulte died at the age of 90. The Kyiv-born composer was a well-loved professor of composition and has been professor at the Latvian Academy of Music since 1952. He once studied under the legendary composer Jāzeps Vītols (Joseph Wihtol).
---
Exchange rates
As of 24 March 2000
| | |
| --- | --- |
| currency | Latvian lats(LVL) |
| 1 US dollar | 0.59 |
| 1 British pound | 0.94 |
| 1 German mark | 0.29 |
| 1 euro | 0.58 |
[For continuous updates see the Bank of Latvia Exchange Rates page].
---
Prepared by Mel Huang, 24 March 2000
Archive of Mel Huang's Amber Coast articles
---
News Sources
Baltic News Service (BNS)
The Baltic Times
Radio Free Europe/Radio Liberty
Reuters news on Yahoo