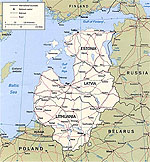 C E N T R A L E U R O P E A N N E W S:
News Review for Estonia
All the important news from Estonia
since 11 March 2000

Mel Huang
---
Politics and foreign affairs
The Riigikogu approved legislation on the conscription of university students. The hotly-debated law forces university students to do their compulsory military service within three years of starting their university education. This legislation seemingly erases one popular method of dodging military service: perpetual matriculation (or even perpetual failure).
Russia claimed it caught a British spy that also worked with the Estonian intelligence services. Estonia and Britain are not commenting on the case.
The Riigikogu passed a law recognising foreign education qualifications, such as diplomas and certificates. Education Minister Tõnis Lukas said the legislation will bear real fruits when Estonia joins the EU.
The government approved a social integration programme up to the year 2007. Funding for the programme is heavy on the teaching of Estonian to non-Estonian speakers.
The Riigikogu board was re-elected for another one-year term. Toomas Savi of the Reform Party retained his seat as speaker, while Tunne Kelam of the Pro Patria Union and Siiri Oviir of the opposition Centre Party will also retain their seats as deputy speakers.
Armenian Foreign Minister Vartan Oskanian visited Estonia to thank Estonia for its moral support and to promote further bilateral ties. Oskanian also opened Armenia's honorary consul in Estonia, Garik Iknoian.
The government approved the use of ID cards for all domestic usage, ranging from driving licenses to regular identification. The cards, which will come into use possibly be next year, would also include insurance information and other vital information merged into the single system.
Ambassador Raul Mälk presented his credentials to Portuguese President Jorge Sampaio. Mälk resides in London, and the mission in Lisbon is headed by charge d'affaires Paul Lettens.
Kalev Koidumäe led a delegation of 19 intelligence officers to Bosnia.
Foreign Minister Toomas Hendrik Ilves visited Ireland to discuss bilateral ties and EU integration. Ilves met with President Mary McAleese, Foreign Minister Brian Cower and other officials.
Surprisingly, Edgar Savisaar quit his post as head of the Centre Party faction in the Riigikogu. Savisaar, who has been rumoured to be eyeing the trade union leadership, continues on as party leader, however.
---
Economics and business
The race for Central Bank President has been narrowed down to two candidates. Incumbent head Vahur Kraft is running against statistics professor Vello Vensel in the vote, which is scheduled to be held by the Central Bank governing board on 30 March.
The two large rival media groups in Estonia are talking about a co-operation deal. One possibility is the merger of the two tabloids, Õhtuleht and Sõnumileht.
Trade figures for 1999 were discouraging, despite a drop in the trade deficit. The trade deficit fell by EEK (Estonian kroons) 4.5 billion to EEK 17.3 billion in 1999, though it was due to a five per cent drop in exports and ten per cent drop in imports.
The pan-Nordic Viking Lotto officially welcomed Estonia to the fold this past week. The first draw with Estonia as a part of the multi-national lottery is scheduled for 22 March, with a jackpot estimated now at about EEK nine million. Viking Lotto is played in Denmark, Estonia, Finland, Iceland, Norway and Sweden.
The Riigikogu finally ratified the free-trade agreement with Poland. Estonia currently has free-trade agreements with most of central Europe, as well as the EU.
Moody's raised the long-term ratings of Estonia's large banks. Hansapank's rating was raised to Baa1 and Ühispank was bumped up to Baa2.
A consortium of TV cable companies, which controls about 85 per cent of the market, threatened to cut services to its 175,000 customers in protest of new legislation. They claim the new legislation gives one company outside the consortium a monopoly in several Tallinn suburbs. A one-day cut-off is planned for 19 March, with further action possible.
---
Social and local interest
About a thousand people protested outside the government building over legislation concerning labour relations. The labour unions are pushing for the government to revise outdated laws on employer-employee relations.
The government is looking into how to merge some universities in Estonia, shrinking the total number down to three or four. One possibility is to create a Tallinn University in a merger of several institutes in the capital.
Unemployment in February was 5.6%, up by 0.2% from January. The highest jobless rate remains in the north-eastern Ida-Virumaa, where unemployment is 10%.
---
And in other news...
The first annual Ernst Jaakson scholarships and awards were given respectively to Katrin Uba and diplomat Kyllike Sillaste. The award is named after the well-loved long-time late diplomat, who served Estonia from 1918-1998.
And some older news: Estonia's Jane Salumäe won the Los Angeles Marathon in a horrendous downpour which sent many to the hospital.
Estonia on 11-12 March celebrated the tenth anniversary of the Congress of Estonia. The body was elected by citizens of Estonia, the first such body in occupied Estonia. The Congress of Estonia was led by Tunne Kelam, today the deputy Riigikogu speaker. The Congress of Estonia later merged with the Supreme Council, which later resulted in the re-establishment of the Riigikogu.
Guitar legend Gary Moore is scheduled to play a concert in Tallinn on 17 May.
---
Exchange rates
As of 17 March 2000
currency
Estonian
kroons
(EEK)
1 US dollar
16.13
1 British pound
25.40
1 German mark
8.00
1 euro
15.65
[Up-to-date Estonian exchange rates can be found here]
---
Prepared by Mel Huang, 17 March 2000
Archive of Mel Huang's Amber Coast articles
---
News sources
Baltic News Service (BNS)
The Baltic Times
Radio Free Europe/Radio Liberty
Reuters news on Yahoo