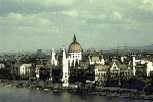 C E N T R A L E U R O P E A N N E W S:
News Round-up for Hungary
News from Hungary since 13
March 2000
---
Paul Nemes
Tons of copper, lead and zinc last week made its way into Hungary's Tisza as a dam at a mine in Baia Borşa (Borsabánya) burst and released waves of heavy metal residues. As a result of the second major environmental disaster in Romania in as many months, relations between Hungary have been further soured.
After the latest spill to contaminate the Tisza, again in the Maramureş (Máramaros) region, Prime Minister Viktor Orbán said that if no other solution is found, the international community should put pressure on Romania to sign environmental protection treaties. The effects of latest spill on 10 March could be more lasting than those from the earlier cyanide disaster and Hungarian water authorities ordered the highest state of alert on the Upper Tisza. György Gadó of the World Wildlife Federation said, "We are trying to be optimistic but of course a catastrophe has occurred," and "It is a fact that life in this region can never be restored to what it was before."
Foreign Ministry Spokesman Gábor Horváth said that Romania had refused to provide Hungary with information on the leakage. Horváth told Voice of America, "I would be amazed if Romania would be allowed even in the vicinity of the [European Union's] negotiating table [...] I mean how can anyone in his right mind imagine that this can go on without any limitation, without any proper sanctions made and at the same time allow Romania to sit down at the negotiation table with the European Union." Gheorghe Lazea, Secretary at the Romanian Water Management Ministry said the Romanian environment minister had been too busy to meet his Hungarian counterpart.
As might be expected, Hungarian Life and Justice Party (MIÉP) leader István Csurka was even more condemning in his 15 March Hősök tere speech. He said, as a perquisite for Hungary's accession to the EU, the country should be protected from pollution from the east. "For this, Transylvania should become a territory of independent status [...] The best solution of course would be if Transylvania were pulled back to European history, and were made an independent state."
The Romanian Ambassador in Budapest was quickly summoned to the Foreign Ministry because of the "extraordinary and serious" situation. Gábor Borokai, a Government spokesman, said that the Government has asked Romania to identify and close down plants which are considered to be the potential source of similar disasters. Hungary will also ask the European Union to assist in identifying companies that pose a threat to the environment. János Gönczy, the commissioner appointed to deal with the recent cyanide spill, said, "The all-out effort that the environmental protection and water management bodies have made so far to mitigate the damage done by the cyanide must be fully re-evaluated from scratch, and we are faced with an even more dangerous new problem." Romania last week said it would make its own analysis of Hungarian proposals to prevent similar disasters in the future.
Justice Minister Ibolya Dávid and her Romanian counterpart Valeriu Stoica, attending a Hungarian-Romanian lawyers' conference in Szeged, agreed that there is a need for joint action in order to pinpoint the cause of the recent catastrophes and also to establish who is responsible. Taking about the need to prevent future disasters by identifying dangerous industries and factories, Dávid said, "I hope very much that the Romanian government will do this in the catchment area of the Tisza river." Hungary, Romania and Ukraine last week signed an agreement on the prevention of environmental pollution.
On a happier note, Romanian Prime Minister Mugur Isărescu addressed Transylvanian Hungarians on their national holiday, marking the "War of Liberation" which started on 15 March 1848. Isărescu said, "we Romanians have holidays resting upon similar ideals, so it is proper that we respect such holidays," and went on to express his hope that the commemoration could be a chance to build on the Hungarian-Romanian relationship. In a 15 March message to Isărescu, Prime Minister Orbán wrote, "The values of that revolution, which continue to be valid to this day, embody the common destiny of the peoples of Europe including those in the Carpathian Basin, and respect for the rights and equal opportunity of national minorities. This is the revolutionary message, which continues to be an important element in the evolvement of relations between Hungary and Romania, and in the commitment of our countries to European values."
In Budapest, Cultural Heritage Minister Zoltán Rockenbauer held a speech outside the National Museum. He stressed that it had only been possible to celebrate the holdiday openly since the fall of Communism. Budapest Mayor Gábor Demszky pointed to the importance of co-operation between people of different political convictions, saying that in 1848, politicians from all sides of the political spectrum joined together in the fight for independence.
In a week of Hungarian celebrations, the Hungarian Cultural Days opened in Bratislava. On show were works by artists of the Nagybánya School, ten new Hungarian films, and a concert on 15 March, among other things. Visiting Slovakia, Foreign Ministry State Secretary Zsolt Németh attended 15 March ceremonies last week. Németh attended a ceremony at the Thalia Theatre in Košice (Kassa) on Tuesday, where he also met the town's mayor and gave a speech at the Culture Centre in Komárno (Komárom).
Orbán met Slovak Prime Minister Mikuláš Dzurinda in Békéscsaba to discuss minority rights last week. Also present was Deputy Prime Minister and Minister for Minority Affairs in Slovakia Pál Csáky, of the Hungarian Coalition Party (MK). Csáky, who appears to be taking the brunt of the blame directed at Slovakia for its treatment of the Roma in particular, described criticism by human rights groups in Brussels as "dramatic."
Meanwhile, the Rákóczi Federation will this year allocate between HUF 20 to 30 million (USD 83,000 to 125,000) to assist Hungarians beyond the borders, mainly in Slovakia. President József Halzl said that the Federation believes it is important to inform the public about the situation of Hungarians beyond the borders, as well as building Hungarian-Slovak relations. A programme launched last year by the Rákóczi Federation in association with the Hungarian Teacher's Federation of Slovakia, which aimed at enrolling Hungarian pupils in Hungarian-language schools, was said to have been successful in Hungarian majority areas.
10,000 people gathered in Március 15 square on 15 March, where speeches criticising the Government's actions in the media scandal were given. Mayor Demszky criticised Viktor Orbán for allowing the setting up of a media advisory board with no representation of opposition parties. Demszky said, " Ruling politicians are ready to restrict the freedom of press and speech. This mirror, the press, can be broken but that will not make ugly things disappear."
The Prime Minister rejected the criticism directed at him from both opposition politicians and abroad, saying that what had happened in Hungary was no worse than the appointment of Labour supporter Greg Dyke as Director General of the BBC. Orbán told Kossuth Radio, "In Hungary it cannot be conceived that the prime minister simply appoints the head of the BBC, delegating one of his closest colleagues into the position." He also said there should be "restraint, moderation and a European outlook from those who without reason are talking about endangering press freedom."
On 13 March, the International Press Institute (IPI) published its annual report on the state of the world press. In the section on Hungary, the IPI reported, "1999 was the year of annoying press stories for the Hungarian government. The principle of transparency and accountability were frequently left out of consideration in connection with critical or uncomfortable press reports." The report describes the ruling by the constitutional court that the media board was lawful, despite the absence of opposition members, as surprising, but pointed out that the amendments to the media law had been intended to bring Hungary into line with EU regulations.
After last week's results of a scientific study that suggested that large-scale immigration might be a possible solution to Hungary's shrinking population, a poll has revealed that only 5% of Hungarians think the country should receive all refugees that apply for asylum. According to a Tárki Social Research Centre report, almost 40% of the 1500 questioned said Hungary should not take any refugees.
After an initial refusal to discuss why the commander of the Hungarian KFOR peacekeepers in Kosovo, Lieutenant-Colonel Gyula Papp, had been recalled from Pristina, it has now been confirmed that Papp is suspected of violating military discipline, as was thought. An earlier announcement said that Papp would return to serve with the Mechanised Brigade in Debrecen, but now a criminal enquiry has begun.
Foreign Minister János Martonyi was scheduled to visit Brussels on 20 and 21 March, where he would meet the Minister of Foreign Affairs Louis Michel and NATO Secretary-General George Robertson. The discussions were expected to focus mainly on EU accession talks, internal reform of the EU and European Security and Defence Cooperation.
Justice Minister Ibolya Dávid arrived in South Africa for a six day visit on 14 March. Dávid and her South African counterpart Penuell Maduna signed an agreement to co-operate on legal matters after having held talks in Cape Town. This will also include exchanging information and experiences on legal matters. It is thought that the 1873 extradition treaty will soon be replaced by a new one.
On 1 April, MATÁV will begin an unlimited local call service for off-peak hours. The package will cost HUF 4000 per month (USD 15). MATÁVNet will also launch a new Internet service next month. The Otthon (at home) package will have unlimited access during off-peak hours for HUF 4500 per month. This does however not include local phone call charges.
MALÉV (Hungarian Airlines) will charge 3 to 15% more for air fares from April. According to Chief Executive Ferenc Kovács, "Fuel prices have increased dramatically and as we have no other alternative we are compelled to put this load on our passengers." Air fares to Western Europe will rise by 8 to 10%. At least the airport tax is expected to remain unchanged for the remainder of the year.
Paul Nemes, 17 March 2000
Sources: