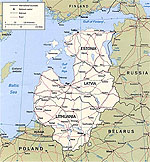 C E N T R A L E U R O P E A N N E W S:
News Review for Lithuania
All the important news from Lithuania
since 11 March 2000

Mel Huang
---
Politics and foreign affairs
Lithuania celebrated the tenth anniversary of the act of restoration of independence. It was on 11 March 1990 that the world was shocked by the bold move in Vilnius by the newly-elected Supreme Council, led by Vytautas Landsbergis. The legislative act restored Lithuania's independence and set-off a period of harsh confrontation with Moscow over the issue of freedom. The speakers of the parliaments of Estonia, Latvia, Poland and Iceland joined in the festivities in Vilnius.
Five new local councils are being created, in time to be a part of the upcoming local elections later this month. The work of the regions will begin officially on 1 May.
Many were caught off-guard when Belarus applied a surprise transit visa requirement on Lithuanians going to Russia. The move was suspended nearly immediately for two weeks following protests.
Defence Minister Česlovas Stankevičius visited France and met with his counterpart Alain Richard to discuss bilateral relations.
The Seimas approved the Lithuanian-Russian agreements on the promotion and protection of investments. This would greatly impact the exclave of Kaliningrad, in which Lithuania has invested heavily.
A report shows that a fifth of Lithuania's legislation on agriculture is not in harmony with that of the European Union.
Armenian Foreign Minister Vartan Oskarian visited Vilnius to discuss further bilateral relations. During the visit, a protocol of co-operation between the two foreign ministries was signed, as was an agreement on the elimination of double taxation.
---
Economics and business
Fitch IBCA gave Taupomasis Bankas (Savings Bank) a long-term rating of BB. Taupomasis Bankas is up for privatisation this year.
---
Social and local interest
A memorial was dedicated to all the fallen police officers in independent Lithuania. During the Interwar years and after the restoration of independence, more than 80 police officers lost their lives in the line of duty.
A new poll by Vilmorus found that on the eve of local elections, the Liberal Union continues to lead the tables but has fallen in recent weeks. The Liberal Union dropped by 6.5 per cent to 12.5 per cent, above the New Alliance (Social Liberals), which made a spectacular 8.8 per cent jump to 11.2 per cent. The ruling Conservatives is hanging on at five per cent.
---
And in other news...
President Valdas Adamkus faced embarrassment as his plane broke down, leaving him stranded for a time in Poland. Adamkus, on the way home from a pilgrimage to Rome, was forced to borrow the plane of his counterpart, President Aleksander Kwaśniewski.
---
Exchange rates
As of 17 March 2000
currency
Lithuanian
litas (LTL)
1 US dollar
4.00
1 British pound
6.30
1 German mark
1.98
1 euro
3.88
---
Mel Huang, 17 March 2000
Archive of Mel Huang's Amber Coast articles
---
News Sources
Baltic News Service (BNS)
The Baltic Times
Radio Free Europe/Radio Liberty
Reuters news on Yahoo
ELTA
Lietuvos Rytas
Lietuvos Aidas
Kauno Diena