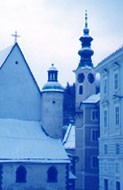 C E N T R A L E U R O P E A N N E W S:
News Review for Slovakia
News highlights and analysis
since 10 March 2000
---
Robin Sheeran
A bill to overturn amnesties issued by former Premier Vladimír Mečiar has failed to find sufficent supporters in Parliament. Mečiar temporarily assumed presidential powers in 1998. During this period he issued amnesties to a number of people said to have been involved in the kidnapping of Michal Kováč Jr, the son of President Michal Kováč in 1995. The bill, proposed by the Christian Democratic Movement (KDH) received only 50 of the required 90 votes. Those abstaining included members of the Party of the Democratic Left (SDĽ) and some members of the Party of Civic Understanding (SOP), which are members of the current government alongside the KDH. Michal Kováč Jr is said to be considering taking his case to the European Court for Human Rights, or the United Nations.
Slovakia has imposed visa requirements on citizens of Russia, Ukraine, Belarus and Cuba. The visa requirement for Ukrainian nationals will begin on 28 June, with the other countries following on 1 January 2001. Premier Mikuláš Dzurinda said visas would be required for Ukrainians because of the Czech Republic's decision to impose a similar restriction, and Slovakia's location between the two countries. Visas for Russia and Belarus will be introduced in co-ordination with the Czech Republic, Hungary and Poland.
The SDĽ has criticised the removal of the director-general of electricity provider Slovenské Elektrarné (SE). Štefan Košovan was nominated to the post by the SDĽ, which is a member of the governing coalition. The sacking was initiated by Economy Minister Lubomír Harach, whose ministry has majority voting rights on the SE board, and is seen as further proof of growing tensions within the coalition.
Tight security was in evidence as Bratislava played host to the European Rabbis Conference. The event was originally to be held in Vienna, but the venue was changed in protest against the far-right Austrian Freedom Party joining the Austrian government. Among the 160 leaders of Jewish communities in attendance was the renowned Nazi hunter, Simon Wiesenthal. Mr Wiesenthal was presented with a special award in recognition of his work in tracing war criminals.
Four refugees were reported to have drowned while trying to cross Slovak-Austrian border on the River Danube near Bratislava on Friday 10 March. The three Pakistanis and one Afghan were attempting to make the illegal crossing in a rubber dinghy which capsized. A fifth man, from Sri Lanka, survived and was treated for exposure in hospital.
The Komárno Shipyard Company is set to lay off almost 1000 of its 2600 employees next month if its financial situation does not improve. The move would have a devastating effect on the southern Slovak town, which lies on the River Danube. The company has been unable to deliver completed vessels to its western European customers since the NATO bombing of bridges in Serbia last year left the Danube closed to traffic.
Robin Sheeran, 17 March 2000
Useful links for Slovak news: