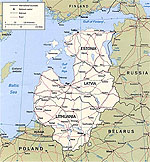 C E N T R A L E U R O P E A N N E W S:
News Review for Latvia
All the important news from Latvia
since 11 March 2000

Mel Huang
---
Political and foreign affairs
The annual march of the Latvian legionnaires occurred without any major problems, despite some minor altercations with protestors. The commemorative events, in which more than a thousand veterans and supporters took part, were joined by several members of parliament. Russia expressed anger over the event, which they called a promotion of fascism. The Latvian legion was formed by those forcibly conscripted by the occupying Nazi forces to fight on the Soviet front. Veterans emphasise that the legion fought against the Soviet invasion, not with the German forces.
MP Jānis Ādamsons, found by a court to be involved with the KGB during the occupation, withdrew his court appeal. Ādamsons said it is up to the Saeima to deal with the case now. If a majority of the Saeima votes in the affirmative, Ādamsons could be stripped of his mandate.
Armenian Foreign Minister Vartan Oskarian visited Riga to discuss further bilateral relations. During the visit, a protocol of co-operation between the two foreign ministries was signed, as was an agreement on the elimination of double taxation.
Defence Minister Ģirts Valdis Kristovskis travelled to Italy to meet his counterpart, Sergio Mattarella.
---
Social and local interest
President Vaira Vīķe-Freiberga remains the most popular politician in Latvia, according to a SKDS poll, as the President leads the poll at 70.8 points. Riga Mayor Andris Bērziņš is next at 58.9, followed by Central Bank Governor Einars Repše, who is at 47.9. The most unpopular remains former Soviet-era boss Alfrēds Rubiks, with a -22.4 rating.
Among members of the government, Cultural Minister Karina Pētersone was most popular at 41.9, closely followed by Defence Minister Ģirts Valdis Kristovskis, at 40.7. The most unpopular minister was Welfare Minister Roberts Jurdžs, with -15.2.
Another poll shows that 40.7% of respondents feel their economic situation has deteriorated in the past twelve months.
Unemployment in Latvia remains again at 9.1%, with Rēzekne highest again at 27.7% (up by 0.4%). Riga remained lowest, at 4.2%.
---
And in other news...
Four people were killed in a train crash at Līvbērze. The crash site also left a large petrol spill.
---
Exchange rates
As of 17 March 2000
| | |
| --- | --- |
| currency | Latvian lats(LVL) |
| 1 US dollar | 0.59 |
| 1 British pound | 0.93 |
| 1 German mark | 0.29 |
| 1 euro | 0.58 |
[For continuous updates see the Bank of Latvia Exchange Rates page].
---
Prepared by Mel Huang, 17 March 2000
Archive of Mel Huang's Amber Coast articles
---
News Sources
Baltic News Service (BNS)
The Baltic Times
Radio Free Europe/Radio Liberty
Reuters news on Yahoo