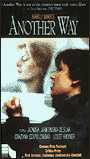 G A Y C I N E M A:
Cupid's Arrow Blunted by Bureaucracy?
Karoly Makk's Egymasra nezve
---
Andrew J Horton
Central European directors are rather cagey about displaying homosexuality; for the most part, the subject is well avoided. Even the closet that it is pushed into is rarely glimpsed on screen. Central European cinema is affirmed in its strapping heterosexuality and has been so since its inception. True, camp cinema has certainly existed: in the Communist musicals of the 1960s, in fairy tales and especially in Czech comedy. Outrageously camp as these genres are, they have yet to be "reclaimed" and championed by the Central European gay community. (However, East Side Story, a documentary previously shown on BBC television about the "all singing, all Marxist" musicals of the Communist era, did enjoy a short run at cinemas in central London at the end of 1998, hinting at a gay following for Central European camp abroad). As such, Central European cinema can be said to be heterosexual in its aims, its subject matter and its reception.
Other ways
The few films which do present homosexual themes in an open manner are, therefore, unusual and noteworthy. Amongst these are Wiktor Grodecki's Mandragora (1997), David Ondricek's Septej (Whisper, 1996), Istvan Szabo's Redl ezredes (Colonel Redl, 1984) and Karoly Makk's Egymasra nezve (Another Way, 1982). Whilst these films unquestionably have homosexuality as their subject matter, it is not so clear where they stand in relation to their aims and reception or indeed whether these factors matter in considering them as works of gay cinema.
An interesting case study of this uncertainty is Makk's Egymasra nezve, a tense and atmospheric study of a doomed lesbian affair between two journalists, who are trying to expose the corruption of Communist bureaucracy. The film is based on the book of the same name by Erzebet Galgoczi .
In his book World Cinema: Hungary (1996), the critic Bryan Burns notes that Makk has eschewed the revolutionary techniques of his contemporaries, such as Miklos Jancso, and instead produces simple straight-forward cinema which, in stark contrast to the controversial nature of the subject matter of some of his films, is stylistically conservative. Furthermore, after a short but thorough analysis of the film, Burns concludes that although Egymasra nezve "may be a work of some substance" and "liberal in its view of bureaucratic corruption," it is "not liberal in its view of lesbianism."
To see how Burns arrives at this conclusion, we first need to examine the film and its story-line.
Nicking knickers
The film takes place in 1958, just a few years after the Hungarian uprising against Soviet Communism was brutally suppressed, a detail which in itself made the film controversial. When Eva starts her new job as a journalist, she meets Livia, who soon finds it difficult to keep her eyes off her forthright young colleague. Following a swimming trip together, Livia challenges Eva as to why she has stolen her knickers. Eva's mumbled and stuttered response about "certain feelings" sets off a mixture of emotions in the older woman. While Eva has become besotted, Livia, given that she is married, is rather more cautious. She backs out of a trip to a collective farm to investigate corruption, in order to avoid Eva, but then at the last minute changes her mind and seems to have reconciled herself to her new-found love. The collective throws a party to which the journalists are invited and Livia steers clear of Eva; instead, she dances flirtatiously with the men of the farm. Eva stays sober and watches Livia from a distance, whilst at the same time using the occasion to speak to the managers of the farm, who with their tongues loosened a little by alcohol divulge the truth behind the collective's formation.
As headstrong in her writing as she is in love, Eva writes an uncompromising report of the state brutality used to force the farmers to form the collective. The piece is too radical even for her supportive editor, and he makes changes. Eva resigns in protest, something which doesn't stop her from being fired.
After more vacillating, Livia meets Eva again. The two women make love for the first time, and Livia decides to leave her husband, Donci, an amiable army officer. Defying his outward persona of gentleness, Donci gets violent and shoots Livia. Donci is a imprisoned, and Livia is hospitalised. Even though she has lost her husband, Livia now changes her mind again and rejects Eva, who commits a passive form of suicide by refusing to stop when challenged by border guards in the knowledge she will be shot. Her death hauntingly frames the film, making up both its first and last scenes.
Exposing the cracks
Burns's reservations about the film stem from the fact that heterosexuality seems to prevail in the film. He notes that Livia is classically beautiful, whereas Eva has a boyish cuteness. Whereas the camera dwells on the heterosexual power of Livia, the unconventional attraction of Eva is marginalised, says Burns. The pinnacle of this effect occurs during the dance scenes at the collective farm, where Eva realises "how powerful Livia's attraction to the opposite sex still is." Burns decides that this presentation of Eva is a "vengeful" piece of characterisation.
There are several flaws with this line of reasoning. First of all, the fact that the heterosexual triumphs over the homosexual in the film is no indication of where Makk's sympathies lie. After all, the film shows Eva's idealistic political liberalism to be just as ill-fated as her affair; yet, we do not doubt that Makk is criticising the corruption and bureaucracy which defeats Eva's investigative journalism. Makk exposes the cracks in what Burns terms "normal sexuality" and shows something irrepressible bubbling underneath.
The film is, indeed, a battle between the heterosexual and homosexual in Livia, but Burns's analysis of the struggle is misguided. When Livia dances at the collective farm, it is not so much a case of trying to convince others around her of her heterosexual power, but of trying to convince herself. The choice she faces goes beyond the issue of sexuality and envelopes practicalities and her desire to be a mother. She is vulnerable and confused, and if the camera dwells longer on her and her sexuality than on the emotions of the idealistic and self-confident Eva, it is because these are the principal concerns of the film.
Burns also considers the film to be more notable for having used lesbianism as a theme than it is for the way in which the theme has been treated. This observation has slightly more substance to it. Makk, a heterosexual male, is clearly not interested in gay rights in 1950s Hungary per se. Homosexuality for Makk is a metaphor for the weakness of human identity in restrictive external circumstances. Indeed, Burns quotes Makk as saying that his aim in the film is to find "universal significance."
Burns takes this as detracting from the film, interpreting the layering of the work as a factor which "diminishes" the importance of Eva's lesbianism. However, a more usual attitude to works which can be read on a variety of levels is that they are rich, profound and subtle. Burns's analysis implies that he has a very narrow view of gay cinema and feels that as well as having gay subject matter, it should be made with gay aims nd for a gay audience.
Playing with definitions
To contain gay cinema in such a way is dangerous and tantamount to segregating it from the mainstream. Furthermore, it is a kind of playing with definitions which does not occur in other categorisations of film. To take nationality as an example: we would not consider that a film being Hungarian would in some way make it completely distinct from other European cinema. Nor would we think that a Hungarian film should always express a purely Hungarian agenda.
Makk's Egymasra nezve is a masterly and atmospheric film whose principal themes are conformity, tolerance and the struggle to hold on to personal identity against a repressive social and political background. Although he does not wish to pursue a purely gay agenda, he sensitively develops the theme of lesbianism with (as even Burns notes) conviction. Makk is fond of controversial subject matter, but Egymasra nezve is neither sensationalist nor exploitative.
Given the generally low level of gay subject matter present in Western cinema in 1982 - never mind that in Central and Eastern Europe - Makk has to be admired for his boldness of vision in aiming to handle a prickly subject-matter with intelligence. His film is certainly set far apart from the extreme moral conservatism of films such as Mandragora (click HERE for Kinoeye's review) and Septej (see The Straight and Narrow Path in this week's issue).
In the final analysis, Egymasra nezve emerges as a film which employs a liberal view of both lesbianism and bureaucracy as a metaphor for wider and deeper ideas on choosing "another way" in unfavourable circumstances. Nevertheless, its concern with other themes and strands of meaning cannot alter the fact that this a significant piece of gay cinema.
Andrew J Horton, 9 August 1999
FURTHER SURFING
Egymasra nezve can be purchased on video with English subtitles HERE.
Erzebet Galgoczi's book in English translation - Another Love - can be bought HERE.
Despite what I have said above, Bryan Burns's book - World Cinema: Hungary - does contain some excellent and penetrating analysis and is a worthy addition to any cinephile's bookshelf. You can buy it HERE.