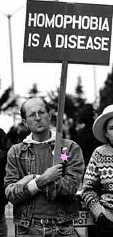 H O M O S E X U A L I T Y:
Gay Outlaws in Romania
---
Catherine Lovatt
Romania's attitude to homosexuality is decidedly puritan. But not all is negative nor everyone a bigot. Attitudes and lifestyles are changing, and Romania is forcing her way toward tolerance.
Considerable pressure from international organisations such as the European Council on Human Rights (ECHR) and Amnesty International have encouraged Romania to take a more liberal approach to minority groups. Typically, the process has been long and arduous.
As a member of the Council of Europe and a prospective member of the European Union, Romania is expected to adhere to the ECHR's commitment to the European Convention for the Protection of Human Rights and Fundamental Freedoms.
In 1994, it was widely believed that the country was taking the first step toward establishing a more tolerant attitude towards homosexuality, when the Constitutional Court suspended the Communist-era legislation prohibiting homosexual acts and called for a more liberal legislation to bring Romanian law in line with ECHR provisions. However, in 1996, the Romanian Parliament adopted a new law which again made it a criminal offence to engage in homosexual acts - even in private - and outlawed membership of gay and lesbian movements.
The stringent law sparked a wave of protests throughout Europe and America. In Holland the Romanian President, Emil Constantinescu, was jeered by gay and lesbian protestors outside the University of Amsterdam, where he had just delivered a lecture. In London protestors converged on the Albert Hall during a performance of 'Aida' by the government-sponsored Romanian National Opera. Milan also witnessed protests. Two American activists made a high-profile visit to Romania to encourage the legalisation of gay sex.
The international response to the Romanian legislation did not go unnoticed. Constantinescu declared, in front of the protesting Dutch, that Penal Code Article 200 would be modified, and only homosexual acts associated with violence and robbery would be punished. He also expressed his hope that the modification would be accepted by Parliament in a relatively short period of time.
The accession of Radu Vasile to the position of prime minister furthered the cause of the human rights in Romania. Through the introduction of a new reform programme, Vasile hoped to improve the rights of ethnic, religious and other minorities, to bring Romanian law in line with EU standards and, especially, to dispel criticism surrounding cases of police violence and discrimination against the large Roma population and homosexuals.
One such case of police brutality and denial of human rights concerned Marian Cetiner. Cetiner was the first person imprisoned for her sexual orientation under the 1996 legislation. Amnesty International picked up the human rights case and adopted Cetiner as a prisoner of conscience. The involvement of Amnesty resulted in Cetiner's release after two years of police harassment and abuse in jail.
Willingness within the higher echelons of power to adopt more tolerant legislation now seems more evident, and if they can provide legal boundaries that cater for all minority groups, a context can be established within which society can develop a more tolerant attitude. If homosexuality is at least tolerable to the elected representatives of a nation, then the process of securing human rights for all is partially achieved.
Gaining the support of Parliament is still proving difficult, but some progress has been made. Unfortunately, progress appears to have more to do with appeasing the EU and ECHR than with and heartfelt desire to create a liberal and tolerant Romanian society.
Varying beliefs, varying backgrounds and varying lifestyles all determine the public perception of what is and what is not socially acceptable. To most liberal Westerners, the Romanian violation of human rights with regard to homosexuality is unacceptable. But one should never forget that Romania is going through a period of radical change. The transition from Communism is more than just a gargantuan economic project; it is a restructuring of the population's entire belief system. Prejudices certainly do remain, but, gradually, attitudes are changing.
Catherine Lovatt, 3 August 1999
Links: The text of Romanian Penal Code Article 200 in English.