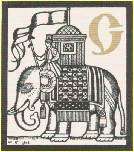 S M A L L P R E S S P R O F I L E:
One Third Publishers
---
One Third Publishers started out humbly in a cottage in the Bohemian mountains and is currently run by two former booksellers who have put together an ambitious line-up of publications to appear in the coming months. These include unique editions of Czech and Slovak literaure, as well as some original works of the political and cultural history of these countries. Central Europe Review will be taking a closer look at some of these works as they appear - begining this week with a review of the recently released reprint of a rare nineteenth-century translation of Bozena Nemcova's The Grandmother .
Here is a sampling of some more treats that One Third has in store for you:
Chapbook Series
Fifty- to sixty-page books about specific aspects of Czech culture
Brief History of Czech Cinema
Due August 1999
Brief History of Czech Puppets
Due September 1999
Brief History of Czech Republic and Slovakia
Due October 1999
Brief History of Czech Folklore
Due February 2000
Literature Reprints and Translations
The Grandmother (reprint of the 1892 edition)
Bozena Nemcova
Available
See review in this week's book review section.
Summer Recollections (also available in German)
Jan Neruda
Available
Look for the review of this edition in CER in the coming weeks
Selected Czech Tales
A reprint of stories by K. Svetla, J. Neruda, I. Herrmann, K. & J. Capek, F.X. Salda and R. Svobodova
Due March 2000
Bi-lingual Series
Fifty- to sixty-page books in Czech or Slovak and English
Tracy's Tiger
William Saroyan
Due November 1999
A Cottage Below the Mountains: A vignette from Slovakia
Bozena Nemcova
Due September 1999
For further information and details of the back catalogue and how to order, contact:
E-mail: onethird@ti.cz
Home page: onethird@ti.cz
Tel & Fax: ++420/ 2 / 222 11 403
Subscribe to the One Third Publishers Newsletter HERE