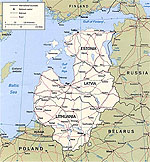 C E N T R A L E U R O P E A N N E W S:
News Review for the Baltic States

All the important news from Estonia, Latvia and Lithuania since 2 August 1999.
---
This review of the week's events contains several parts. Click below to move to your area of interest:
---
Pan-Baltic
A report from Russia's Defence and Foreign Policy Council, authored by Kremlin insider Sergei Karaganov, sheds new light on Russia's relations with the Baltics. Though heavily critical of the Baltic states in foreign and domestic policy, the report seems to suggest that Russia considers Baltic membership in NATO inevitable. Other areas indicate a desire for further normalisation, and local politicians seem optimistic.
The military exercise "Baltic Hope '99" ended in Lithuania late in the week. The peacekeeping exercises focused both on operational and logistical aspects, bringing together 2000 servicemen - mostly from Lithuania but also from Latvia and Estonia.

---
Estonia
Finance Minister Siim Kallas stated that there will be no further budgetary amendments despite the threat of a deficit. Kallas said administrative costs and spending will be cut by ministries and departments, instead of drawing up another cumbersome legislation for the small necessary cuts. According to Estonian law, the budget must be balanced each year.
A report showed that Estonia has the highest average wage and pension in the Baltics. Average wage in the first quarter was USD 290.90, up by 11.5 percent from the same period in 1998. Pensions stood at USD 110.20, up 29.5 percent from the first quarter of 1998.
Mikhail Neverovski was convicted of deportations carried out in 1949 and sentenced to four years in jail. The 79-year old former KGB agent maintained his innocence, but the court found him guilty of deporting nearly 300 individuals from the coastal city of Parnu.
Head of the Tallinn city properties department Rene Kuulmann resigned from his post, stating that as he is being targeted by an underworld group, he will travel to Spain for awhile. The last straw came when he received two wreaths offering condolences for his and his wife's death. He could still be charged for assault on account of an incident in which he severely injured a man with a broken bottle while drunk on holiday (see last week's Amber Coast).
The Centre Party faction in the Riigikogu stated that it is not necessary for Kalev Kallo to give up his parliamentary seat. (see last week's Amber Coast for all the lurid details). Kallo will make his decision known soon in Parliament.
In a related story, the daily Postimees carried a story on its front page stating that Jakko Vali, advisor to Centre Party leader Edgar Savisaar, was caught driving under the influence. If proven true - a charge Vali denies - it would be the fourth case of a Centre Party member involved in an alcohol-related scandal in a few weeks.
A scandal erupted involving the current Port of Tallinn board chairman Tarmo Ruben, when it was revealed he had a hefty loan cancelled by the failed ERA Pank just before it went under. Pressure is growing for an investigation and for Ruben to resign.
The Estonian fishing trawler Jakob Hurt was caught by Norwegian coast guards for fishing in Norway's fishing zone. The boat was released, but fines for the incursion totalled over EEK ( (Estonian kroons)1 million for the ship's owner.

---
Latvia
President Vaira Vike-Freiberga made her first visit abroad to Bosnia, taking part in the Sarajevo summit. During the summit, she stressed the need to "throw off the shackles of the past," citing her personal experience as a refugee.
En route home from Lithuania, the car of President Vike-Freiberga got into a minor crash...with a cow. The Lithuanian press has been making jokes about this one for days. Now Latvia is thinking of compensation for the expired heifer...
In an extraordinary session, the Saeima approved the negative supplemental budget. The cuts total LVL (Latvian lats) 64.4 million and projected revenues will dive by LVL 93.1 million, meaning a substantially higher deficit at year's end. At the same session, the Saeima also passed several other tax increases: a hike in the excise of fuel oils, tobacco and alcohol, as well as a rise in gambling tax. However, amendments to the pension law were the most controversial apsect passed at the session. The new regulations will gradually bring the retirement age to 62 for both men and women, and place restrictions on working pensioners. This has been greeted with a week of protests outside the government building. The opposition did manage to get more than one-third of members to sign a petition to delay the amendment's promulgation. During that time, if ten percent of the population call for a referendum, the measure will face a public vote.
Controversy is brewing, as Prime Minister Andris Skele asked Justice Minister Valdis Birkavs to work on a law concerning businessmen holding political positions. Skele is the owner of Ave Lat, which is one of the largest companies in Latvia, controlling nearly all the significant food and drink processors in the country. Skele stated that it is "impossible" that he is the only one in such a situation. Opposition politicians complained, stating that Skele will change Latvian laws to help his own business.
Recent statistics show that at USD 229.43 a month, Latvia has the lowest average wage in the Baltics, although this still represents a rise of 7.8 percent from the average Latvian wage for1998.

---
Lithuania
President Valdas Adamkus also took part in the Sarajevo summit. During his speech, he offered up Lithuania's own experience in dealing with neighbours, stating that problems can be solved without "bullets and guns."
Lithuania commemorated the anniversary of the Medininkai massacre. On 31 July 1991, Soviet OMON troops stormed a border post near the town of Medininkai and killed seven border guards. President Valdas Adamkus and Prime Minister Rolandas Paksas took part in the memorial service.
The first unit of the Ignalina Nuclear Power Plant was up an running again on Tuesday after a two-month stoppage. The stoppage came in May when, due to incomplete paperwork and some technical inconsistencies, VATESI, the nuclear safety inspectors, declined to issue a new operating license for the unit .
The bombing of a boat carrying reputed underworld figure Stanislovas Narkevicius may spark off a gangland war. His boat was blown up on a nature reserve lake in the mediaeval capital of Trakai. Narkevicius is still in critical condition. This was followed by a powerful blast in Klaipeda, which seriously injured three, including two reputed figures of the underworld. Police are concerned about an escalation of underworld activities.
Jailed MP Audrius Butkevicius displayed his talent for the absurd as he called on Lithuania to develop "penal colonies," citing an existing 1971 law. After all his legal challenges in Lithuania were denied, Butkevicius is now awaiting the verdict of the European Court of Human Rights on his appeal (see the Amber Coast from 15 July for more on this strange case).
The police raided a Vilnius night club after receiving a tip-off that drugs were being sold. The raid proved to be false, and now the patrons are demanding compensation for the intrusion. Seimas members said that while activities against drug sales are good, they need to be tempered by procedure and legalities.

---
Exchange Rates
As of 2 August 1999
currency
Estonian kroons (EEK)
Latvian lats (LVL)
Lithuanian
litas (LTL)
1 US dollar (USD)
14.54
0.59
4.00
1 British pound (GBP)
23.46
0.95
6.46
German mark (DEM)
8.00
0.32
2.20
Euro (EUR)
15.65
0.63
4.31
| | | | | | | |
| --- | --- | --- | --- | --- | --- | --- |
| currency | Czech koruna (CZK) | Hungarian forint (HUF) | Polish zloty (PLN) | Russian rouble (RUB) | Slovak koruna (SKK) | Slovenian tolar (SIT) |
| 1 Est. kroon (EEK) | 2.33 | 16.24 | 0.27 | 1.68 | 2.85 | 12.54 |
| 1 Latvian lats (LVL) | 57.24 | 400.19 | 6.70 | 41.43 | 70.12 | 309.00 |
| 1 Lith. litas (LTL) | 8.44 | 59.02 | 0.99 | 6.11 | 10.34 | 45.57 |

---
Mel Huang, 6 August 1999
---
News Sources
Baltic News Service (BNS)
The Baltic Times
Radio Free Europe/Radio Liberty
Reuters news on Yahoo
ETA
Eesti Paevaleht
Postimees
Aripaev
ELTA
Lietuvos Rytas
Lietuvos Aidas
Kauno Diena